Vulture Restaurant Reviews: Thirsty & Hungry
Callum Wainstein checks out Urban Shed's replacement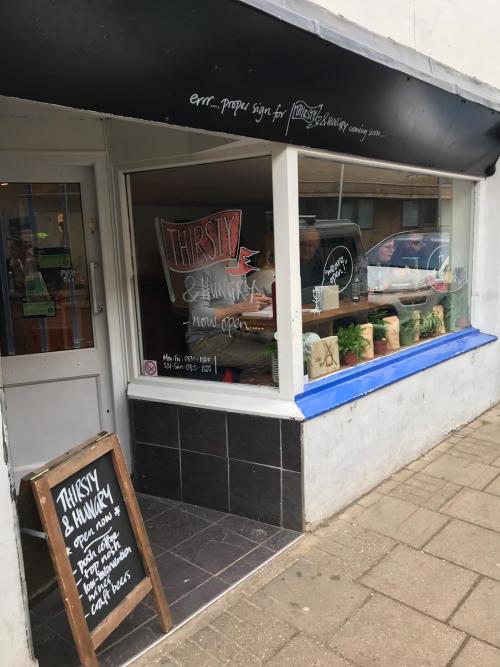 Thirsty & Hungry is the new establishment which has risen from the remains of the old Urban Shed, and its student vibe makes it the ideal replacement for the beloved haunt. Its interior is relaxed and amiable – reclaimed wooden chairs, a book swap on the wall and a collection of characterful knickknacks – with large windows adding to the bright, cheerful atmosphere
When a restaurant can do the fundamentals right, you know you are in good hands.
A great emphasis is placed on their coffee, with their 'The Barn' roast sourced in Berlin. It is perfect for those that like their coffee mellow but flavourful, with high quality creamy milk.
Alongside their coffees they offer an exciting selection of food and I left wanting to go back to try lots of their other offerings. One of the less exotic options was their Ham and Cheese Croissant; I'm a strong believer that one of the best ways to judge somewhere is in how well they do the basics. On that front Thirsty & Hungry passed with flying colours. Often ham and cheese sandwiches are disappointing as the structural integrity of the croissant is lost in the crush of the panini press, however their offering maintained the flaky exterior which I look for in a great croissant. The ham was thick cut and had an almost bacon taste to it, and I was mildly disappointed that it didn't come through more in the taste. When a restaurant can do the fundamentals right, you know you are in good hands – and what could be more essential than a ham and cheese croissant!
Another of their more traditional offerings was their Reuben. It's a subtle sandwich, with no single ingredient overwhelming each other. The peppery pastrami and the Sauerkraut worked particularly well together, combining these two flavours stopped each other from dominating the sandwich, or making the overall bite too rich. My only criticism is that the dish was a touch on the 'one note' side; dishes exist on a spectrum with uniformity of taste at one extreme and inconsistency on the other, ideally you want the dish to ere closer to uniformity of taste, however I found the Reuben was too constituent, and would have been improved by some textural or flavour contrast.
If the ham and cheese croissant was an example of one of their more traditional offerings, their 'hangeover cure' was the opposite. This offering was, in effect, an entire full English combined into a sandwich (with cheese added, of course). Baked Beans in a sandwich was an interesting experience, but in actual fact they binded the ingredients together well, though their flavour did threaten to overwhelm the entire sandwich. I personally found the sandwich a bit on the overpowering side, but I can imagine that it would be a god-send to eat after a night out at Cindies!
Unquestionably the standout dish I tried was their satay chicken sandwich. The satay sauce was brilliant, the alluring sweet peanut flavour, was cut through by the addition of sour citrus notes. The sauce seeped into the bread it was served on, ensuring that every single bite was full of its rich flavour. The dish was topped with crunch rice, which provided an excellent textural component, thinking back on the spectrum of uniformity that I was writing about earlier, this dish was exactly in the sweet spot, each bite having the perfect combination of chicken, rice, and sauce. Overall this dish was one of the standout dishes I've had in Cambridge, and anyone who visits Thirsty & Hungry really should try it.
This was an exciting debut for the Cambridge food scene and I will be returning to try out some more items on the menu. Thirsty & Hungry offers something relatively unique in Cambridge providing a menu which refuses to be categorised as any single cuisine – all I can say it's exciting, fresh and I recommend people come and try it out!