Selwyn Snowball: a sugary success
Plentiful entertainment and ample sweet treats made this ball a fun conclusion to term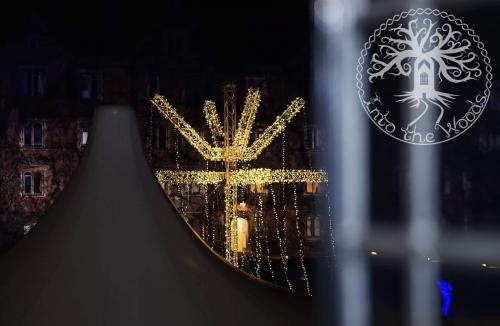 Over the past few years, the Selwyn Snowball has hit upon a winning formula. This year's offering showed that an old dog can still be taught new tricks.
Selwyn turned green for one evening only as the college played host to Cambridge's only annual Winter Ball, this year with the theme 'Into the woods'.  Branches and forest fruits found their way into every nook and cranny, whilst a large electrical tree, dazzling the 900 guests as they entered Old Court, dispelled any doubts as to the nature of the theme.
Branches and forest fruits found their way into every nook and cranny
Indeed, no expense was spared on the visuals, with around a dozen lamps oscillating to and from in a kaleidoscopic display that illuminated the Chapel without appearing glitzy. The cornucopia of colour continued inside the Hall with a large inflatable photo-booth and — a welcome invention for the more puerile amongst us — a large ball pit. No doubt anticipating its popularity, the committee cleverly tucked it away in a narrow room where long queues could not accrue. In a similar vein, a gin bar was strategically placed adjacent to the photo booth, a perennial choke point.
With the cheapest ticket priced at an eye-watering £80, it was a relief to see a broader range of comestibles wheeled out for this year's extravaganza. Burgers of various denominations provided some much needed carbohydrates, as did the classy falafel rice salad, served alongside an industrial-sized glass bowl of hummous. Unfortunately, with the earlybirds quaffing champagne in the Chapel for an hour before general admission, there was an inevitable queue in the hall for something hot to eat.
Of course, accumulating calories is not just a numbers game, and the variety of desserts on offer would have kept your average dentist in business for years to come. Special mention must be reserved for the tiered profiterole cakes, which were as much a feast for the eyes as they were for the stomach. Watching hot doughnuts being churned out by a fancy machine was a fascinating experience bordering on the hypnotic, though the limited choice of toppings certainly left a little to be desired.
Dancing Queen, orange VKs and a surfeit of gin
Clearly, the Snowball was marketing towards those with a sweet tooth; I'm not sure if anyone has ever started the night on VKs, but tonight was a definite exception. Perhaps this was a cunning ploy to get everyone hyper in time for Swede Dreams, an ABBA tribute act who were inexplicably given an early 9:30 pm slot.
Dancing Queen, orange VKs and a surfeit of gin: the committee had clearly done their market research about what makes your average Cambridge student tick. Though some of my more alcoholic friends grumbled that they could not find any booze after 2:30am, I cannot help but think this may have been a blessing in disguise.  Perhaps this point scoring came at the slight expense of variety, and the cynic in me would question the relevance to the theme, a criticism that could be extended to the choices of food.
Whilst the red pen is out, I grumbled at the length of the silent disco queue - not that anyone really needed the silent disco with such a plethora of local talent on show. From the carol singers and mulled cider in the queue, to the cosiness of the layout: the Snowball always has a snug feel that lends itself well to local artists. The top brass in Selwyn Jazz ensured Jack was hitting the road well before Jools' Annual Hootenanny, churning out banger after banger in front of a partisan crowd. I felt that the ever-impressive Fitz Swing deserved a more prime-time slot in proceedings, the eminently entertaining Colonel Spanky likewise. In fact, the only disappointment in this regard was the absence of Selwyn's resident DJ Ayrton Dhillon on the decks.
In recent years, Selwyn has punched above its weight in terms of big name headliners, attracting Phillip George, Matt Edmondson, and Tinchy Stryder. King No-One, this year's outfit, marked an altogether different turn. A four-piece Indie Rock band from York, they will be one to watch for all those Fluorescent Adolescents out there.
Snowball's USP is fun, fun, fun and this was carried through right across the event. Diving around an inflatable ball pit in a black tie might make some journalists salivate for all the wrong reasons, but for sheer joy it was hard to beat. If the large electrical tree dazzled some, confused others and to all intents and purposes looked uncannily like a giant crucifix, at least it had us all chattering away. Design aside, the woodland theme did not quite come through, but then again the alternative might have been drinking Dark Fruits all evening. Ultimately, the Snowball is a test of just how far you should deviate from a very nourishing recipe. Fortunately, this year's committee passed with many flying colours.