Finding La Dolce Vita in Cambridge
In a quest to find some Italian authenticity in our own city, Eva Schalbroeck explores a few restaurants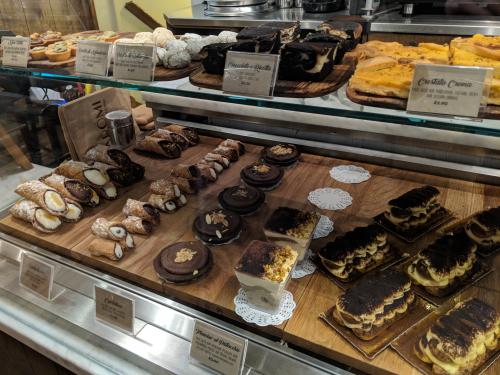 Food is central to student life in Cambridge: it fuels our revisions, gives us comfort during exam stress and serves to celebrate everything from achievements to friendships. It is also a way to meet people from different countries and learn about their culture. This column brings Cambridge's incredibly diverse food scene to life through its students, restaurants, shops and events. Through stories, recipes and experiences, it gives a taste of what food means in different cultures and how it brings people together.
Among students, pizza and pasta is often a shorthand for Italian food. Thanks to Aromi, which opened in 2013, many are aware that Italian cuisine has so much more to offer. The two lesser-known "anciens" I visited this time, however, have been whetting Cambridge's appetite for Italian food for over twenty years.
Limoncello, a shop and bistro on Mill Road, is one of Cambridge's "hidden gems" Trust me when I say that it is worth travelling all the way beyond the bridge; an embarrassment of Italian riches is your reward. The walls are lined with colourful boxes of pasta, jars of tomato sauce and bottles of extra virgin olive oil. After sampling their deli counter – who knew smoked olives were a thing? – I ate an Italian classic: bruschetta, a slice of grilled bread topped with sliced tomatoes, mozzarella and parma ham, finished with some balsamic glaze. Alongside a few "usual suspects", pizza and pasta, Limoncello also serves filled ciabatta, antipasti boards and various wines and also caters for events.
Afterwards I went to Savino's, a café and bistro in the middle of the hustle and bustle of Emmanuel Street. With its unassuming front, you would almost miss it, but please do not. This family business, serving Cambridge's "best coffee" alongside a wide range of panini – charmingly named after family members - and dolci, such as amaretti, almond biscuits, is all about Italian classics, rather than showy looks. Under the watchful eye of the sumptuous Sophia Loren and surrounded by Italian newspapers, I had a small, but strong espresso.
The respective owners, Steve Turvill and Peter Savino, tell very similar stories about bringing Italian cuisine to Cambridge. Both welcome a wide variety of clients in their premises, ranging from tourists, students, locals and Italians, eager to get the "real thing". Both want to do more than just serve food; they want to showcase Italian cuisine. Finally, both share the same "secret": they're are not full-blood Italians. Peter has South Italian roots, but was born in the UK. Brit Steve has had a passion for Italian cuisine since travelling in Italy.
With a foot in both cultures, they have adapted Italian food to British tastes. Their food might not be precisely what a nonna would prepare in a remote Italian village. But for them, "authentic" food comes down to simple food made with quality ingredients, the crux of Italian cuisine. Both source most of their products and ingredients, including the best cheese and cured meats, from Italy.
Peter insists on respect for quality ingredients and wasting nothing. This is why he makes his coffee with purified water and beans from the iconic Illy brand, which prioritises these values. "Without good water and beans, you just cannot make a good espresso. You taste a bad espresso in all your other coffee drinks. Once people realise this, you're done". The many empty coffee cups returning to the counter prove Savino's coffee goes down well among Cantabs.
Steve not only wants to turn Limoncello into Cambridge's "number one bistro", he also wants to teach his customers something about Italian cuisine. Clients can taste before they buy and he very willingly explains the difference between mozzarella, cheese made with buffalo milk and burrata, made by turning mozzarella into a pouch and filling it with cream. To take his "eatucation" a step further, he is planning to organise taster events, showcasing specific ingredients.
Both Steve and Peter have seen Italian food evolve massively in Cambridge. "When I started out, you could hardly get a decent pizza in Cambridge. I was tempted to start my own pizzeria. Nowadays, people are so much more aware of what good Italian food is", Peter says. According to Steve, television chefs "deserve medals for popularising Italian food in Britain". He is very eager to tap into this enthusiasm here in Cambridge.
My final question for both is their opinion on Italian's food "best kept secret". Steve names truffles, a potent stone-liked fungus. "Because people are unsure what they actually are, they're a bit afraid of them". He hopes his truffle tasting events will change this. Peter believes that Italian food increasingly has little secrets, which he considers a good thing. "Isn't it wonderful that people who have sampled Italian food while travelling are very happy to find it here in Cambridge too?". Peter's and Steve's passion for Italian food is truly infectious. But they actually do not really need to convince me. I taste everything they say in the bruschetta and the coffee. Limoncello and Savino's are the closest you can get to quality, authentic Italian food in Cambridge.