Fried rice: A quick and filling staple
Katy Lamkin once again demonstrates what can be achieved in the humble gyp, cooking up a warming dish to keep out the cold as winter creeps in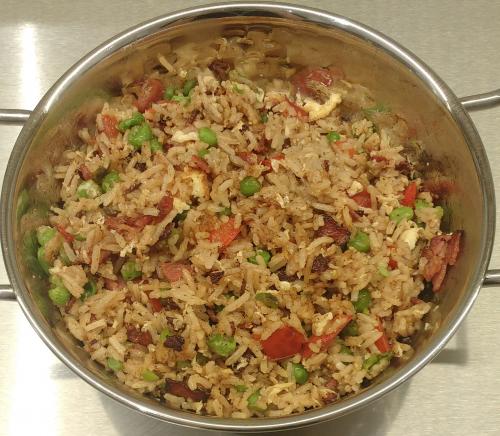 It seems that most people have a selection of books that could do some serious damage if dropped on feet. One of mine is a copy of Delia Smith's How to Cook (it's amazing what kind of offers you can get when the cover is falling off), which lives on a shelf in my college room looking quite innocent. When I was looking for something new to cook a while back, I turned to it, as, with a title like "How to Cook", it surely had some recipes that a cook like me could cope with.
The recipe I came across was her "Chinese Stir-Fried Rice".
One of the things I miss most when I am in Cambridge is a reasonable variety of takeaway shops. If someone could point me in the direction of a half-decent fish and chip shop that doesn't charge an arm and a leg, I'm be much obliged. Generally, one of the first things I ask for when I get home at the end of term is "could we have fish and chips next week?" or "could we maybe have Chinese soon?", generally accompanied by some statement about how I haven't had any for over two months.
So I set out to make my version of Delia's fried rice to see if I could bridge the gap.
I will be brutally honest and say that this recipe was a bit of a learning curve for me, not least because I found out that if I am going to cycle back from Sainsburys with a box of eggs, they ideally need to be well-cushioned (one of them, sadly, did not survive the trip). Secondly, that I needed to find other recipes to use up said eggs, as my baking skills leave a lot to be desired and I don't actually have any baking tins anyway. Thirdly, that for all the fact that rice is a staple ingredient in my kitchen cupboard, I've been overcooking it for two years. I can't say that I now have perfectly fluffy rice worthy of Masterchef or the like, but a few attempts at this has definitely helped my cooking in general.
I'm not going to make any comments about the authenticity of this recipe, even to the standard of your average takeaway
I am not going to make any comments about the authenticity of this recipe, even to the standard of your average takeaway. I had to adapt Delia's recipe, not least because she asks for dried shrimps and dried mushrooms, and I was not willing to go to the effort of cooking with – or even looking for – either. But it was still the simplest version I found, and I made my first batch and thought "why didn't I do this before?" Not only was it ridiculously quick (quite possibly the fastest full meal I've ever made) but it was all done in one pan and didn't leave much washing up to do, which are always positives in my book. Also, it was so colourful I am tempted to make it again next week just to see how many different colours I can get in it, because how often do you find a plate of food that looks that interesting?
One note: the rice needs to be pre-cooked and cooled. If you want to get a pre-cooked portion, then by all means, but I found that taking some time out of work at about midday to cook a portion, rinse it under cold water and stick it in the fridge worked perfectly well.
Fried rice (inspired by Delia Smith)
1 serving, ready in 15 minutes
Ingredients
One portion of rice, cooked and cooled. Cook, then rinse it in a colander in cold water and put it in the fridge until you need it.
Oil (sunflower works fine)
One egg, beaten gently (i.e. until the yoke and white have just become indistinguishable)
1-2 rashers of bacon
Half a pepper, chopped into small pieces
1 large mushroom, chopped into small pieces
Small handful of peas (defrosted if frozen)
1-2 tablespoons of soy sauce
Method:
1. On a high heat, heat a little oil in a large frying pan. Add the bacon and pepper and cook until the bacon is crispy
2. Add the mushrooms and peas and cook for another minute
3. Add a little more oil, then the rice. Stir for a minute
4. Pour in the egg and carry on stirring until it has separated into little pieces and spread throughout the rice
5. Add soy sauce, to taste
6. Eat!