Clare May Ball: location, location, location – and a great party
Tickets may have been suspiciously easy to get hold of, but Clare May Ball did not disappoint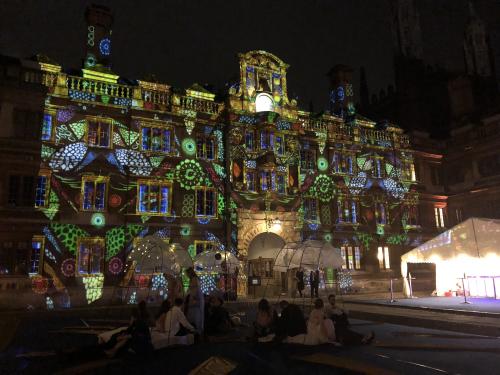 There had been rumours: people saying that Clare May Ball was disappointing last year, meaning that the tickets weren't selling this year. Our group was late getting organised for May Week, so it was only through a speculative marketplace post that we got hold of tickets. "How many do you need?" asked the ticketing officer. "Eight, please!" came our reply. Suspiciously easy, then, to get into, but Clare is one of the prettiest colleges, so we didn't let the faltering ticket sales dampen our excitement for Monday night.
We didn't let the faltering ticket sales damp our excitement for Monday night
The committee did not disappoint. While the queue was long (probably our fault for being, again, late), it moved fast, and we were welcomed into Old Court with wood-fired pizza and prosecco. We carbed up for the night ahead; demand was high, but the pizza was tasty. Throughout the night the food was very well done, with the right balance between substantial plates for punters looking to get their money's worth, and those who were looking for the highest gastronomic quality. However, breakfast didn't really materialise in enough quantity to suit – a common problem across may balls: there was only one coffee stand, and the Urban Shed paninis vanished by 4am. Drinks, however, were plentiful all night. On a warm night like Monday, G&Ts were popular, but there was variety to suit a range of tastes. 
As a South Londoner, I was particularly excited to see Mike Skinner's headliner set on the main stage. 'Main stage' is generous, when compared to the size of the set up at balls such as Downing and Trinity. Nevertheless, we looked forward to his house/garage slot mixed in with some Original Pirate Material. To our disappointment, though, Skinner seemed bored, the music wasn't loud enough, and we ended up leaving early. To be fair to him, it must be a bizarre (cringe-worthy?) gig, playing to a group of slewed students in black-tie in Clare fellows garden. Instead, we spent a lot of time in the silent disco, which was busy the whole night, and didn't skimp on the ABBA. Student bands really stood out, especially Kip and the Crew and Moonflower, who channelled Debbie Harry in one of the (many) performances of Earth, Wind and Fire's 'September'.
The 'planetarium' theme didn't really feel imaginatively thought-through. There was a nod to the planets in the layout, and the projection in Old Court was incredible, a genuinely beautiful addition to the night. But other than that, I never felt that the organisers had much confidence in their choice. It didn't really matter: the real attraction was the College; grand but intimate, with King's in the dawn looming just behind. Clare hosted one of the best balls of the season on Monday night, a perfect way to spend my final May Week.