A midsummer night's pancake
Looking to pimp up your summer soirée menu? Here's how to do it Nordic style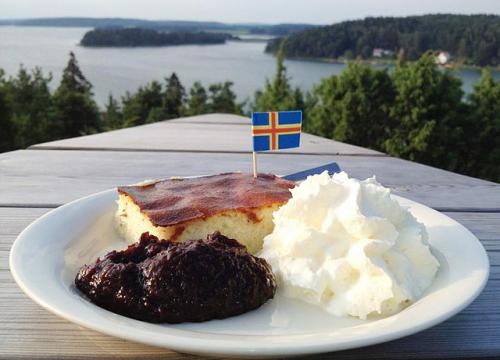 From the lands of hygge, lagom, flat-packed furniture, and a social welfare system that Americans think is communism, I bring to you yet another Waterloo moment: summer pancake parties. I realize that the expression is firmly trudging into oxymoronic territory in a country where pancake dos are strictly a Shrove Tuesday affair – and Easter is never as late as June. I'm also very aware that when Mary Berry set 'picnic fit for a queen' as the final challenge on Bake Off 2016 as an epitome of good ol' British summer times, it was all scones, quiches and tarts, with pancakes as absent as soggy bottoms. But please trust my inborn Nordic chicness, this summer you want to ditch the old sausage roll and get squirting cream on pancakes instead.
No, you don't need your Nordic knit all year round, even in Finland
The defining feature of my summer is when it's warm enough (no, you don't need your Nordic knit all year round, even in Finland) to bring out my muurinpohjapannu – or, put in more mundane terms, an outdoor griddle pan. Think of its importance this way: while Jamie mucks around with his sausages on a BBQ, I embrace the pan; while Nigella preps her buns, I'm setting up a pancake production station in the back garden; when Gordon f*?!!*? Ramsay marinades his smoke f!!?*?!* pork ribs, I'm fuc… sorry, flipping, pancakes. You get the picture.
Now, the recipe is nothing out of the ordinary, and probably comes in as many variations as there are pancake makers. Mine is nowadays a vegan marvel with oat milk, flour, sugar, an extra kick from sparkling water, and believe it or not, no egg replacer. But any vaguely crépe-like recipe will do, because what really matters is, just like on Love Island, not what is on the inside, but what is on the outside.
I've always taken pity on those poor British souls who believe that sugar and lemon juice are sufficient toppings on Pancake Day. I mean, Shrove Tuesday marks the last day before Lent, not the first day of fasting, right? A Nordic-style summer pancake party has no Scandinavian minimalism about it, and offers a smorgasbord (see what I did there) of toppings: berries, ice cream, whipped cream and jam form a standard line-up.
However, if you find yourself in want of a marvelous muurinpohjapannu, or pancake flipping just isn't in your ouvre, worry not. There is a less-hassle but equally oh-look-at-how-Nordic-I-am alternative: the Åland pancake to you. Like its home, the Åland islands – a little bit of heaven in the sea between Sweden and Finland – this member of the pancake family is a, thus far, well-kept secret. Think of emphasising the 'cake' in 'pancake'. You add some rice or semolina pudding to your standard pancake batter, pour it all into a baking tray, pop into the oven, et voilà, you have yourself a trayful of super thick pancake with practically no effort at all. Here is your highway to pancake bliss:
Åland pancake
1dl sugar
3 eggs
¼ tsp salt
1 tsp cardamom
1 ½ dl flour
2dl semolina or rice pudding
7 dl milk
Beat the sugar and eggs, and add in the salt and cardamom. Mix in the flour. Add the rice or semolina pudding and milk, and mix until smooth. Pour the mixture into an oven tray (roughly 20cm x 25cm), sit back, relax, and watch it bake in the oven at 225°C for roughly half an hour (or go on Netflix while waiting). For my fellow vegans, just substitute the dairy milk with your preferred plant-based alternative – I'm an advocate of oat milk in this case – and instead of the eggs, mix in roughly 1 dl of soya yoghurt, and skip the beating-the-eggs process.
Have your Pimm's and sausage rolls by all means, but in words of another Nordic miracle: take a chance on me.