Anna's Culinary Corner
Anna Hollingsworth goes north for rotten fish, magic deer, and cinnamon buns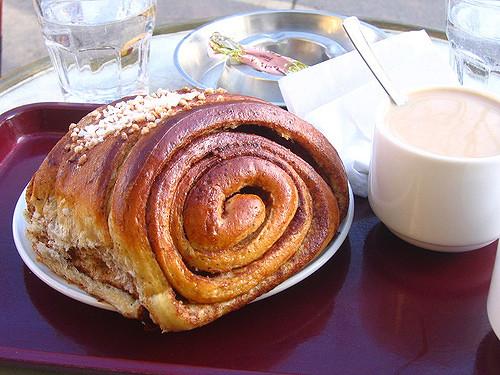 What with all the Eurovision extravaganza, Sweden has been on something of a national marketing campaign lately. But the land of ABBA and Måns Zelmerlöw has more to offer than just Love Love Peace Peace: the Nordic countries are entering the global food scene big time. Chatting to a former Michelin-star chef and college catering manager a few weeks back, I learned that while Korean, Japanese, and Spanish cuisines are holding their own in the global food market, it is the Nordic flavours that are topping the foodie charts. If you think about it, most of the UK will have been exposed to some form of Nordic cooking: I've had college formals featuring herrings served with rye crisp bread, IKEA keeps churning out meatballs (with the added mystery of whether horse meat is among the ingredients) to hungry shoppers, minimalist Nordic cafés are having a field day overcharging for gravadlax, and Wallander and company on Nordic noir television snack on smörgåsar when not catching criminals and saving the Nordic welfare state.
I am not claiming to be a culinary guru (I mean, these columns always radiate humbleness, right?), but with a large chunk of my life spent in Finland and nearly a year of working in IKEA thrown into the mix, I dare say I know my Janssons frestelse from köttbullar and my appelkaka from pannkakor. With this humble life-experience, I bring to you the love-it-or-hate-it, the weird, and the scrumptious of Nordic cuisine. 
We all know the foods that make some cringe and others sigh with pleasure – think of pineapple on pizza or Marmite on, well, anything. Surströmming is a prime example of the category of polarising foods; the Swedish speciality rougly translates into the oh-so-appetising 'fermented sour Baltic herring'. The fish caught in the spring, then salted and fermented according to an age-old process, and finally packed into a sealed tin to wait for a month or so to be opened and dished up in the autumn. With a smell comparable to rotten eggs and raw sewage, it is understandable why someone may want to excuse themselves with a polite 'nej tack'. Now, I might not be selling surströmming very well, but take a leap of faith and trust me: the spicy, sharp, savoury flavour is a delight for the palate. Wrap it up in klämma, a thin bread, with some potato and onions, and you're in for a treat. That said, I have to confess I'm not hard-core enough to follow true herring enthusiasts in tucking into the previous year's vintage.
Something that does fall into the 'hate' cateogry for me is the Finnish speciality salmiakki, or salty liqourice. Everyone knows the type who will avoid the black sweeties in a bag of pick'n'mix. It gets worse in Finland, where you can never know if you're popping into your mouth liqourice that is actually edible or its sourer, saltier counterpart – talk about childhood traumas. Admittedly though, many people do devote themselves to salmiakki. Testament to its popularity is its appearance in everything from chocolate to shots.
What weirds people out, however, is not rotten fish nor the semantic paradox of non-sweet sweets. I'm rarely criticised for my food choices, but I seem to carry the cultural burden of my countrymen eating reindeer. I've been accused of tucking into Rudolph and stealing off Father Christmas his preferred mode of transport. The less animal-friendly and gift-concerned of my acquaintances, however, regularly query the flavour of what someone once dubbed 'magic deer': think of a tougher, rougher version of venison, or in snobbish gourmet terms, 'arctic artisan game'. For a traditional experience, try reindeer with mashed potato and lingonberry jam. You might not get a full stocking for Christmas, but the contrast of the comfort of potato, the tangy sweetness of the berries, and the roughness of the reindeer is well worth the risk.
Nordic food is not all about going on a magical mystery tour, though. My all-time favourite is safe, scrumptious, and sweet – the cinnamon bun. Cinnamon buns come in different varieties across the Nordic countries but these are all basically takes on what you get in IKEAs across the globe. During my days as an IKEA cashier, I was positioned across the isle from a bistro where frozen buns were given a boost in the oven to achieve that freshly-baked effect. Given the comfort (and grumbling stomach) that the sweet wafts of cinnamon brought to my days of scanning flat-packed furniture, I guarantee that my trusty recipe for cinnamon-ey goodness will banish all exam term worries.
CINNAMON BUNS
For around 10-15 cinnamon buns, you'll need:
For the dough
½ litre milk
50g fresh yeast
1 or 2 tsp salt
2 dl sugar
1 tbsp cardamom
1 egg
about 14 dl flour
100 g butter or margarine
For the filling
50–100 g butter
½–1 dl sugar
1–2 tbsp cinnamon
For the glaze and topping
1 egg
nib sugar (if you can get your hands on some!)
Dissolve the yeast into lukewarm water. Add the salt, sugar, cardamom, and egg. Mix in enough flour so that the dough doesn't stick to your hands – mastering the perfect consistency takes some – and add the butter or margarine towards the end of the flour-adding process. Let the dough prove for at least half an hour; if your gyp room doesn't come equipped with a proving drawer, putting the mixing bowl into warm water is a nice trick.
When the dough has about doubled in size, roll it out into a rectangle about one centimetre thick. Spread the toppings and roll everything up into one long roll. Cut the roll into triangles about five centimetres wide at the wider end, and press into the top of the triangle (pushing down into the wider end) to achieve the correct shape. Glaze with egg and top with nib sugar if desired. Bake at 225°C for about 10 minutes, tuck in, and banish all the worries in the world!
I just can't say 'no' to cinnamon buns. I was defeated, they won the war – I am finally facing my Waterloo.