Ovenless delights: sweet potato dreams are made of these
From basic to posh, here is how to master sweet potatoes in the microwave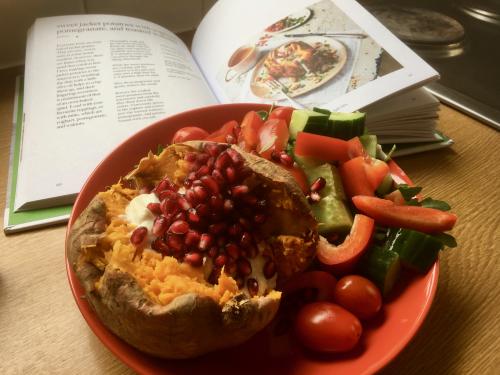 Sweet potatoes are firmly at the top of my vegetable kingdom. I mean, what better way to fuel my sugar addiction in a socially accepted way? Now, I had my doubts about microwaving my precious patatas: call me old-fashioned, but surely nothing can beat the fluffiness of a sweet potato lovingly baked in the oven? But as college gyps are not exactly equipped with Agas, I decided to give the microwave a go. The result? I'm thinking of getting in touch with Mary Berry about re-launching her '80s microwave cookbook with sweet potatoes in pride of place. For now, though, you'll just have to contend with the tips of a lesser baking queen.
As riveting as using a microwave can be, toppings is where the haute-cuisine fun starts
Going back to the very basics, it may sound like the packaging of your standard ready meal, but, believe me, microwaves do vary. Mine is particularly powerful, to the extent that three minutes on high did not only do what it said in the instructions, but was also enough for my supposedly heat-proof plastic container to start melting (plastic is only a problem in nature, and not in my digestive system, right?). How long you'll have to work your veg for will also depend on its size (no innuendo intended, promise), but ten minutes should be enough to finish off even the lumpiest specimens. Make sure you turn the sweet potato over halfway through for an even bake.
As riveting as using a microwave can be, toppings is where the haute-cuisine fun starts. A bit of googling will thrust you through the proverbial wardrobe into a whole world of toppings, which you can spend hours researching (trust me, you really can). To get you started, here are four killer combos from the basic to the posh:
The easy peasy
What doesn't hummus go with? I used to get weird looks for opting for hummus on standard baked potatoes at Sidgwick's Arc Café, but sticking to my chickpea principles paid off in the end, as now the internet is full of ideas for pimping up that hummus spud. You might want to spice it up with some smoked paprika or black pepper, and adding lettuce, tomato, grated carrot or courgette will add crunch while boosting the aesthetics of your meal.
The little bit posh
For a fancier version, try pomegranate seeds, (soy) yoghurt, and walnuts. The tanginess of the pomegranate seeds sets off the sweetness of the potato, and the yoghurt ties the flavour fireworks together. Be warned, though, de-seeding a pomegranate can be a tedious job – you'd be surprised how much juice can squirt out of a single seed, leaving your gyp looking like a murder scene. But on the plus side, de-seeding is oddly calming: where some opt for knitting or colouring books, I grab my pomegranate.
The wannabe traveller
"This recipe is inspired by my childhood memories of my Swedish ancestors' herring/the mango rice had on my gap yah in Thailand…" What cook doesn't want to come as cross-culturally aware? Despair not, though, if your ancestors stuck to baked beans on toast or if your most exciting experience of food tourism was eating a regionally exclusive McDonald's meal: 'Mediterranean' is still all the vogue – although how any mention of 'feta' can still be taken to represent the diversity of Mediterranean cuisines, I don't know – and you can create your own sandy beach and blue seas inspired meal without venturing any further than Sainsbury's. Pile sun-dried tomatoes, (fake) feta (incidentally, vegan feta is actually comparable to the dairy version), and olives onto your potato, and your anti-Brexit meal is good to go.
Sweet sweet potato
Yes, a sweet potato can be sweet enough to serve as, well, a sweet treat, too, and this isn't just vegans trying to pretend that cauliflower is an adequate substitute for cake or that a parsnip can simulate a pie. I'll leave you with this: almond butter, cinnamon, a dash of chocolate chips, and you have a winner.