Pub punditry: The Hopbine
The Hopbine's music selection sounds like Tiger, but the pub delivers aplenty in crisps and cider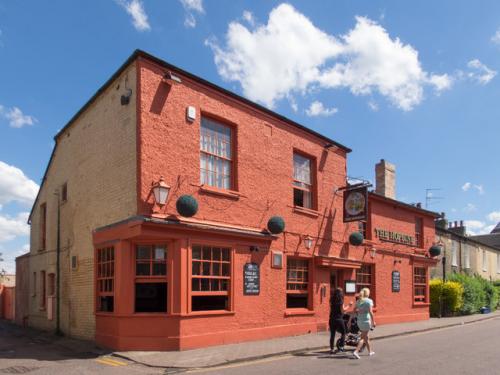 Another Easter term has dawned upon us, bearing the sunniest, cheeriest, and most intense forms of stress, and once again I have ventured out onto the streets of Cambridge to find some pubs. Finding some pubs, it turns out, was actually the difficult bit this time. (Well, finding a pub, and finding the cheery, "actually, did you know I did prelims" voice of last year when in fact exams and death are looming). I considered St Radegunds, but like, realistically lads, apart from The Man Who's Always There And Never Stops Talking To You, no particularly exciting features came to mind. I considered bailing a bit, and doing Jesus bar on the basis of £3.10 For A Double G&T: The World Needs To Know, but decided it was against the spirit of the Cambridge 'adventure'. Eventually, sent to wander down Jesus Lane, and onto Maid's Causeway, in a direction where "there are definitely, like, some pubs," I came across the Hopbine.
The first and most obvious thing about the Hopbine is that it is absolutely massive. It's so big! Spacious! Impressive! It also has very big windows. Big windows are great. They give light during the day, they steam up atmospherically at night, and a mere passing association of the words 'big' and 'windows' in my head inevitably reminds me of The Big Windows, a formative book of my childhood. It is a phenomenal book. I mean, "when Tom Manus brings his new wife, Brigid, from her island home to his small farm on the mainland, a community's age-old customs are shattered" – what's not to love?
I'm not usually a cider fan, but this was amazing
Anyway, to return to the actual pub, it's lovely! Exciting features of décor include an electric blue couch, stained glass above the bar, and a big decorative glass bottle. There is also that fun rail running below the bar, upon which you can stand as you order your drink, and feel taller. That's fun. It's presumably not its purpose, but it's fun. Not knowing anything about music whatsoever at all, I would loosely describe the music playing as, like, Tiger music. As in the music they play in Tiger. Like, soul? Swing? Something? Anyway, it's a solid choice, nice and fun and pretty unhateable. They also played Johnny Cash, or Johnny Cash-bae, as he's known in certain circles.
It was pretty quiet on a Monday evening, although the customers who were there appeared to be the really nice lads from the running club who occasionally fill the Champion of the Thames. That was nice, as it felt almost like getting to know people outside of a University setting. Except for the fact that I didn't speak to them, they presumably didn't recognise me, and all I've got to know is which two Cambridge pubs they drink in. Bit stalky, all in all. There was also a man leaning over the counter chatting about "Gaussian distribution" with the bar-staff, and pronouncing wisdom along the lines of "it's a poisoned chalice, a pub."
Most importantly, the drink on offer is impressive, both in terms of selection and taste. They have real ale, which is basically edgy points on tap and some very tempting deals. CAMRA members get discounts (CAMRA members, we realised after a google, also get National Express discounts, which is a bit rogue, but fair enough) and on a Thursday, any pint of real ale is £3. They have both a guest ale and a guest cider, which is really pushing the boat out, fair play to them. My lovely co-reviewer decided to try out the cider, and it was genuinely so, so good. First of all, it was 6% which is pretty solid bang for your buck (percentage for your pounds?), and second of all, it was appley and juicey and fantastic. I'm not usually a cider fan, but this was amazing.
They do the nice fancy crisps (#Walkersarescum), and they also do actual, not too expensive, food. The most expensive dinner option is a £16 steak, but if you buy two you get a free bottle of wine so like, big hype for that I'm sure. Excitingly, the kitchen is open until 9pm which would make you practically European in your dining habits. So if you're still begrudging the whole Brexit situation, avoid that tempting Spoons sweetness and head to the Hopbine!