New Vice-Chancellor: We can't take more marking boycotts
Deborah Prentice speaks to Varsity about staff pay, free speech and mental health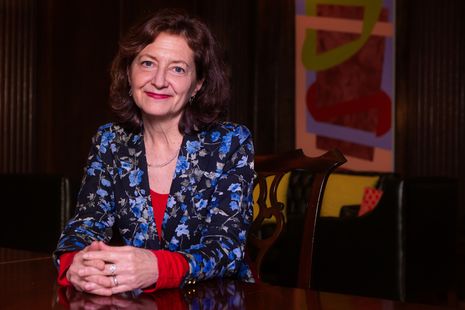 After half a decade as provost of Princeton University, leading Cambridge as the new Vice-Chancellor is in many ways familiar territory for Deborah Prentice. Sitting across from us in her spacious office at the Old Schools, which was first built in the fifteenth century, it's clear that Prentice is having to confront a new set of traditions. Still, she presents a subtly powerful presence, calm and composed, boldened by the bright print of her floral blazer. The imposing wooden-panelling of the room is offset by a pop of modern art, bringing a new energy into the space.
Coming into Cambridge from across the pond, Prentice feels grateful for the opportunity to start from scratch: "I think it does bring a fresh perspective, I think it brings humility," she says. She moved to Cambridge partly out of a desire to learn something new — a fitting sentiment for someone overseeing one of the world's most prestigious academic institutions. "There are things that Cambridge I think solves beautifully that American universities don't solve as well," she observes, while also suggesting that in some areas Cambridge should "take a look at" what American universities do. Although she later jokes about the lack of cooperation between the colleges, offering us a rare glimpse at her personality ("who says the colleges never cooperate? They cooperated on my inductions!"), she says that she's never seen any American university "come close to what Cambridge can do" with the college system. She admires the way it marries the two halves of university life as a research institution and as a place to nurture students.
On the other hand, Prentice tells us she has been involved in conversations about broadening the Cambridge curriculum in a way that more closely resembles the US liberal arts system, especially when it comes to an educational focus on sustainability. Cambridge Zero, for example, was started in 2019 as an initiative to maximise Cambridge's contribution to creating a sustainable zero-carbon world. As part of Cambridge Zero, Prentice tells us there is a desire "to have environmental sustainability be a part of everybody's education." However, she is keen to emphasise that these aren't her own views: "I don't have a personal view about this," she clarifies, explaining that this is something she's heard others discuss.
In this dichotomy between what she has "heard" and what she personally desires to do, throughout the interview we find ourselves navigating the boundaries of Prentice's position. As we ask whether she plans to fully divest from fossil fuels, we discover she doesn't see the design of specific policies as the focal point of her job: "ultimately, it's the University that will decide. The governance here is such that particular policies will get hashed out by the Council and the Regent House." Instead of fixating on the "narrow" issue of University funding, Prentice hopes to help lead the university forward in the space of climate change more broadly. This is a project that, she says, everybody is on board with. "Everybody," she repeats, with a decisive nod and pointed stare.
"There are things that Cambridge I think solves beautifully that American universities don't solve as well"
As we move from the climate crisis onto the cost of living crisis, Prentice chooses her words carefully. She is anxious, she tells us, that students may not be aware of the plethora of bursary schemes and hardship funds available. "The University doesn't have the resources to carry everybody," she admits, while still insisting that "there's always a solution for anybody who's really struggling."
Students' education has been severely disrupted over the past few years, and the University is currently in the midst of a pay review. Prentice insists the University is going to require deep change to achieve higher pay: "it's going to require a lot of change at the University, actually, because it's not as if there are pots of money lying around – it's about changing the way the organisation works and driving efficiencies in order to provide the ability to pay our people more."
The University is currently gathering data from an independent evaluation to find out where the biggest points of stress are. "It will take us a couple of years to work it all out," she admits, but she hopes to "tackle" those who are "most underpaid" first. "This organisation can't take a lot more marking and assessment boycotts, on all sides."
"The most important thing I feel I'm doing this year," she says thoughtfully, "is seeing this through." Despite this emphasis on importance, when we ask whether the demands for pay increases will be met, she hesitates: "I mean, I don't – I doubt it." Then she clarifies her stance: "I don't know, because I don't know what they're going to be […] we're not just going to be able to roll that back immediately which is what I think people were asking for – I don't think we're going to quite get there." But she eventually regains her balance: "we want it to be a great place to work and people deserve fair pay for their work, obviously," she concludes with an affirming smile.
Throughout our interview, she is also eager to express that mental health is another "critically important" topic. On the issue of student suicides, she notes that additional mental health resources were put in place before she arrived. But is this enough given the pressures that come with the Cambridge environment? Student stress and workload have been the focus of many of her meetings since spring, she tells us. "The proposal for the reading week came through as a way of trying to address that stress," she said. Although the University has established a reading week working group, students are still awaiting a final decision on the matter.
"Universities aren't about telling people what to think, they're about teaching people to think for themselves"
Amidst fierce debates over affirmative action in the US, does Prentice see any similar flaws in Cambridge's admissions system? Here she has no qualms - she sees the system as "very strong". She continues, "in the United States, universities talk — I don't know, it's a system in flux there - but they talk about admitting a class. They don't talk about admitting students," she notes. "And here it's not thought of that way […] I feel like every individual really gets a thorough evaluation and opportunity to present themselves."
At heart, Prentice is a social psychologist. She studies the unwritten norms that govern our behaviour — how we form our views and how we manage difference. For her, this has led to a natural interest in free speech. "My valuing of free speech comes very much out of a recognition of how difficult it is and how important it is," she says. "An educational institution like Cambridge is really the one place where we can at least try to set up the conditions to enable people to have free speech within the law."
To her, this is precisely the University's role — to create environments in which people can "actually learn" from an "honest and open" exchange of views. In an attempt to achieve this goal, she is working to introduce new free speech 'dialogues'. Details, she admits, are yet to be confirmed, but a pilot session will be held in a "couple weeks" on the topic of assisted dying.
Free speech is, of course, a contentious topic of conversation in Cambridge. With a number of student protests last academic year over the invitation of speakers such as gender critics Helen Joyce and Simon Fanshawe, does Prentice see any need to impose limits on the speakers and topics that the university chooses to platform? In response, Prentice turns to an increasingly familiar tool from her toolkit: emphasising the importance of student welfare. "I think inclusion is a first and basic principle in the university. Making sure that everybody feels welcome and included is critically important, period. It's quite separate from the free speech question." She disagrees with the premise that there's any fundamental conflict between free speech and inclusivity: "If we're going to put out a controversial topic, we're inevitably going to be fielding views that people don't agree with, but that doesn't mean that we can't be inclusive as well."
We're offered a similar response when we refer to the open letter demanding that the university publicly denounce the "slaughter of innocent Palestinians", which has been signed by over a thousand students and staff at the time of this interview (20/10). Although she's "not surprised" that people "want to see their views supported," she is ultimately reserved on the matter: "We've just got to focus on supporting our people […] Universities aren't about telling people what to think, they're about teaching people to think for themselves."
Despite the controversies she has already had to contend with in her time here, Prentice is overwhelmingly positive about her experience of Cambridge so far: "I love it […] the people here have been warm and welcoming. Despite all the challenges, they're excited about the future." It was only at the very end of our time with her, as she laughed in surprise watching us rush across her office with camera equipment, that we felt a true sense of the warmth that lies behind her steely composure. "I'm sorry, I'm sorry," she laughed, with a small smile.
Varsity is the independent newspaper for the University of Cambridge, established in its current form in 1947. In order to maintain our editorial independence, our print newspaper and news website receives no funding from the University of Cambridge or its constituent Colleges.
We are therefore almost entirely reliant on advertising for funding and we expect to have a tough few months and years ahead.
In spite of this situation, we are going to look at inventive ways to look at serving our readership with digital content and of course in print too!
Therefore we are asking our readers, if they wish, to make a donation from as little as £1, to help with our running costs. Many thanks, we hope you can help!
Partner Links
Sponsored Links