"My fear is being taken seriously": writer Olivia Sudjic on anxiety, identity, and online life
Martha French speaks with three-time author and Cambridge alumna Olivia Sudjic about the state of contemporary fiction, and her new novel Asylum Road.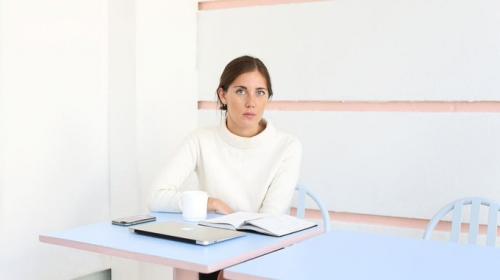 "There aren't many bad things about writing as a career – apart from money, really – but it is annoying that you never clock off, there's always more you could be doing. It's a bit like when you're doing a humanities subject at university, you could always be reading more, you could always be doing more," Olivia Sudjic tells me. The difficulty of adjusting to writerly identity is something she has written about extensively; the 2018 essay Exposure is an attempt to process her anxiety following the publication of her first novel, Sympathy. Now, three years later – and three months since the publication of her third book, Asylum Road – Olivia and I zoom from our respective corners of north London to talk about what has changed.
A week before the interview, she emails to tell me it's in the diary, and then, "Quite weird / a thrill to write 'Varsity' in there, over a decade after I used to work on it (!)". So of course, this is one of the first things we talk about, and I learn that she too was Fashion Editor, back in 2008: "I think I was one of those people who got to university and instead of feeling very inspired to do lots of things and join lots of whatever, I retreated into my shell. But Varsity with a friend felt very comfortable as something I wasn't going to be judged academically on."
Sudjic studied English at Trinity Hall, and Cambridge crops up a lot in her writing. Grounding herself in what she knows shakes off self-consciousness in the first stages of writing, as "if you have these real places that you know, that helps you kind of wade into hip height in the water, and then you're in. I often use landscapes that I know well". But she is not entirely sure whether her own experience as an English student helped or harmed her identity as writer:
"The space of writing novels is so precious because it does enable you to just not know, or to experiment with ideas and put them in the mouths of different characters you don't necessarily agree with. In fact, my fear is being taken seriously, in the sense of having an obvious moral point."
"I think a lot of people might assume from the outside that that's an obvious trajectory, to study English at Cambridge and then start writing novels, but it didn't really feel like that – for me, anyway. It doesn't really feel like you can attempt your own book if you're constantly reading canon, it has that almost silencing effect. Zadie Smith talks about it too: how can you pipe up if you've been reading Keats or Milton all day? And I wonder how much of that is the same for people who identify as male … I don't know, but I had ambivalence about the experience."
And so, writing fiction was not something that Sudjic ever really planned on doing. After graduation and a few years of odd-jobs, she worked as a branding and design strategy consultant, but realises on reflection that its demand of clarity over nuance was something she bridled against: "I wasn't very good at reducing, and actually what I was better at was expanding. The whole point of writing novels, instead of manifestos, is that you actually don't know what you think. The space of writing novels is so precious because it does enable you to just not know, or to experiment with ideas and put them in the mouths of different characters you don't necessarily agree with. In fact, my fear is being taken seriously, in the sense of having an obvious moral point."
And so, aged 25, Sudjic requested a sabbatical from the consultancy, and went to New York to write the novel that would become Sympathy. However, "after about six months I hadn't written a word. I was like 'Well, I guess I failed, I should just go back to my old job and that will be fine', and then just as I had that thought – I guess it's like the same way that I learnt to work at Cambridge – when it's the night before the essay is due and it hits midnight and you're like 'Ok, now I can work!' and suddenly, having basically given up, it was like I had this 'I can't fail' kind of feeling, this midnight oil. I felt, honestly, like I was back in a library in Trinity Hall and I was frenziedly typing anything out."
Sympathy was published in 2017, and follows 23-year-old Alice Hare as she too travels to New York to stay with her Grandma, only to become obsessed – via Instagram – with Japanese writer Mizuko Himura, who she attempts to befriend. To call it (as many have) an 'anti-Instagram novel', however, is missing the point; Sudjic explains "Originally I was writing a historical novel, and it wasn't working, and I realised when I was in New York that this was actually a story about the present. I had been feeling like the internet was my worst enemy: it was distracting, it ruined traditional plots, it was cannibalising book sales, in every way it was my enemy. Then I had this realisation where I was like 'Or, is it the novel? Can I turn my stress about this into exactly the subject?' And I now think that the internet itself is the plot of so many books, because that is all of our plots right now, especially in the pandemic. My narrative arc of every day is the internet, and there's almost no distinction at all between real life and internet life".
In Sympathy, this takes form through what Sudjic calls "a game of perfect information". Seeing the internet as a new framework to write and think into, she tells me it "means we can know anything straight away, which is why it 'ruins' the plot because Romeo could call Juliet, or whatever. But it's like a game of chess: you can see the board, and every move you could possibly make is visible, but the plot element is what are you going to choose to do, and that's the only thing you don't know, is what your opponent plans to do, even if you know all the things they could do."
The consideration of the novel itself as a form of technology is also incredibly important to her: "the idea of 'sympathy' in itself is what the novel was about when it was first invented, it was about getting into the mind of this other character, in a way that felt quite magic and quite dangerous". She notes many similarities between literature and the internet, for "the advent of the novel generated so much anxiety amongst people. But normally, these things happen at a much slower pace, so critical discourse can be happening at the same time, whereas the internet had gone straight from this utopian dream to something like Cambridge Analytica."
"If I stopped having any presence online at all, especially right now, I would not exist. If I just ignored it entirely and never looked at it, I would have a hard time justifying being a novelist who supposedly writes about contemporary life"
Writing, therefore, is a way to regain some form of control, to "sit with something slowly, and really hone in on things, and give them a kind of human speed and scale again, and restore what is so beyond general comprehension of how lots of this really works. I felt like the novel was a really good way to explore this as a really old piece of technology next to the internet as a really new piece of technology, and I wanted to find a way that they could lock together as a way of slowing analysis down."
Sudjic's interest in the way the online world bleeds into our real life extends beyond Sympathy. In Exposure, she says of her ebbing desire to delete her public Instagram, "I worry I'd have less control. I worry I'd lose my voice". I ask her what she thinks of her account now: "If I stopped having any presence online at all, especially right now, I would not exist. If I just ignored it entirely and never looked at it, I would have a hard time justifying being a novelist who supposedly writes about contemporary life". Never has this been more important than these last months, with the publication of Asylum Road falling right in the middle of the third lockdown, preventing not only traditional promotion, but potential readers' access to bookshops.
Nevertheless, it has garnered plenty of critical acclaim, with The Guardian noting Sudjic's "preternatural sensitivity to the crackling electric currents that run beneath the surface of things" and Harper's Bazaar naming it one of the best books of the year so far. It tells the story of neurotic PhD student Anya as she takes her fiance to Bosnia to meet her family. Wrought with anxiety and interiority and flashes of the past, Anya's centre cannot hold: a magnificent unravelling occurs. It's a book about what happens when you stop exhausting all your energy on upholding the fallacy of a boundary between the personal and the political, about the unending impact of the Yugoslav wars, about the miscommunication epidemic in millennial relationships, about what post-Brexit Britain actually means.
But why link all these threads together now? Sudjic "felt like if I did have any opinion that was clear, it was that this could happen here, not that it would, but that it could". Her Dad's side of the family are Yugoslavian "and they're not like savages, they're normal people, and they didn't think it was going to happen to them either, and that's a very human thing, where no one thinks disaster is going to happen to them."
"Literally the week before the book was due to be published was when the attempted coup in the US Capitol was happening. I was watching commentators on the news say things like 'This is like the Balkans, this doesn't happen here!' but like, it's happening, right here, right now, what more do you need? It is, and it always has. I wish it wasn't more relevant, but it's like Sympathy: I write into an anxiety, and then by the time the book's finished it's massive; you just have an instinct about something that's going to become more relevant."
Now that Sudjic has, albeit largely virtually, experienced the processes of writing, publication, and reception for the third time round, I ask if her identity as a writer feels more comfortable now. "I'm very satisfied with where I'm at," she accepts, "but I do worry that if I stop writing I'll slip off the face of the earth, or I'll stop being a 'writer'. I'm still trying to work out the transition between someone who's published a couple of books, and writing being who I am. You have to find a way for it to sustain you, and that's the transition I'm making at the moment."
Asylum Road is available to buy online (and in all good bookshops!) now.
Varsity is the independent newspaper for the University of Cambridge, established in its current form in 1947. In order to maintain our editorial independence, our print newspaper and news website receives no funding from the University of Cambridge or its constituent Colleges.
We are therefore almost entirely reliant on advertising for funding and we expect to have a tough few months and years ahead.
In spite of this situation, we are going to look at inventive ways to look at serving our readership with digital content and of course in print too!
Therefore we are asking our readers, if they wish, to make a donation from as little as £1, to help with our running costs. Many thanks, we hope you can help!