'The Green Knight': translating medieval poetry to the screen
Film & TV Editor Magdalena Gabrysiak delves into David Lowery's new film and the medieval poem it is based on, comparing the two through more than just their forms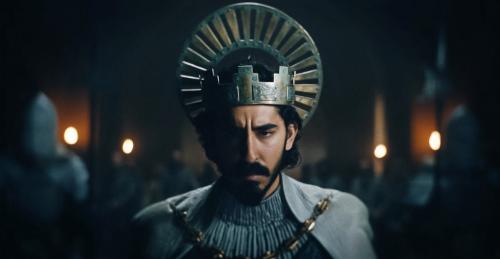 Even a single glance at the trailer for David Lowery's new film, The Green Knight (2021), leaves no doubt that the director's cinematic adaptation of a medieval literary text – the Arthurian poem 'Sir Gawain and the Green Knight' – is emphatically modern, both in its cinematography and the social commentary it offers. The entire movie is pervaded by the kind of uncanny eclecticism and originality that the production company A24 has been fostering for a long time, with films like Greta Gerwig's comedy-drama Lady Bird (2017), or Ari Aster's idyllic horror, Midsommar (2019).
"The director is issuing his viewers one simple warning: if you cut off nature's head, it will simply get up, go on and wait for the right time to cut off yours."
In its use of a text so far removed from our contemporary context, however, The Green Knight has solicited critics' particular attention and prompted reviewers such as The New Yorker's Richard Brody to praisingly assert that with this production 'Lowery revises a legend, in style and in substance, in order to evoke a way of telling different stories, and telling stories differently', later adding that Lowery's adaptation of this chivalric romance constitutes 'a daring effort to dramatize a world in desperate need of artistic redemption'. But is the medieval world really in such 'desperate need' of an overhaul, or is it our modern picture of it – that curious blend of Walter Scott novels and Monty Python sketches – that Lowery is attempting to discredit 'in style and in substance'? A close look at the film alongside its source text reveals that the uncanny originality and seeming modernization of The Green Knight are at their most extreme when Lowery mimics and reproduces aspects of the poetry.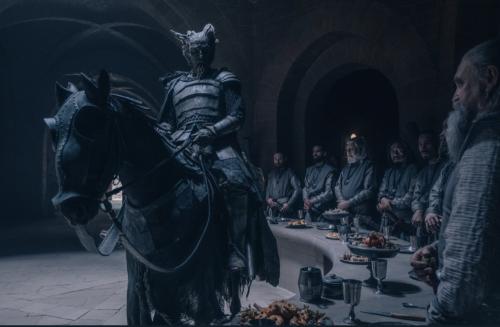 Any first-time reader of 'Sir Gawain and the Green Knight' who opens the book expecting a thrilling, blockbuster-esque tale of sword-fighting knights, dragons, and princesses, is disappointed after just a few pages. Similarly, the viewer of Lowery's movie is disillusioned and thoroughly confused within the first ten minutes of the film. It immediately becomes clear that this story is bewilderingly different – much more sinister and filled with poignant psychological complexity than we are inclined to expect from a medieval tale. Just its main premise, though shockingly simple, manages to defy both our cliched assumptions about the Middle Ages as well as conventional models of cinematic tension-building. The story begins when King Arthur's (Sean Harris) Christmas feast is interrupted by the arrival of a mysterious green giant (Ralph Ineson) who challenges one of the knights to strike him. The condition of this wager is that if he were to survive the confrontation, his assailant will – after the passing of one year – travel to the Green Chapel and willingly let the monstrous knight give him back the same exact blow. Gawain (Dev Patel) promptly volunteers and cuts the Green Knight's head off without hesitation. For a brief moment, all seems well again, but then the Green Knight's headless body stands up, picks up its missing part and storms out of the castle, leaving behind the now terrified Gawain. Both the poem as well as the film focus on the following, seemingly hopeless, quest of Sir Gawain.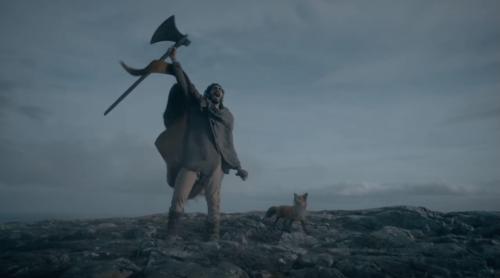 And so, merely the core structure of this unconventional story taken directly from the pages of medieval manuscript, affirms Lowery's desire to challenge stereotypical assumptions about the Middle Ages and forge a more nuanced, complex narrative of the period, which it no doubt deserves. The director's intention to evoke the viewer's admiration for this far away time is further emphasised in the breathtaking and meticulously crafted camera-work: extended take long-shots, 360 degree pan shots, a majestic crane shot over a cliff, and the use of extremely modern VXR-technology in creating clear starlight skies and majestic colossi – such visual aspects of the film even Brody describes as 'moments of visual poetry'.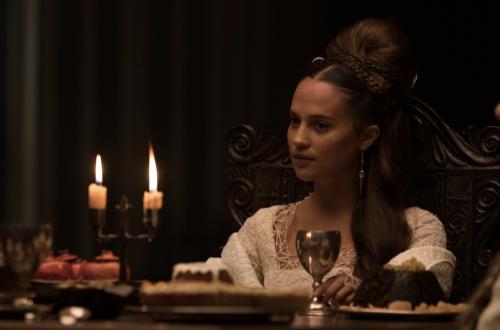 There are some changes to the source text which Lowery incorporates into his film. The effect they have on the overall narrative can be largely put into perspective when looking at the two – the poem's and the film's – titles. The chivalric romance, 'Sir Gawain and the Green Knight' reveals the narrative's strong focus on Gawain himself alongside a discussion of how the Green Knight's curious challenge affects his journey and knighthood.
"The Green Knight does a phenomenal job at putting aspects of the medieval world into a context that modern audiences can not only relate to but perceive as new and innovative."
Lowery's The Green Knight, however, shifts the primary focus away from the Arthurian hero. The director adds a plethora of characters (including the cutest, VXR-created talking fox imaginable), thereby allowing for a greater polyphony of voices, and putting the spotlight onto the mythical warrior, giving his signature 'greenness' a symbolic significance that goes beyond medieval codification. Analogously to Alicia Vikander's character who, in a powerful, jaw-dropping monologue, justifies the giant's colour by painting a catastrophic picture of a world in which green, with its primary ability for rebirth, constitutes the only lasting thing in existence; so Lowery seems to violently emancipate nature into the form of his titular character as a way of offering social commentary on the climate crisis. And so throughout the film it is as though the director is issuing his viewers one simple warning: if you cut off nature's head, it will simply get up, go on and wait for the right time to cut off yours.
Ultimately, The Green Knight does a phenomenal job at putting aspects of the medieval world into a context that modern audiences can not only relate to but perceive as new and innovative, which speaks volumes to the professionalism of its craftsmanship. What makes it a truly masterful film, however, is the fact that it manages to unite a respectful adaptation of its medieval source with contemporarily relevant social commentary. In short, the movie is definitely worth a watch and not just because you get to go to the cinema to do it.
Varsity is the independent newspaper for the University of Cambridge, established in its current form in 1947. In order to maintain our editorial independence, our print newspaper and news website receives no funding from the University of Cambridge or its constituent Colleges.
We are therefore almost entirely reliant on advertising for funding and we expect to have a tough few months and years ahead.
In spite of this situation, we are going to look at inventive ways to look at serving our readership with digital content and of course in print too!
Therefore we are asking our readers, if they wish, to make a donation from as little as £1, to help with our running costs. Many thanks, we hope you can help!