Varsity's top Christmas TV specials
Jake Boud provides a run-down of the television classics (and unlikely favourites) destined to get us through the festive season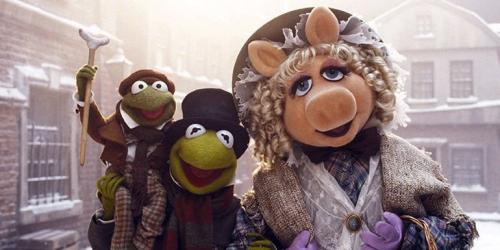 Ho ho ho! It's that season again inside the Cambridge bubble when we all suspend our collective disbelief, raise our mince pies and celebrate another mid-November.
With this in mind, here's the rundown of the top alternative, and classic, Christmas comedy specials.
 8. Mr Bean, 'Merry Christmas Mr Bean' (ITV, 1992)
Not obviously alternative, admittedly, this episode is nonetheless a Christmas staple. The turkey-on-head scene, a classic; the nativity scene (a personal favourite) is puerile fun; and there are some great interactions with Bean's girlfriend in this one. Slapstick comedy you'd find in the textbook.
 7. The Office (UK), 'Christmas Special' (BBC, 2003, 2 episodes)
The Office has that particular brand of dryness that often polarises audiences, but it is undeniable that the show deserves its place in the British comedy canon. Given the number of shows it has influenced (including one particular pale imitation…) watching The Office is as much educational as it is amusing. Plus, the Christmas special is peculiarly touching.
 6. Peep Show, 'Seasonal Beatings' (Channel 4, 2010)
Admit it: you've seen that scene. Responsible for the phrase 'that wasn't very Christmassy', this episode is authoritative, and even if you don't like Peep Show, it's worth watching for that scene. Because it is very, very funny.
 5. Knowing Me Knowing Yule (BBC, 1995)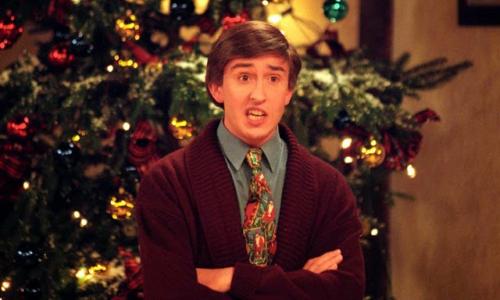 Why eat turkey at Christmas when you can enjoy a partridge? This show isn't just a festive classic that makes every 'Best Christmas Specials' list – it's a nostalgic ode to one of the best comedy characters ever. In a lovely moment in TV history, Alan's cathartic punching of TV controller Tony Hayers just warms your heart. 
4. A Muppet Family Christmas (ABC, 1987) / The Muppet Christmas Carol (1992)
So, the latter of these isn't strictly TV, but I had to put these in the list because the Muppets are just perfect for Christmas. Wholesome fun – and (if you put aside your preconceptions!) they're surprisingly extremely funny, too, with jokes for adults and kids alike – so very 'Christmassy'. How's your Kermit impression?
 3. Curb Your Enthusiasm, 'Mary, Joseph and Larry' (HBO, 2002)
I have always maintained that Curb is the best comedy show on TV, and the Christmas episode is something special. Whether it's eating the biscuit baby Jesus or wrestling with Joseph beside the manger, our perpetually-grinchy protagonist is on top form laughing in the face of the season of eternal joy.
 2. Blackadder's Christmas Carol (BBC, 1988)
This episode is on my annual schedule, and it gets better and better with every yearly viewing. If you haven't seen this and you're shrinking slightly at the idea of watching another A Christmas Carol adaptation: this one is the last one you will ever need. Rowan Atkinson plays Scrooge with lip-licking perfection; the evil delight with which he lambasts Tiny Tom and gives Baldrick 'a fist' for Christmas is a joy.
1. The Worst Christmas of my Life (BBC, 2006, 3 episodes)
It's a little-known show, but it earns top place on this list by simple virtue of hilarity. Our protagonist Howard (Ben Miller) has to stay at the house of the in-laws (the incomparable Alison Steadman and Geoffrey Whitehead) over Christmas. In typical Howard fashion, everything goes wrong – including a urination disaster, a mulled wine disaster, and a freak castration disaster. Three episodes of golden character comedy