A journey back to Roma
A strong candidate for film of the year, Ryan Kilbourne examines the detail of a monochrome family drama with an admiring eye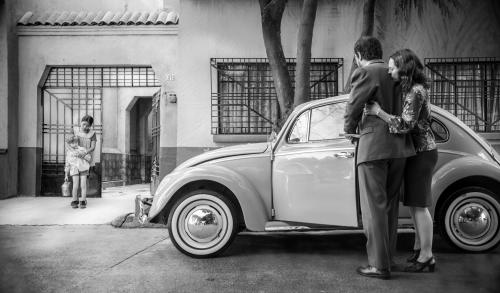 Directed by Alfonso Cuarón
Starring Yalitza Aparicio, Marina de Tavira, Fernando Grediaga
Released 14 December on Netflix
Credited as director, writer, director of photography, editor, and producer, Alfonso Cuarón held control over almost every aspect of this personal project. After the success of Gravity (referenced in Roma with a film-within-a-film featuring astronauts), Cuarón spent almost a decade preparing a cinematic recreation of his childhood as a loving ode to his primary childhood caretaker.
Roma doesn't follow the more traditional narrative conventions of Cuarón's four previous films, let alone the rest of cinema. The film takes place over a calendar year alongside the experiences of Cleo, a live-in maid and nanny for a middle-class family in Mexico City. Its events could be construed as standard plot points – unwanted pregnancy, marital separation, revolution, near drownings – but they do not follow each other in the pattern of a traditional narrative as we have been conditioned to search for in our art products. Instead, Roma is more like experiencing a year of life being recalled decades later, rather than parsing a paperback for narrative beats.
With the help of Netflix, Cuarón has created a kind of mid-century European art film for the streaming era. Although shot in black and white like the films of Cuarón's youth, it is filmed in Netflix-mandated crisp digital 4K. To this end, instead of employing the talents of his usual cinematographer, Emmanuel Lubezki, Cuarón himself acted as director of photography. Not for lack of trying, however, as Lubezki had to step away due to scheduling and Cuarón decided to make his first major foray into the art of cinematography – his work is spectacular, creating an inhabitable cinematic space. Gone is Lubezki's shoulder-mounted ballet, replaced with an almost constant pan locked on a fixed tripod or moving dolly. When Cuarón finally allows the camera to tilt upwards we are treated to a transcendental view of the heavens, both stunningly intimate and vast.         
Truly, Roma rests on Yalitza Aparicio's arresting central performance. With wide eyes and a deep heart, Cleo cares for her wards as if they were her own children. We are sometimes left in the dark about how knowledgeable she is about certain events occurring around her (such as the 1971 Corpus Christi massacre), but leaves no doubt of her patient interest in the world she inhabits. Cleo is painted with loving detail and devotion – she is the divine female, would-be mother, and, eventually, the saint. In fact, she may well be the same nanny of Tenoch (Diego Luna) in Y Tu Mamá También, whom he privately recalls that he referred to as his mother until he was four.
The film evokes a sense of the Great Unknown: how did we end up here? What does the future hold?  What has changed? What will remain the same? Or rather, what has remained the same? Cuarón doesn't claim to have the answers to any of these questions. He is just earnestly inviting you to come along and experience this bygone era years after it has been washed away by the rhythmic waves of sudsy water