Johnny English Strikes Again: Did we really need another sequel?
Johnny English Strikes Again might be imperfect, but Rowan Atkinson is as perfect as ever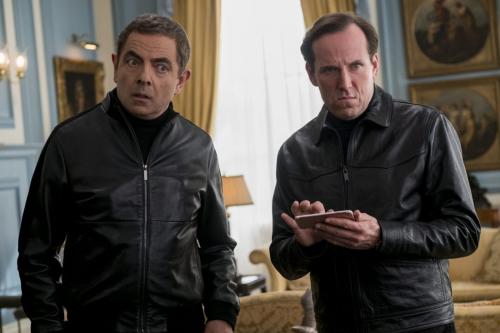 An obscured figure darts through a nocturnal forest. The music is tense, momentous. Then, those first immortal words – the instantly recognisable rallying call – so softly-spoken, yet stupendous in their goosebump-inducing significance: 'Target acquired'.
The words, of course, are of our eponymous hero, Johnny English, once more resurrected for the big screen after a seven-year hiatus as the only bumbling MI7 agent capable of tackling the threat of our new-fangled, tech-savvy villain. This is Johnny English Strikes Again. 
For those of us who know our Pascal Sauvage from our Artem Karlenko, Johnny English – now a trilogy – is without question an era-defining masterpiece of modern cinema. However fallible, oppugnant and confusticating spy spoof features usually are, (indeed, one might say, as is the human condition in general,) the comedic genius that infuses these films makes it rise high above the pack. 
"Too many of the action scenes in Strikes Again are pointlessly over-long, and too much of the plot relies on gadgets and gadget-related jokes."
Why do the words 'target acquired' so thrill the Johnny English aficionado? I believe it is the lip-licking awe with which English savours those words, the sincerity as he grins mockingly at his helpless victim, before he ensnares the eleven-year old child in his man-trap. An instant classic. (I am also informed by Google that 'Target Acquired' is the name of the fourteenth book of the Ethan Jones spy thriller series: if that isn't quality intertextuality, I don't know what is.)
You might, however, read in other (generally negative) reviews about the problems of this third feature. Certainly, this is a weaker film than the first two: in those, John Malkovich and Dominic West are formidable (compare Sauvage's henchmen taking the Queen's corgis hostage); the third film's villain is practically laughable in comparison. Too many of the action scenes in Strikes Again are pointlessly over-long, and too much of the plot relies on gadgets and gadget-related jokes. I would also like to have seen Ophelia, the Russian spy, given more of the script – she seems almost to fade away from the action about halfway through the film: a shame, since she is the closest thing the series has to a powerful female co-lead. (How far is this the responsibility of what basically started out as a Bond parody? – alas, a question for another time.)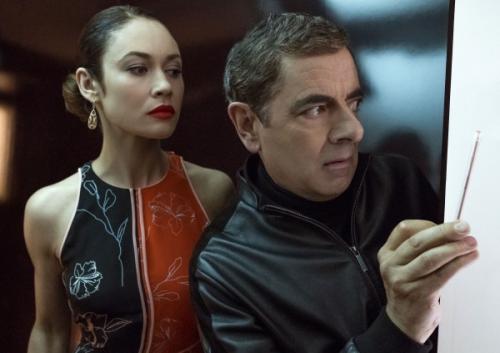 The main sticking-point: the film doesn't take enough time to set up its characters. We are thrust immediately into a story that rockets from gag to gag, without any time to sit back and reflect, perhaps, on the tenderness of English's reuniting with Bough, or to linger on the supposed evilness of the villain before their attempted world domination.
So why is this film still so extraordinary? Why do I still rate it among the very best of all time? Why is it deserving of every Oscar the Academy has to offer? (Am I going too far here?)
The answer is, of course, simple. Rowan Atkinson. Even in his sixties, the man is an incandescent screen presence, showing no sign of relinquishing any of his comedic adroitness. Shining in every laugh-filled scene, from the attempted casualness in his checking teacups for the bleeping of an exploding pen-lid; to trying suavely to pass off getting a cocktail umbrella stuck up his nose in a bar (there's a fantastic nut joke in that very scene: don't miss it); to assaulting and throwing overboard a conductor from the top deck of an open-top London bus – this is vintage Atkinson. 
Building a career on a talent for visual and physical humour modelled on the likes of Jacuqes Tati and drawing comparisons to Charlie Chaplain, he's a unique performer, and for good reason a universally-renowned star. And he is popular internationally, especially amongst the Asian market: Strikes Again was released early in many Asian countries, and follows the first two films (the second of which was, indeed, largely set in China) in grossing highly there: as of time of writing, almost $5m in Malaysia. 
Atkinson is, of course, best-known for his portrayal of the clueless Mr. Bean, and there's a large helping of Bean in this film – and not just in the man's indomitable facial expressions. English's smooth 'danke shun' to a French waiter, and his later attempted de-shelling of a lobster (yes, it's very funny), are both straight out of the Bean textbook – and actually, variations of skits in Mr. Bean's Holiday. There's more of Bean than there has been yet in the series – but this is no bad thing when Atkinson is still, after 40 years of pure entertainment, in such rollicking form.
It will be a national tragedy on an unparalleled level when we see the end of Atkinson's career. Will there be another English film? And as I conclude my piece, there is a certain touching element of pathos as a bus bearing the image of the great man's face, advertising this very film, rolls past the window. The silver of his hair. Will we ever see the likes of him again?