Monkman and Seagull on Love Island, DeLoreans, and copying Big Shaq
The TV stars talk to Devarshi Lodhia following their breakout year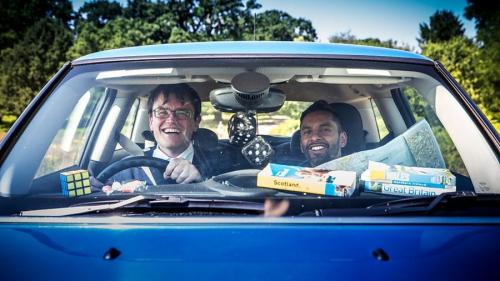 The last few years have been quite a journey for television's newest dynamic duo, Bobby Seagull and Eric Monkman.
Following their breakout performances on University Challenge in 2017, the pair have released a quiz book, presented a show on BBC Radio 4, and now have their own four-part series on BBC Two: Monkman and Seagull's Genius Guide to Britain.
The show sees the pair travel around the British Isles in search of hidden gems of scientific and technological ingenuity. I ask if there was any particular standout locations they visited.
Bobby instantly mentions the DeLorean Museum.
"I'm a big Back to the Future fan and I didn't realise that they made the DeLorean in Belfast in the early 80s" he says. "I even had the opportunity to drive one, although I didn't get it up to 88!"
The excitement in his voice is clear as he tells me about the car's first advertising campaign: posters that highlighted the now iconic gullwing doors. Posters which featured, you guessed it, seagulls.
For Eric it was the people he and Bobby met along the way.
"We were shown around by so many knowledgeable, enthusiastic, and generous guides who gave us a lot of time and were very kind."
The Ontario native seems to relish the opportunity his celebrity status gives him to interact with new people across the country.
"It's not so much having people come up to me and just saying "Oh you're Eric Monkman", it's people saying either to me directly, on Twitter, or anywhere that they enjoyed the show, maybe they learnt something and they're looking forward to another one."
Speaking about the reception for their new show, Seagull, a PhD student at Emmanuel College as well as a part-time Maths teacher at a school in East London tells me the reaction from his students is mixed.
"Some of the kids I teach don't watch any TV so they're like – why's everyone so gassed about Mr. Seagull? But sometimes it makes a teaching a little bit easier, especially with more challenging kids who find maths difficult. If they think they've got a teacher that's got some sort of profile they pay more attention in my lessons."
Bobby's passion for Maths and making it "cool" has even extended into a number of solo projects with his new book, The Life Changing Magic of Numbers, set to be released in October – as well as a series of ads for UKTV for a fictional show called Geek Island.
"I'm a big Love Island fan so it was the perfect thing for me to do. On the back of that, I met Miss England winner Stephanie Hill who also has a degree in Oncology so I'm hoping she'll be able to introduce me at one of my book launch events so that's going to be really quirky."
The pair laugh off my suggestion that their partnership might be under threat from Bobby's new celebrity friends, insisting that Monkman is "very secure" in his role.
As well as maths, one of Bobby's great passions is rap music – something which he's tried to incorporate into his teaching.
"The thing that got me into doing maths raps in class is kids in the playground were rapping Big Shaq's Man's Not Hot and they could recite the entire song but when it came to class they couldn't remember basic things in maths."
"It made me think if you can engage kids in things they're interested in whether it's music or football, it's the best way to get them hooked onto maths."
The show's second episode features Eric singing a song based on the Welsh song, Men of Harlech, so I ask whether an album could be up next for the pair.
"That's actually a really good idea – we hadn't planned that before but now you've said it…There's a lot of nice song parodies about science and I think that'd be my contribution to it and Bobby can do his maths raps."
Monkman and Seagull's Genius Guide to Britain continues Monday on BBC Two at 8pm