Bake Off Week One: Biscuit Week
How did the cookie crumble for the new batch of bakers?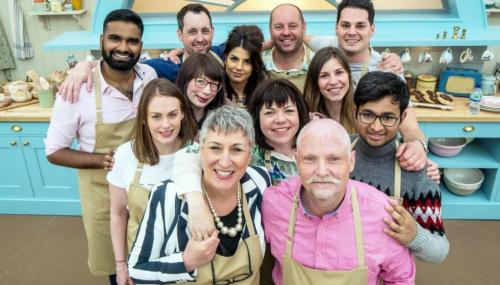 You'd have to live in a cultural black hole (being submerged in Tripos will do) not to have noticed how the discourse around film, TV, and culture, in general, is centring around representation. Whether whitewashing in Ghost in the Shell, the absence of non-straight actors in the lead roles in Call Me By Your Name, and the fact that it has taken until this year to do what Black Panther did for black culture in mainstream cinema.
Now, of course I grapple with the deep inequalities of stereotyped racial representations, failures of the Bechel test, and the powers of the patriarchy, but recently I've faced a more everyday, yet equally burning question. Why does the Bake Off not represent me, the humble home baker, whose chocolate cakes tend to be more faeces than finesse?
The Bake Off is meant to be all about home baking, revealing your cracks, and hedgehogs from hell (watch the trailer). But even knowing that the bakers are the icing on the British amateur baking cake doesn't help the fact that it's hard to relate to superhumans painting selfies on biscuit canvasses. This is where I step in and reveal my soggy bottom for a dose of reality and relatability.
When Rahul presented his fennel and coconut twist of biscuit and cake, I couldn't but gape in awe at this nod to his Calcutta origins
The first challenge was disarmingly heart-warming: a batch of regional biscuits with a personal meaning. When Rahul presented his fennel and coconut twist of biscuit and cake, I couldn't help but gape in awe at this nod to his Calcutta origins. There was pain, too, though. When Terry attempted to paint 24 chocolatey lambs onto his shortbread with the result looking like it had come out of an abattoir at Easter, I actually felt a touch of sorrow mixed with my usual Schadenfreude.
Of course, these feelings were followed promptly by a slap in the face reminding me that I can never be anything like them. Asked to construct a realistic selfie out of biscuit Antony depicted himself on top of Kilimanjaro, while Ruby opted for her London marathon finish. I mean, who isn't both a culinary genius and the prime example of physical prowess? I took some comfort in Ruby turning out not to be that infallible, as even a desperate final baking sprint didn't bring her across the showstopper finish line.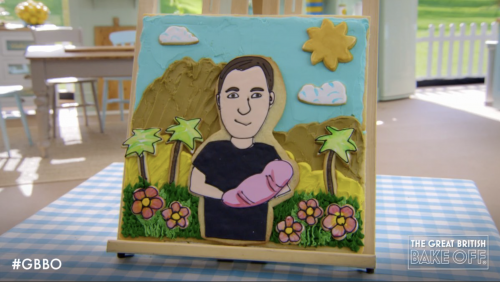 In the end, though, it wasn't Ruby who stumbled, as Imelda's cookie crumbled much worse. I would've loved a bite of her cherry and white chocolate oatmeal biscuits – even in spite of the presenters' comments on the effect they may have on your digestive system. Unfortunately, her beach selfie could've done with a filter, as could've, quite frankly, her disgrace of wagon wheels in the technical.
While Imelda wasn't the only wobbly one – I'm looking at you, Terry's lambs from hell and Ruby's marathon non-finish – Manon raced to a clear Star Baker victory. Personally, I found her hazelnut and chocolate biscuits and more-than- Instagram-worthy selfie just a bit too perfect -I won't mention her previous appearance on a baking show, amateur or not?
A true joy (pardon the pun) to watch was Kim-Joy with her flavour combinations as colourful as her outfit: her selfie was essentially a watercolour on matcha bliss. I'll even forgive her for finding inspiration in her orange blossom shampoo for her York biscuits and look forward to seeing what products she might use as her muse in cake week next Tuesday.
Recipe of the week:
If you're anything like me, and even Imelda's wagon wheels are beyond what you can achieve, worry not: here is a biscuit recipe that even I can master – Nordic gingerbread. Gingerbread is desperately out of season, but as all things Nordic are always in, why care? There is no pressure for a perfect bake,(you could always mix the delicious dough in with some ice cream, and achieve instant Ben&Jerry's cult status); and all concerns of the biscuits being identical go out of the window because you're using different cutters anyway.
1 dl dark syrup (this is a Nordic thing; hike over to your closest shop stocking Nordic goods, of if you don't have one round the corner, opt for light molasses)
1 dl sugar
2 tsp cinnamon
1 tsp ground cloves
1 tsp ginger
125 g margarine
4½-5dl plain flour
1 tsp soda 
Bring the syrup, sugar and spices to a boil, then add the margarine and stir until combined. Combine the flour and soda, and when the syrup mixture has cooled down, add dry to wet, stirring well. Cover the mixing bowl with cling film (have a taste, or two, or three first, though!) and leave in the fridge overnight. The next day, roll the dough out to your desired thickness, and use cookie cutters to cut out your desired shapes. Bake them for 7-12 minutes at 200°C. Tuck in, or if you're feeling creative, use icing to decorate them. If you do opt for the selfie option, though, don't come crying to me if it doesn't work out.