A love letter to Cameron Post
Alex Jimenez-Nimmo explores the centrality of film to the lesbian coming-of-age experience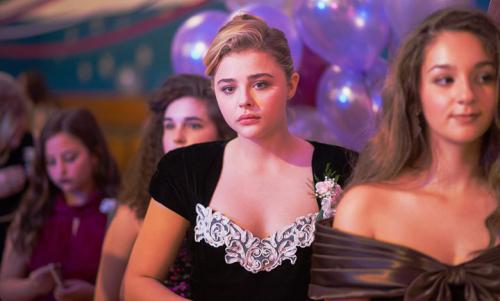 Coming out as a gay woman happens to some of us before we get to Cambridge, to some of us whilst studying here and to others after graduation. Whenever it happens it is often a socially complex and multilayered process. Director Desiree Akhavan has skilfully explored this awakening in two films: the semi-autobiographical Appropriate Behaviour and this year's The Miseducation of Cameron Post, based on the book by Emily M. Danforth.
Film played a pivotal role in my own coming out. It was the autumn of 2015 and the trailer for Todd Haynes's Carol had just been released. My obvious excitement over Cate Blanchett's perfect face unveiled everything. After my mum and I watched the film, I remember the utter joy I felt knowing that I had a family who supported me and with whom I could discuss my love for lesbian cinema. Coming out to my peers was tougher. Shortly after changing my profile picture to a still from the movie, my deskmate decided to switch seats with someone else because she was afraid that I might hit on her. She wasn't even my type.
To see a young gay woman discover all these films in the same way that I did was heartwarming
This summer, seeing The Miseducation of Cameron Post has been a revelation. I have never before seen a reflection of myself on screen. In both the book and in the film, Cameron explores her tastes in lesbian cinema, ranging from 1985's Desert Hearts to 1983's The Hunger (which stars not only the brilliant Catherine Deneuve and Susan Sarandon but also David Bowie for good measure). To see a young gay woman discover all these films in the same way that I did was heartwarming, to say the least.
Since coming out, my identity, pride in myself and even my fashion sense have been in constant flux. Cinema and film criticism has helped shape this enormously (particularly an amazing overview called Sapphic Cinema on the website Afterellen). I devoured features from filmmakers of diverse backgrounds and eras. My obsession with everything French led me to director Céline Sciamma's repertoire, whose tender coming of age stories I still like to revisit. From 2014 onwards, a small Canadian web series called Carmilla had me and queer women around the world glued to our phones, as we watched the exploits of a lesbian vampire and her human room-mate. The stimulating variety of these storylines matched the perpetual state of flux I found myself in.
'The Miseducation of Cameron Post' TrailerYoutube - Filmrise
The Miseducation of Cameron Post centres on the journey of a teenage girl who, after being caught making out with her best friend in the backseat of a car, is sent off to God's Promise, a gay conversion camp for youths. Despite being forced to "pray the gay away" and keep her "SSA" (same-sex attraction) under control, Cameron remains steadfast and in control of her sexuality: "I don't think of myself as a homosexual. I really don't think of myself as anything."
In one of my favourite scenes, the teenagers are preparing a Thanksgiving meal in the camp kitchen. Suddenly, What's Up? by 4 Non Blondes strikes up on the radio. Cameron leaps up on the table and, along with the camp counsellor Reverend Rick, proceeds to lip-sync vigorously. This scene strongly conveys the protagonist's self-assuredness; her confidence resonating across the screen. As someone who is lacking in the confidence department, it is encouraging to see a queer teenage girl who is consistently proud of who she is and not afraid to display it. Clearly, Cameron is not a martyr.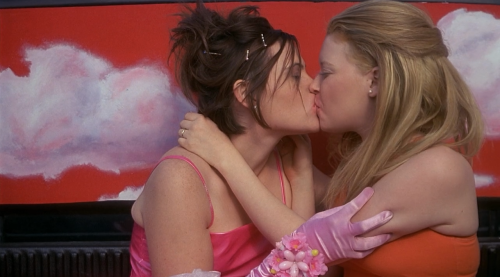 Funnily enough, Akhavan's rendering isn't the first film to centre on a young girl's journey through conversion therapy. That honour goes to the 1999 release But I'm A Cheerleader, directed by Jamie Babbitt with lesbian icon Natasha Lyonne in the leading role. The two features have much in common, as they focus on a serious subject and balance it with beautifully ingenious humour. Furthermore, both films perfectly responded to their respective zeitgeist. But I'm a Cheerleader was released at the end of what many consider the golden age of sapphic cinema, in the wake of films like Go Fish (1994) and Bound (1996). However, But I'm a Cheerleader was the first picture to push the boundaries of queer comedy by tackling the horrors of conversion therapy by presenting comic antics we are more familiar with in movies like Mean Girls. A ploy Babbitt deliberately used to get the film out there. Although sometimes clichéd, it is still a gloriously camp '90s flick.
'But I'm A Cheerleader' TrailerFranchise Pictures
Similarly, The Miseducation of Cameron Post has come out (pun not intended) in a new wave of lesbian films in the 2010s. Not only are we gradually gaining international representation in films like Black Swan, Carol or The Handmaiden, but the small screen has also become a significant platform for lesbian characters. I practically got through Lent and Easter term thanks to Orange is the New Black and the recent Black Mirror episode, San Junipero, showed us that Heaven was a Place on Earth.
Riding this new cinematic wave, what ultimately makes The Miseducation of Cameron Post stand out is the youthful spirit that suffuses the narrative and some truly hilarious scenes. Chloë Grace Moretz was barely 21 when she played the titular character and the energy and confidence she brings to the role is infectious. As a result, this new release succeeds in giving hope to young queer women by recognising the downs while celebrating the ups on this rollercoaster ride.