Love, Simon preview: 'what cinemagoers live for'
Sometimes films can take us by surprise, and Lillian Crawford finds in this touching new rom-com a most profound message of love and acceptance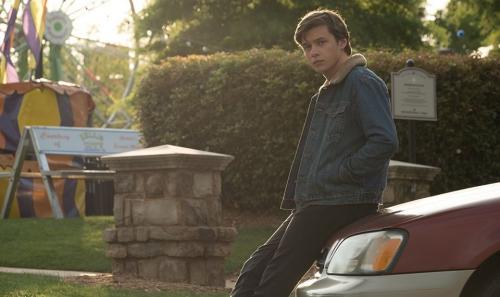 "Leave your troubles outside." So says the Emcee in the opening number of Kander and Ebb's Cabaret, a somewhat striking choice for a high school musical. Given its themes of sexual liberality and free self-expression in the face of fascism, it is also remarkably apt for the core of Love, Simon. The show brings out the best in everyone, from its woefully misguided lead to the consistently hilarious Ms Albright, who will prove our hero's bold defender. They can band together and tear down the established order, with heartwarming results.
Every generation has its own great teenage rom-com. The genre has the ability to capture the spirit of the times, giving its audience a necessary story of love and identity that they will hold with them forever. When John Hughes decided to sit down five misfits and have them tell out their souls in 1985′s The Breakfast Club, millions watched on through streams of tears and whispered, "that's me!" It is what cinemagoers live for, when it feels like someone has reached out from behind the screen and taken one's hand in theirs with a knowing smile. It is one of the best feelings in the world.
"A subtle and brilliant middle-finger up to the Trump administration"
Those rare films can only come from the heart of the filmmaker, and director Greg Berlanti has clearly fought hard to have his message told. He never holds back, closing in on everything from soppy emails filled with the buzz of prospective love, to childhood Daniel Radcliffe fantasies. We start with Simon when he has known he is gay for about four years, and being closeted for that length of time has had a crippling effect on his self-confidence. His muse is an unfaltering Nick Robinson, who battles the perils of high school with great care and empathy, confirming that he is one of the most compelling young actors working today.
The film works where it plays to stereotypes with tittering mockery, but it soars by breaking them down through three sequential post-coming out scenes with Simon's parents and best friend. Its message of unconditional love and acceptance utterly universal, it would take a cold heart indeed not to be moved profoundly. It is far more successful in this regard than the 'indie' films to which non-heteronormative romances have been confined for years. While Moonlight or Carol might be praised for their tender honesty, it is incredibly refreshing to watch a tale of genuine love being told without unnecessary bouts of sexual explicitness. Love, Simon is as gentle a rom-com as any Nora Ephron picture, giving it a mainstream appeal never seen so perfectly before.
Trailer for Love, Simon20TH CENTURY FOX
Given that the essential premise of the film is that Simon is gay, it stands out for never getting bogged down in its need for overt representation. Common naivety is partly founded in truth, and Berlanti is not afraid to use a stereotype for uproarious comedic effect – an all-out rainbow-flag-waving dance number reminiscent of Wham! music videos is one of the finer cases in point. It then proceeds to dispel those ideas as Simon comes to realise that his sexual identity does not alter who he is, but allows him to accept himself and proclaim that however and to whomever he chooses.
The film balances this with moments of casual homophobia from both generations, and reveals the devastating consequences of taking away someone's right to define themselves. Nowhere is this more touching than in Simon's father realising the impact his constant jokes have had over the years, only being haunted by the thought that he might have further repressed his son from being himself. The tragedy stems from losing one's confidence and precious time to reclusion and introversion. It can only be hoped that when we are showing Love, Simon to our own children, the notion of coming out will be just as absurd as the film makes it out to be.
The same retrospective humour can be observed elsewhere – a character dressed as post-presidency Obama for Hallowe'en is a subtle and brilliant middle-finger up to the Trump administration. Where Sally Bowles was oppressed by the Nazis, Simon and company refuse to be beaten down by the modern American political climate, a film that a youth movement can finally rally behind and take from it something deeply meaningful. Love, Simon has the potential to make a real difference to representation of identity on and off the big screen, and it does so with genius comedic flair. Life is a cabaret, and so is this beautiful, beautiful film