The End of the F***ing World review: 'dependency overtakes freedom'
Connor Dwyer finds Netflix's new comedy genius in its unconventionality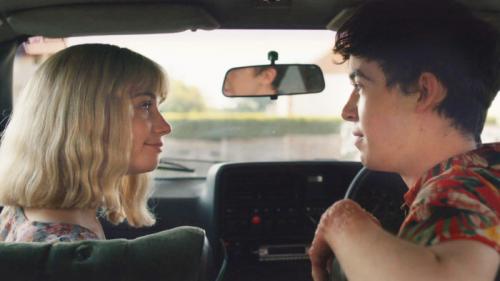 As the title suggests, The End Of The F***ing World is not an easy watch by any stretch. The storyline we are introduced to is one of two awkward, excluded 17-year-olds: James, with a desire to go beyond killing animals to a "bigger project", and Alyssa, with a strange, unexplainable lust for James. But the series moves steadily – and at times rapidly and shockingly – away from this darkly comedic set-up, and conversely, we move from being distant from the complex characters to becoming involved or even attached to the protagonist couple. This makes for modern television genius.
James and Alyssa represent what we wish to suppress in life, but nonetheless have the desire and ability to do. They are part of a sick, twisted story of hidden cruel intention. That is, until the faultlessly convincing Alex Lawther and Jessie Barden help us realise something crucial: no matter what James and Alyssa do, or represent, they are human and they are young, and hold every insecurity and vulnerability that goes with it.
"We are presented with an eerie depiction of a dull life transformed"
The development of James and Alyssa, however, takes time. The End Of The F***ing World has been crafted perfectly for what we now come to expect from modern television; gripping uncertainty and slow emotional transitions of which we are desperate to see the outcome. As this process continues, the series gradually begins to challenge our moral outlook; our conception of good, bad, youth, crime, punishment, love, kinship, and human connection itself.
Ultimately this is a story of freedom; breaking free of mundanity, normality, and expectation. The desire to live by our own command, an innate desire in all of us at some point in life, is what we find in James and Alyssa. But the several setbacks, some almost comical, but also dark, uncomfortable, violent, and powerfully depicted, are what bring us closer to James and Alyssa. Their desire, which we share with them, is slowly destroyed, and dependency overtakes freedom. 
Trailer for The End of the F***ing WorldYOUTUBE
Not often can a television programme have the ability to leave one genuinely speechless, almost unable to comprehend what has been witnessed after an episode, but this is a show that stands out from the rest in this way and many more. The bold writing, acting, and cinematography makes almost tangible some of the most vile, corrupted parts of human nature, and the acts that accompany them. This 'reality' of presentation is the defining feature of The End Of The F***ing World, and it is perhaps this above all that has brought it such popularity and acclaim.
The cinematography is key to this reality, and must be considered for its style and use. Conveying the essence of indie cinema; baron landscapes, stark deprivation, and sickening modernity, we are presented with an eerie depiction of a dull life transformed, while setting the ominous foreboding of the show that keeps us gripped. All this, through simple use of the setting of South England, presented honestly, with no omitting the imperfect.
The series' unusual, unexpected ending both culminates this particular journey of James and Alyssa, but leaves numerous unanswered questions about them, as well as the intuitive sub-plots. We long to see resolved the sexual tension and moral conflict between detectives Teri and Eunice, of James's father (a loveable but weak man), and of Alyssa's mother and her sleazy dismissive partner.
Nonetheless, The End Of The F***ing World is a rare series which truly immerses, challenges, and shocks, leaving a lasting impression and a lasting debate. True genius