The Shape of Water review: 'putting sublimity to celluloid'
Lost in Guillermo del Toro's magical creation, Lillian Crawford is awakened to our human powers by a defining masterpiece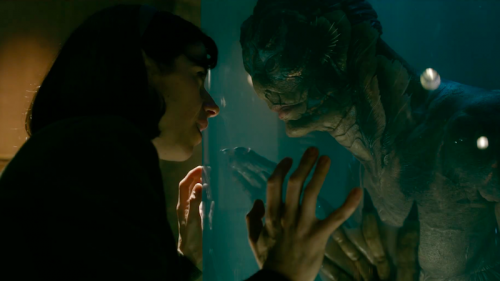 Oh, there is blessing in the female orgasm! Gentle fingers dancing along collarbones, caressing delicate breasts, splashing the waters of humanity – masturbation is the ultimate form of self-exploration. It is best to take to the subject head on, as Guillermo del Toro does, his silent heroine indulging in the erotic sanctuary of a bathtub. Unlike our antagonist's primitive fucking, Elisa is a tender woman seeking to delve into the depths of her body, and her soul.
"All fantasies must eventually reach a climax"
The Shape of Water is never shy of its sexuality, nor should it be. Men can be attracted to men, and women to fish monsters. Love pervades the scene, its influence manifested in a favourite childhood sweet or a hardboiled egg. Del Toro has mastered its intricacies and complications, penetrating beyond the surface toward something touchingly personal. Through Elisa, we are given not merely a glimpse, but the full director's tour of what makes him tick. 
Much like the masterful Pan's Labyrinth, the screenplay is imbued with mythology and fairy tales. Co-penned by Vanessa Taylor, the duo fill every monologue with a pining to grasp what captures the imagination, drawing on its powers to craft a green-hued stage for events to play out. They never forget the necessities of plot while developing this, charming in its wit and heart-breaking in its tension. Together, they have written the summation of a genre, putting sublimity to celluloid.
Trailer for The Shape of WaterYOUTUBE
Its enchantment is captured by a majestic score from maestro Alexandre Desplat, who after last year's Suburbicon seems to be on a streak of writing the most enthralling film music. Married perfectly with the diegetic soundtrack, we are elevated to realms previously unexplored, and Renée Fleming's rendition of 'You'll Never Know' comes to define its romantic airs. Events blur into dreams, the simplicity of pristine droplets twirling on a windowpane so elegant it draws tears from the eyes. We never for a moment resist del Toro's capable outstretched hand.
If Pan's Labyrinth had been a swansong for childhood, The Shape of Water is a reflection of the pangs of adulthood. They are embodied in a trinity of del Toro's being: the effervescent and often perfect Octavia Spencer as his biting humour, Richard Jenkins his struggling creativity and possibly conflicted sexuality, and the show-stopping, no-singing-all-dancing Sally Hawkins, who portrays his borderline-fetishistic love of all things monstrous. Her muted performance is the finest in years, conveying more passion and raw emotion in her silent delivery than she ever could with speech. She represents the part of del Toro he most wants us to embrace with acceptance.
It might take 123 minutes, but all fantasies must eventually reach a climax. It is one that pays off wonders, finishing on a difficult note that feels just right. Del Toro overcomes his demon, a terrifyingly excellent Michael Shannon, a man who wants to destroy his creations and deny him his profoundest pleasures. Strickland is unaware that they are invested with a divinity that will outlive us all, the closest he may believe himself to come to God. It is our honour, and our privilege, that Del Toro has decided to take us on that ride with him