Darkest Hour review: 'sparks of Britishness amongst the devastation'
Gary Oldman dominates the screen in yet another Churchill biopic, but Seth Jordan claims it is enough to forgive its faults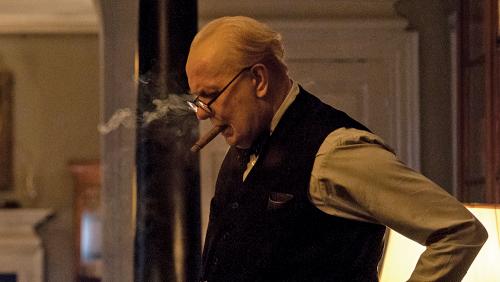 Winston Churchill lends himself to dramatisation. His eloquence, stubbornness, determination, depression, wit and heroism create fertile territory for filmmakers, the man himself having written a sufficiently exciting story in reality before the addition of any fictional embellishment.
Joe Wright's film chooses to tell only a short period of Churchill's life, dealing with the time after he became Prime Minister in May 1940 to Dunkirk in early June. The conflict is whether to broker peace with Germany, supported fervently by Lord Halifax and ex-PM Neville Chamberlain, or to carry on fighting against the odds.
"It almost undermines the rest of the film in its ham-fisted surrealism"
Rather than characterising the opponents as Nazi lovers, the film reminds us that the debate over Britain's direction in the war was a real and intense one. The prevailing lesson for modern day politicians, instead of vindicating nationalist isolation, is to show leadership with complete transparency of intent, of impassioned discussion in the face of enormous peril, miles away from the petty kerfuffle of our current political discourse. 
Focusing on close quarters politics creates a fast-paced and, for the most part, very enjoyable story of the great man's finest hour. The film has a highly stylised look, huge streams of light illuminating the Prime Minister in House of Commons, and most of the rest of the action playing out in dimly lit basements. An almost monochrome colour palette is only punctuated by bright red post boxes and buses flashing by as Churchill is driven through London – sparks of Britishness amongst the devastation.
Trailer for Darkest HourYoutube
There is a tendency for theatricality, such as an extraordinarily enigmatic opening shot of Churchill, but the film mostly avoids kitschy melodrama. Gary Oldman is superb in the lead role and will deservedly win an Oscar. Laden with prosthetics, he captures the charismatic and beguiling nature of Winston, both leader and man. While looking like a 'pig', Oldman imbues the character with a scene-stealing vivacity and fervour, particularly during his speeches.
Such a tour-de-force performance means the ensemble can get left behind. Stephen Dillane and Ronald Pickup are excellent as Halifax and Chamberlain, and Ben Mendelsohn gives a strong performance as George VI. Kristen Scott Thomas, though excellent, is underused and, because the focus is so heavily on Churchill, is written out of the film in the second half.
Only one moment in the film really jars, and is so bizarre that it is unbelievable it made the cut. In the midst of his internal debate, Churchill descends to the quaint land of the London Underground, and conducts a pseudo-focus group with the public which has huge bearing on his final decision. Not only is the scene a fiction, it almost undermines the rest of the film in its ham-fisted surrealism.
The remainder of the film, fortunately, is consistently gripping. The arrow-like drive of the writing means it provides a thrilling close-up of a pivotal moment in history, but leaves the full portrait of Churchill unfinished. Yet with a performance as brilliant as Oldman's and such exhilarating pace, it is enough