A Christmas Prince review: 'a sparkling festive necessity'
Enchanted by the uninspired, Stephanie Stacey gives an honest response to this festive film that looks beyond traditional criticism to the warmth lying underneath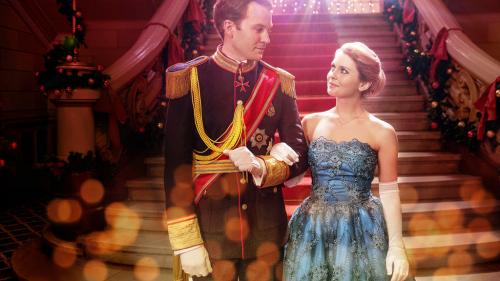 Horrendously predictable and yet somehow charming, A Christmas Prince is the film equivalent of tinsel: artificial, awkward, and often criticised for being 'tacky', yet still a sparkling festive necessity.
"The kind of thing one could happily put on every year at Christmas"
As in countless other films, a young woman meets a handsome playboy prince and discovers his hidden depth. Struggling journalist Amber Moore (Rose McIver) is sent to the fictional kingdom of Aldovia (where everyone is inexplicably British) to investigate Prince Richard (Ben Lamb) who, due to some arbitrary rules about ascension to the throne upon which the entire plot of the movie hinges, must return home a year after his father's death.
When a press conference is cancelled, Amber decides to sneak into the palace where she assumes the identity of the young princess's new tutor. Although the lack of security at this fictional palace is astonishing, the beautiful snow-covered landscapes and extravagant Christmas decorations in every room make up for any lack of realism.
Trailer for A Christmas PrinceYOUTUBE
With many of the key ingredients of a Christmas classic – snow, royalty, unnecessary wolves – A Christmas Prince shamelessly takes on every stereotype there is. Though not painfully awful as in some festive films, the acting is often over-exaggerated, especially by several of the minor characters who appear desperate to make the most of their few lines, contributing to the general Hallmark-y atmosphere, and adding additional unintentional humour to the bland, though charming, plot.
Yes, it is a rather shallow film. A Christmas Prince tells us nothing about the meaning of life or the nature of humanity, but neither does it claim to. Proudly and boldly unoriginal, this is a film during which one can relax completely, safe in the knowledge that none of one's opinions will be challenged, and that the sickeningly sweet fairy-tale ending is guaranteed.
The film rose to fame when Netflix US tweeted, rather savagely: "To the 53 people who've watched A Christmas Prince every day for the past 18 days: Who hurt you?" Though the commitment of those 53 people to the film is admirable, 18 watches seems excessive; however, it is certainly the kind of thing one could happily put on every year at Christmas. Spoilers are no barrier to enjoyment of the film because the plot is so impressively unsurprising.
The only real problem with A Christmas Prince is that Netflix seem to have taken the song 'White Christmas' too literally, with a lack of diversity that is disappointing, though unsurprising. The producers have failed to answer ever-growing calls for representation, with only a tokenistic attempt through Amber's two best friends and colleagues: Andy (Joel McVeagh) being the embodiment of homosexual stereotypes, and Melissa (Tahira Sharif), one of only two non-white speaking characters.
Within the first ten minutes of A Christmas Prince, one will be able to figure out the ending, and probably almost every twist in between, but that is all part of the festive magic. The perfect antidote to the hectic, unpredictable, and often frightening nature of life, this film provides the comfort and warmth we all need.
As the song goes: all I want for Christmas is clichés