Review: The only thing missing from Suburbicon is you
Hugh Oxlade extols the greater points of George Clooney's Coen-esque showstopper.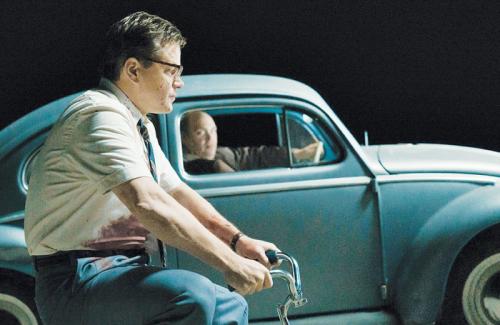 The opening sequence of Suburbicon is not very good: the titular halcyon 1950s small town is introduced via a cheesy, hackneyed animated advertising brochure. This fictional marketing material is similar to the real-life promotional campaign attached to the film, in that it is both shoddily put together and misrepresents its product.
"Set-ups which had one's heart leaping to one's mouth"
Suburbicon is a gripping, lurid melodrama, with a delectably vicious sense of schadenfreude, and plenty of profoundly absurd reflection on the human condition. It is funny, too, but only in a few places, the comedy so black it is regularly subsumed by the murk.
It took only a few minutes for the gorgeous costumes and sets to establish a heady period fug which enveloped the plush auditorium. The film's initial focus is what turns out to be a subplot, a waspishly observed tale of a community ruptured by the arrival of 'the negro'. Karimah Westbrook turns in a performance of towering stoicism in these scenes, which are indeed poorly integrated into the main narrative.
Trailer for SuburbiconYOUTUBE
They are, however, enjoyable in isolation and do not distract from the film's mordant central shenanigans, and as such their inclusion was far from a misstep on the part of George Clooney, the film's director and co-screenwriter.
The resplendently grim goings-on which serve as the film's principal narrative thread provide moments of tension, surprise, shock, intrigue, and sly amusement, all supplemented by marvellous mise-en-scène and a staggeringly effective score.
Alexandre Desplat's mix of propulsive, Looney Tunes-style pounding and genteel jazz imbues sections of the film with tremendous pep and vigour, and others with deliciously cool irony. Very seldom has a score enhanced a film for me as much as that of Suburbicon, as it variously raised my heart rate and allowed me to sit back and properly appreciate the film's artistry. It rather showed up the indistinguishable sludge which accompanies the vast majority of modern motion pictures.
Suburbicon is not perfect; the lashings of Kensington Gore failed to create a sense of farce, and the dialogue exchanged by the mostly hateful dramatis personae occasionally entered the realm of the irritating rather than the satirical. It did, however, boast a bevy of decidedly pleasing twists, an appealing sense of mischief, and set-ups which had one's heart leaping to one's mouth.
You should go to see it; its makers deserve rather better than the empty cinemas to which it would currently seem to be playing