Review: Faith restored by Paddington 2
Lillian Crawford finds herself not only stunned by the aesthetic qualities of this fine sequel, but pondering the simple matters of community and love sorely missed today.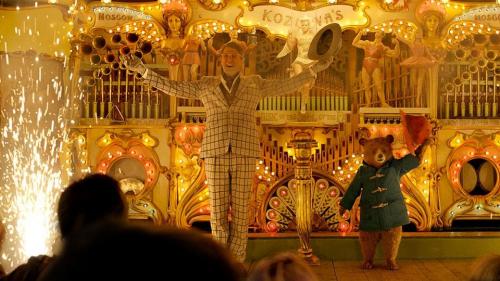 Sometimes the sky is dark and the heavens are open, and the bleakness of the world comes to the fore. People eat with their mouths open and fail to thank those that hold doors open for them, while others just let it slam behind them. No one ever smiles, suppressing true sentiments for fear of judgement, the desire to blend in with the rest of the slow-moving crowd. It is a place of ignorance and self-interest, but also of constant intrusion in the personal business of others. As society lapses into dystopia, Paddington stretches out a welcome paw to restore our sense of community, of our humanity.
"The film delves deeper than the first outing, and in doing so, obtains a new level of richness"
Lavishing semi-animated sequels with critical acclaim will, quite rightly, arouse a great deal of scepticism, especially where the original was largely forgettable. The first Paddington was undoubtedly charming, but at best a one-off winter-warmer to watch with the family on a frosty afternoon. Perhaps it was too bogged down in exposition and character development to truly get its gears in motion, loomed over by an uncharacteristically flat performance from Nicole Kidman.
She is replaced here by Hugh Grant in one of the highlight roles of his career as a villain verging on self-parody that allows him to have contagious fun playing everyone from Magwitch to Poirot, via Macbeth and a remarkably attractive nun. With Paddington well and truly settled in, the film delves deeper than the first outing, and in doing so, obtains a new level of richness, with a spoonful of cinema magic to help it along.
Trailer for Paddington 2YOUTUBE
There are moments of pure visual wonderment smattered throughout, including a meticulous segment in which Paddington leads the prophetic Aunt Lucy through a hand-drawn London. Its show-stopping climax rivals The Wrong Trousers as far as raucous train chases go, with both Hugh Bonneville and Sally Hawkins on hand to deliver some of the film's most farcical moments, as well as its most touching monologues. Indeed, the humour remains universal, with director Paul King ensuring a smile is drawn on everyone's face in its Chaplin-esque sequences, with inevitable hilarity ensuing.
If there is anything to criticise, it might be said to sag a little in the middle, as our furry protagonist finds himself behind bars and in the company of a starry cohort of inmates, including Noah Taylor and Brendan Gleeson. Colour is soon restored, however, and the pastel-pink hues give the prison a delectable Wes Anderson makeover. There is a slight discomfort in the apparently gratuitous 'borrowing' of visual motifs from the escape concerto section of M. Gustave's exploits – The Grand Bear-dapest Hotel, if you will.
Nevertheless, Paddington makes for the most delightful of screen prisoners, and the heart he injects into his comrades reveals their inner softness. His ability to forgive and look for the good in others is strikingly admirable, serving as a reminder that no one is ever beyond the possibility of moral redemption. While here presented in a fantastical sense, one is awoken to the dire necessity of its recognition.
So leave the cinema with an amicable smile and a tear in the eye, put a penny in the old man's hat, wave to the neighbours, and thank the stopping cars. It will not seem like much, and yet it means more en masse by way of example. It is never clear when Paddington 2 is set, with fashions clashing and rotary phones still in use; perhaps it is building a bridge between the old world and the new, a tale of the restoration of manners and amiability. There could not be a more exquisite treat this Christmas, save perhaps a well-made marmalade sandwich