The epic in the urban: Kleber Mendonça Filho
Delighting in the unique visions of this Brazilian director, Madeleine Pulman-Jones sits down with the man himself to discuss his filmography.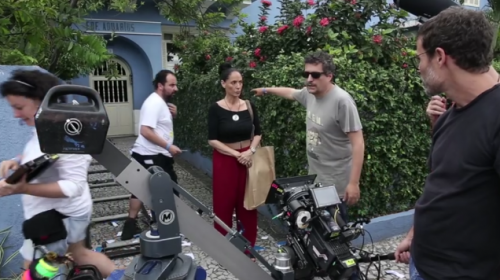 Over the past week, Brazilian filmmaker Kleber Mendanço Filho has been hosted by the department of Spanish and Portuguese and the Centre for Latin American Studies at the University of Cambridge. The agenda for his visit included showings of his two narrative features, Neighbouring Sounds (2012) and Aquarius (2016), followed by Q&As, and a symposium entitled, "Building Films: Conversations with Kleber Mendonça Filho." Filho's stay at the university provided an opportunity for students and academics alike to engage directly with one of the most intriguing voices in Brazilian cinema, and in World Cinema as a whole. 
"For me one of the best things about literature and film and music is dynamics. So, you can write a story which is just like this [draws a straight line in the air], but I'd rather have a story which is like this [gestures up and down with his arm], that goes down and then… and it's very funny and it's very sad, and it's sexual - it's things you don't expect from a story. Just like life."
"It is Filho's astute portrayal of the epic through the apparently mundane that makes him such a distinctive cinematic voice"
Having begun as a film critic, Kleber Mendonça Filho went on to make a host of short films, followed by two features. All of these films are set in his hometown of Recife in north-eastern Brazil, with most shot on the street where he lived for over thirty years - and many in his own home. Perhaps no other filmmaker has made his own home so definitively the protagonist of his filmography.
His first feature, Neighbouring Sounds (2012), was about the lives of the inhabitants of a street in Recife, shot on the street where Filho himself lived. His next feature, Aquarius (2016), also set in Recife, tells the story of a powerful woman who refuses to sell her flat in an apartment block to a company which wants to tear it down to build a high-rise. While universally praised abroad, the film caused a political uproar in his native Brazil, with parallels between the plot and the 2016 impeachment of Brazilian President Dilma Roussef which were too strong to ignore. The cast and crew of the film even held banners on the red carpet at the Cannes Film Festival at the time of the impeachment that read, "BRAZIL IS EXPERIENCING A COUP D'ETAT!" Aside from its political implications, this controversy could be seen as an extension of Filho's cinematic sensibility, with the quotidian becoming the controversial. It is Filho's astute portrayal of the epic through the apparently mundane that makes him such a distinctive cinematic voice.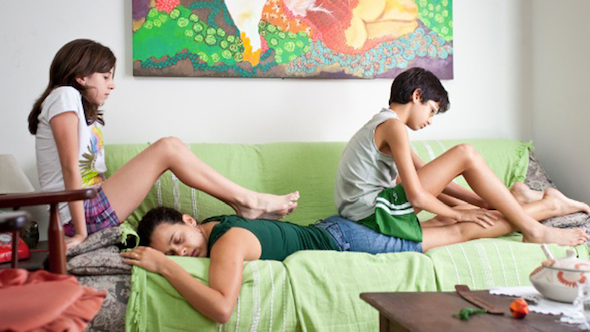 In person, Filho is at once fiercely passionate and remarkably calm and considered. "When I started as a young film critic I was quite angry and quite vicious in not only some of [my] reviews but also in particular looking at Brazilian cinema. It was like I was trying to change what Brazilian cinema was offering me as a cinephile and as a Brazilian."
"He delights in ambiguity just as much as he does articulacy"
When asked whether his change of discipline from film critic to film maker had had an effect on his cinematic viewpoint, he pondered, "now I'm about to turn forty-nine I think differently. I would not do some of the things that I did in the past because I think now that films can be imperfect … Maybe in that sense I haven't really changed because the only good thing is that now I don't have to expose myself publicly and express opinions on films that I despise or hate, but at the time I had to, it was part of my job - but I was maybe too violent I think. So now I think maybe I have gone mellower in that sense, as an observer."
As a critic, he strived to provoke radical change in the Brazilian film industry, and now, though his medium may have changed, his impulse to provoke remains. "During the 20th century basically all the industrial activity and all the money really came from the south-east of Brazil … It is a structural problem in Brazilian society. Everybody said that I would have to leave Recife and go to Rio or São Paulo or to another country to make films. So, there were no films coming from the North-East and those that were being made were basically about hunger, about the sertão which is the outback region, and about folklore … When I started out making my short films they were met with, 'why are you making films about the city, you know - you come from the North-East?' It was almost like a role I was supposed to play and I refused to play that role … Over the last 20 years not only my films have changed the way people see films in Recife but other films from other filmmakers also followed the same route and it's changed completely to the point that people don't even remember what it was like in the 90s for a local filmmaker to make films. And I think that it's a beautiful thing. It just changed in a very natural way."
Trailer for AquariusYOUTUBE
The question of how we experience space, especially urban space, is crucial to Filho's work. "Neighbouring Sounds is really about sound as a physical element." He pauses for a moment before telling an anecdote. "I don't think I've ever said this before, but at the film's Brazilian premiere, at the Gramado film festival in the extreme south of Brazil, this particular sequence when she takes the dog buster and she uses it … it broke the central speaker in the cinema … So that proves that sound is like a knife or an arrow."
Filho's fascination with structure and structures is also a fascination with cinema and cinemas. Currently working on a project involving old movie palaces, and with abandoned cinemas featuring poetically in both of his past features, I asked him about his love for these spaces. "Because cinemas, I'm not even sure that they're still that interesting today, because they've lost a lot of their energy because the industry is subdividing the energy that films can give us as a society … The classic movie palaces were gatherings, they were social situations and literally millions of people would go to one cinema in a year … So, when I look at these places I am fascinated by them."
Discussing his own movie-going experiences, he spoke about the difficulty inherent in watching foreign cinema. "I grew up watching American films in Brazil in commercial cinemas, and they were subtitled in Portuguese and I didn't speak English at the time, and each film brings its own set of social rules from the country that made the film, about behaviour – sometimes it's coded into the language. I remember when I saw Raising Arizona by the Coen brothers, in 1987, I hadn't been to the United States. I thought it was a very funny film, but something must have been missing from all of that … It happened with my two films. First I spent some time watching them, and getting to know my films with audiences before they arrived in Brazil. Once they arrived in Brazil what was already amazing became even more amazing because the people had the full experience of the culture. And it's a beautiful thing."
Though Filho might be a filmmaker captivated by the poetic and political possibilities of structure, he delights in ambiguity just as much as he does articulacy. After our discussion of foreign cinema watching, I asked whether this involves a kind of "filling in the gaps." He replies, "maybe they are filling in the gaps in the wrong way, but that is also interesting." It is this comfort in uncertainty that makes Filho's films so compelling. Often unnerving and always startlingly intimate, each of Filho's films lays a new brick in the foundations of a new Brazilian cinema