Mindhunter review: and the sky is grey…
With some thought-provoking and often challenging episodes, Miles Ricketts runs through David Fincher's latest venture, this time in the televisual realm of crime drama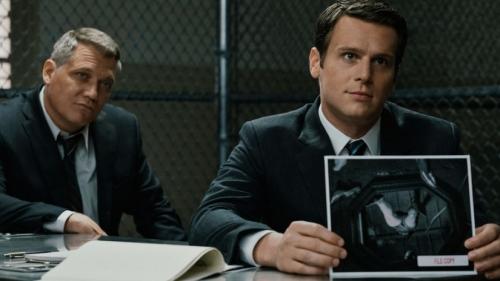 David Fincher's return to serial killer dramas brings with it certain expectations. Between Seven and Zodiac, we can expect a mixture of the grisly and the quotidian; the repulsive and the alluring; the chase and the procedural. Mindhunter is certainly well-equipped to quench that thirst, while also asserting itself as its own murderous beast.
"The show's relative playfulness in the midst of true horror makes it simultaneously charming and deeply unpleasant"
Based on the book of the same name by FBI Agent John E. Douglas (Scott Glenn plays a version of him in The Silence of the Lambs), we become witness to the real-life birth of the 'serial killer' into modern examination and discourse. The journey begins in 1977 with a pair of special agents: youthful, resourceful and naïve Holden Ford (played with a perplexing likeness to Emmanuel Macron by Jonathan Groff) and gruff, experienced yet surprisingly agreeable Bill Tench (Holt McCallany), their aim being to open up a study into the psychology of clumsily-named 'sequence killers'.
Their adventures take them on a carousel of tense interviews with said criminals, periods of assisting inept local police forces, and the inevitable struggles to convince their superiors of the blatantly obvious. This last activity is indeed surprising, given today's culture where the mindsets of gruesome murderers in macabre true crime are relentlessly analysed, capturing a worrying amount of attention (Netflix's Making a Murderer, HBO's The Jinx, the ID channel).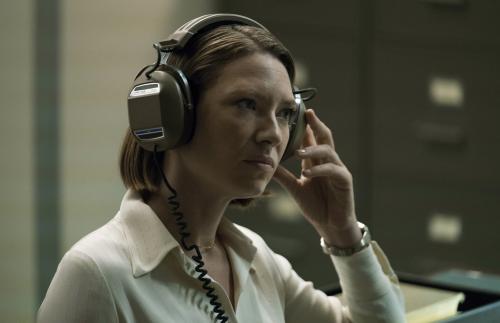 It is testament to Holden and Tench's likeability then that we root for them implementing investigative mundanities such as the tape recorder, despite awkward parallels between their research work with nauseating deviants and Scooby-Doo-like attempts to catch the local serial killer at work, who – surprise, surprise – also has a problem with his mother. This justification of their process is a little too tidy. That being said, the 'monster of the week' quality of some of the early episodes in the season is refreshingly CSI, injecting a much-needed network lightness to an otherwise oppressively Netflix-y show.
Where Mindhunter succeeds exceptionally is in its gripping encounters between Holden and Tench and some of the most notorious serial killers of the 20th Century. While given the theme of the show, the presence of upsetting details should go without saying, Mindhunter tries very hard to suggest that it should indeed be said.
Trailer for MindhunterYOUTUBE
Ed Kemper, a man whose acts should not be printed here, is played with alarming panache by near-newcomer Cameron Britton. Kemper's uncomfortably affable presence is matched by his devious manipulation of conversation. Amidst deadpan recounting of his sickening behaviour, Holden appears disconcertingly relaxed in Kemper's company, even later remarking upon a rumour of him describing the FBI as fools, "Ed wouldn't do that to us". In establishing an uneasy balance between the acts these criminals committed and coming to terms with the people behind them, Mindhunter is exceedingly brave.
With startlingly engaging serial killer interviews, engrossing mysteries and a charismatic duo guiding us through them, it is such a shame then that Mindhunter spends a considerable portion of its time wallowing in some seriously eye-rolling clichés. The first few episodes are bogged down by a clunky attempt to define the period, rife with anachronistic self-awareness and a restless jukebox of '70s rock hits.
The female characters on the show are also noticeably lacking. Holden often comes home from a hard day's serial killing investigating to share some of the details with his girlfriend, who unwittingly through a succession of flirtatious quips unveils great pearls of wisdom that lead to breakthroughs in the case. If not offensive, this kind of characterisation is simply tiresome. When the confidently sensual psychiatrist enters and leaves Holden speechless, it is painful to endure. One feels that this is showrunner Joe Penhall's misguided attempt to inject a primarily informative source with some 'heart'.
Thankfully, the show's aesthetic is consistently something to marvel at. The period detail is followed through to an impressively dedicated extent and everything feels cinematic, far more so than Fincher's last Netflix blessing, House of Cards. However, Fincher's trademark tendency to coat the sky in a hue of crushing greyness is present, which particularly emulates the atmosphere of Mindhunter's closest relative, Zodiac – that film's loneliness is differentiated here by the appealing rapport between Holden and Tench.
The show's relative playfulness in the midst of true horror makes it simultaneously charming and deeply unpleasant, and that is the crux of why elements of it are so arresting. In an increasingly crowded market of 'edgy' detective dramas (True Detective returns with a vengeance next year), Mindhunter will have to move towards a more sustained progress of this juggling act rather than continue to tread water in tired character beats