Bake Off Final: Sophie's choice
It all came down to this – Anna Hollingsworth wraps up her column on the hottest climax in baking.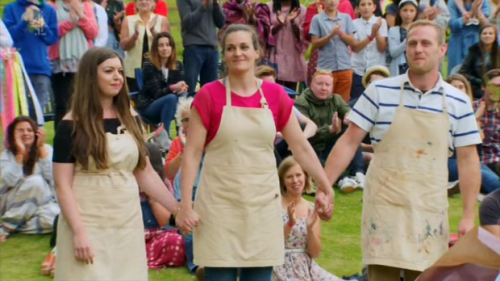 Prue may have leaked the winner on Twitter ten hours before the final aired, but for the not-so-Twitter-savvy among us, there was no clear-cut favourite going into the tent: the stunningly camp Steven, historically, like, quite keen Kate, and 'look-I've-travelled-and-oh-I-was-also-a-dancer' Sophie had all been well proved to raise to the title. 
"The cakes looked like anything you can get from your local Patisserie Valerie rather than something you might present to an audience of a million baking fanatics."
Given the high calibre of the finalists, the signature was not initially quite the climax I was expecting from the final: I mean, what is 12 small loaves other than your daily bread for a bit over a week in a scaled down version? Surprisingly tricky, it turns out. Four of the loaves had to be flavoured, four intricately shaped, and four trendy, i.e. made with an alternative grain (just search for millet or quinoa bread on Instagram, and you will see that good ol' wheat is on its way out).
I was all for Kate's coconut kala chana with jaggery gur (a type of sugar she found on Bold Street in Liverpool – dodgy or not, I will leave that for you to decide) – essentially curry in bread – and Sophie's orange-plaited brioche, even if it opened my eyes to how much butter actually goes into brioche. But the real winner was Steven's looks as his face melted, not unlike his chocolate hot air balloon basket from last week, as his rivals reaped all the praise and his garlic and Fontina loaves were deemed tough, and rye and spelt ones glue in the mouth.
A serial gingerbread baker, I had initial doubts about the technical as well: producing ten ginger biscuits is the industry standard, surely? But realising that a smiley face on a gingerbread man would not take one very far in the decoration domain, I soon appreciated how the humble biscuit could get, well, technical very fast. Kate did not finish hers – no Bold Street magic could rescue her disparate, icing-free produce – whereas Steven's steady hand came into good use squeezing the icing bag, putting him solidly on top.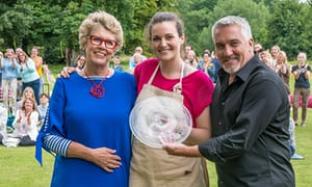 The showstopper was the only challenge that I had no doubts about: by the sound of it, an entrement would be suitably difficult to both pronounce and execute. A light, delicate, multilayered cake covered in a glaze or ganache with distinct mousse layers and a minimum of five different types of elements ought to do it for anyone. But unfortunately, the results did not stop the show for me: the cakes looked like anything you can get from your local Patisserie Valerie rather than something you might present to an audience of a million baking fanatics.
Granted, there was finesse and skill involved, but just not on the same level as Tamal's abandoned Chinese village constructed out of sticky toffee pudding, Nadiya's wedding cake she had missed out on at her actual wedding (I agree: a Bake Off final is a much more worthy cause for celebration than tying the knot), or Candice's picnic bonanza executed with flawless lipstick in place.
That said, Paul and Prue were all over Kate's yuzu in her white chocolate topped bake, and Sophie performed a small miracle in converting Paul to the combination of lavender and lemon in her 'Ode to the Honey Bee' honey trap. But poor Steven wearied into the darker yang of his yin and yang cake, where his galaxy mirror glaze melted through the layers. "Well, at least it'll finally be a case of substance over style," I consoled Steven through the screen. Unfortunately, closing your eyes from the problem did not turn out to be a working solution, as Paul described the sensation as "chocolate mousse with a bit of banana". Enough said.
How Steven could go into the final ceremonial picnic party still thinking he had a chance, I don't know. After the three challenges, it was no surprise – oh, I take that back, thanks for the heads up, Prue! – that the crown went to Sophie. My brownie points, though, go to Channel 4. Yes, I had my doubts, and I swore faithfulness to Mary Berry and the BBC, but I have met my Waterloo: over the past ten weeks, Channel 4's Bake Off has definitely got my bottom soggy