Bake Off Week Eight: bake to the future
Turning back time to historical recipes long forgotten, Anna Hollingsworth finds much to be drooled over in the latest episode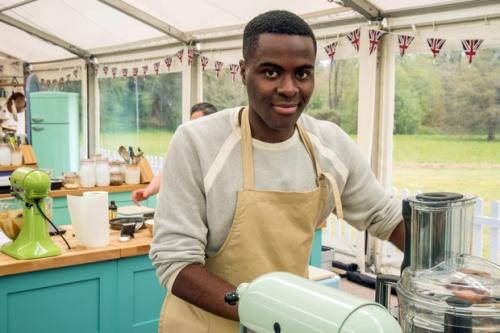 When the theme is forgotten bakes, I cannot blame you for shivering with horror like I did: surely bakes are forgotten for a reason? Like 1930s gelatin salads? Like Heinz's mock turtle soup from the 19th century? Like the time I tried to make caramel? But in the battle for a place in the semi-finals, the bakers convinced me that vintage can be worth bringing back to the living.
"Things start to go, quite literally, downhill, as she drops one of her masterpieces onto the floor"
The signature resuscitates the Bedfordshire clanger – a long, thin and sausage-shaped Cornish pasty, or in Steven's words, "a bit like aeroplane food." And so it is, providing a whole meal in one: I'm sure Gregg's would love this suet pastry stuffed with a savoury filling at one end and sweet at the other. Liam is very effective in updating the tradition: his take out -themed clanger taps into his favourite pizza toppings of sundried tomatoes, pine nuts, pesto chicken, and mozzarella (if the bakers were judged by their taste in pizza, Liam would score fairly high in my book – suitably trendy but not disgustingly hipster), set off with sweet apple and plum. Liam also updates Prue who, when offered a dipping sauce, asks, "Who has dipping sauces with pizza?" Oh Prue.
Kate adds geographical distance to the mix, and I'm a fan of her Mexican burrito with Caribbean banana rice pudding idea. Unfortunately, things start to go, quite literally, downhill, as she drops one of her masterpieces onto the floor. But even the ones without floor contact somehow end up looking a mess, remaining undercooked, missing crucial decoration, and having only the texture of rice pudding. At least you cannot blame Kate for the lack of skill in self-reflection: "I literally dropped a clanger!"
Things get more technical with the rum Nicky, a shortcrust pastry base with a rum-soaked fruity filling and a lattice top, all served with rum butter – but mind you, the flavour must be one of "rum but not alcohol". Given the lack of any measuring devices, the bakers manage to create impressively tart-like creations. What escapes me, though, is how Stacey manages to get the quantities right for everything apart from the number of lattice strips for the top. Somewhat more numerate, Steven wins the challenge, and how could he not with his definition of the bake? "It's an alcoholic fruit tart with a lattice top. Sounds like a perfect drag queen."
The showstopper turns out to be in need of quite a revamp, as the Savoy cake, a Victorian favourite, was pretty to look at but rarely eaten (I would have failed as a Victorian). Slightly more appetising in form than the clanger, the cake is baked in an elaborate mould with a hard sugar coating, and served – in its 21st-century reincarnation – on an edible plinth.
Whereas Stacey struggled with her maths earlier, now I'm doubting Steven's semantics: he describes his chestnut rum cake, complete with a cinnamon apple filling, candied nuts, and sixteen handcrafted fondant flowers as "classic, simple, and beautiful" and definitely not "stupidly elaborate". I wonder if he would also tag Stacey's creation on Instagram as #wokeupthisway #nofilter: surely two heart-shaped sponges instead of one, loaded with macaroons, madeleines, jellies. and swirled meringues are your prototypical #simplelunch. Paul, at least, is left asking "why so complicated?" – because, darling, that is how you get star baker.
Liam gets a bit less lucky as his 'Fort Wizardese' – an elderflower and lemon sponge with melting spun sugar and only three layers – ends up with descriptors such as 'topsy turvy', 'no flavour' and 'over-mixed'. Well, at least there is no ambiguity there.
The bakers manage to make me want to reach out to my history books, and that, I think, is more than enough to warrant a place in the semi-finals. I need to apologise to my neighbours, though: I might leave a clanger in the gyp