Bake Off Week Six: secrets & pies
It all got a bit bland on this week's episode, but never fear, Anna Hollingsworth is here to stir up all the latest news and gossip from the heart of the tent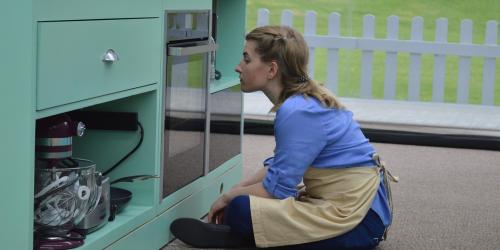 Pastry is my significant other, Paul is a man of pies – and puff, shortcrust and co. have so much to give to the world from the unpronounceable kouign-amann to the divine experience of the religieuse, and to the Paris-Brest that would provide all the innuendo Noel and Sandy could hope for. But, as much as I love sticking my finger into any pie, the line up from the Bake Off tent this time round was, quite frankly, soggy-bottomed.
"But, in Kate's words, who really knows what Shakespeare looked like, anyway?"
The signature was very much back-to-the-basics, asking for four shortcrust pastry pies with a filling and decoration of the bakers' choice. I felt like Channel 4 was going for an edible Rorschach test: what would the bakers project onto a blank canvas that just happens to be the lid of a pie? Yan opted for a selection of British scientists, with Hawking, Turing, Darwin and Crick gracing her chicken pies (did the Cambridge publicity people pay her for alumni representation? Watch this space for a breaking news story…), while Stacey went sense over sensibility with a love theme – how onions, mincemeat and pine kernels would get anyone's heart pounding much, though, I really don't know.
My emotions were much more directed towards Kate's butterbean potato and onion, and carrot, leek and celery fillings. Unfortunately, Paul saw divinity somewhere other than in the taste: "Is that Jesus Christ?" the piemaster asked when he was presented with pastry recreations of Amelia Earhart, Einstein, John Lennon and Shakespeare. But, in Kate's words, who really knows what Shakespeare looked like, anyway?
The technical reached out to Portugal and pastéis de nata to pimp up the pastry action. As always, excelling in the challenge involved embracing oxymorons: the rough puff pastry had to be crisp on the outside but chewy on the inside – not too much of an ask if you're baking a loaf, but we're talking relatively thin layers here – and the perfectly set custard filling had to be creamy, without containing any cream.
Amazingly, some of the bakers both mastered the semantics and managed to make the judges' jobs redundant: Sophie saw in hers "really good lamination, which is good" – coming second – while Yan's, in her own words, "look like the real thing" ­– coming top. The finesse of self-reflexive pastry judging wasn't quite grasped by everyone, though: Kate's "I think they should be kind of set on top, and, like, brown, I think," unfortunately translated into Paul and Prue's "chocolate cupcake" and "burnt". No divine figures in sight there.
While solid basic Bake Off material, the signature and technical weren't quite among the most exciting bakes the tent has witnessed, so I had high hopes for the showstopper. Unfortunately, a hand-raised pie with a hot-water crust pastry case and a glazed fruit topping didn't raise much for me. The total absence of even a drop of saliva was epitomised by Julia's creation, where not-so-honey-glazed pears sat on top of an overdone filling and an undercooked pastry. Well, some say baking is all about creating contrasts…
Luckily Liam and Steven came in to save at least some of the day. Liam's 'Nan's Sunday Dinner' offering with curried goat, fried plantain, and mango and avocado salsa earned his Nan an invite to Paul's house, and I wouldn't mind her popping round to my gyp room, too.
And where bling was largely lacking from the lard before, Steven stepped in with his Christmas-flavoured pie topped with sparkly cranberry relish. "Could not be serving something without a bit of camp in it," he says as he adds shimmer spray onto his bake. Well, Steven, you're more than welcome to glitter my pie any time.
I just wish Paul and Prue had got the memo before setting the challenges, because, as such, the challenges were, like some of the bakes, a bit bland. I hope my dreams of the upcoming Italian week don't remain a pie in the sky