Review: Delightful dysfunction in The Meyerowitz Stories
Seth Jordan considers the latest film from the delightful Noah Baumbach, one of several new releases to premiere on Netflix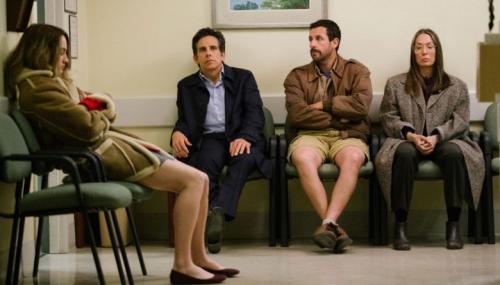 Midway through The Meyerowitz Stories, Adam Sandler's Danny bemoans his father's 'drip-drip-drip' ability to annoy him. It is never one thing, he says, but a thousand tiny niggles that rankle beneath the surface. The 'drip-drip-drip' dynamic is one that Noah Baumbach has perfected over the years, characters stepping on toes throughout his filmography, from the messy divorce of The Squid and the Whale to the midlife crises of While We're Young. This time, his subjects are the Meyerowitz family, one sister, two brothers, one father, two mothers (who are half-siblings), plus an alcoholic step-mother, superbly played by Emma Thompson.
"A funny and astute portrait of tangled family dysfunction"
Head of the clan is Dustin Hoffman's grizzled patriarch Harold, a stubborn and grumpy retired artist seeking recognition for his life's work. He looks a bit like President Snow in The Hunger Games, but shorter in stature and far more cantankerous. In his shadow are his children, Danny (Sandler), recently divorced house-husband, Matthew (Stiller), high-flying businessman and Jean (Elizabeth Marvel), long-suffering sister. The prospect of the sale of Harold's artwork to "a very charming interracial homosexual couple", puts the siblings at odds: Danny holds nostalgic affection for the art and Matthew is determined to push on with the deal.
It is a classic knotty Baumbach plot, complete with New York backdrop, the narrative playing second fiddle to detailed and idiosyncratic characterisation. There are grudges and animosity always bubbling under the surface as the family confront their myriad problems: Harold's aging, their own man-child immaturities and the effects of a lifetime of favouritism, disappointment, and poor parenting. The film has its share of Baumbachian quirks, the funniest of which comes in Danny's daughter's "not un-pornographic" university film projects.
Sandler proves that when he really wants to (and has the right script, director and co-stars), he can give a nuanced and satisfying performance. On occasion, his outbursts are a little histrionic, particularly in arguments with his daughter, but often Baumbach chooses to cut as each section reaches its climax so any overly angsty moments are diminished.
With experience of dysfunctional family comedies dating back to The Royal Tenenbaums, Stiller is also excellent but, of the three siblings, Marvel's is the standout performance. Quite unlike her more serious work in House of Cards, she plays Jean here with a subtle wit that situates her as the mature counterpart to Stiller and Sandler's infantilism, quieter and more cutting.
The 'drip-drip-drip' of increasing complexity progresses as the film moves on, Danny rueing his failure to continue his piano studies and Jean revealing disturbing details about her own childhood. The latter, in particular, results in a side-splitting scene as Danny and Matthew clumsily enact revenge for her mistreatment by attempting to bash up a car. It is both hilarious and moving. Such poignancy is not quite reached at the end, the "I'm going to visit more" conclusion feeling a little forced. Despite this, it remains a funny and astute portrait of tangled family dysfunction