Review: Barns and lovers in God's Own Country
Orla Horan finds in this remarkable British film a unique romance compelling in its impressive central performances and creative cinematography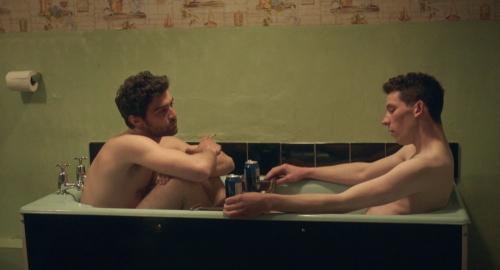 God's Own Country has been widely tipped as the 'British Brokeback', or some witty variation. Such clumsy comparisons with the 2006 blockbuster, made more out of convenience than accuracy, rather cheapen Francis Lee's achievement. With striking cinematography, a stripped-back use of sound and sensitive direction, Lee produces a gay romance that is decidedly one of a kind.
When Varsity spoke to lead actor Josh O'Connor earlier this year, he too expressed how bizarre he found the comparison, and rightly so. To suggest that there is something remotely derivative about his performance as Johnny Saxby, left to run his remote family farm following his father's stroke, seems unfair. Johnny is transformed by the arrival of Romanian farm-hand Gheorghe (Alec Secareanu) from embittered by his muddy and mundane existence to impassioned, with impressive subtlety.
"They are no barer than the Yorkshire landscape that surrounds them."
At the film's outset, Lee suggests Johnny is unable to express his emotions constructively: he drinks away his feelings (usually with sambuca or lager) and has rough casual sex in cattle boxes or pub toilets. By the film's denouement, a rather different and markedly less taciturn Johnny stands before Gheorghe and the audience, finally able to vocalise his feelings ("I don't want to be a fuck-up any more").
Lee has admitted that he himself "isn't a big fan of dialogue" and so sex scenes are used deftly to give an insight into this emotional development. Johnny transforms from brushing off a sexual partner monosyllabically ("No… No") at the prospect of going for a pint together, through to stripping and struggling in the mud with Gheorghe, and, eventually, to kissing him. The way the camera focuses on the men tracing their hands across each other's faces and chests demonstrates genuine intimacy that has moved beyond the violent and the graphic. Rarely, if ever, have sex scenes been used more purposefully and powerfully than in this film.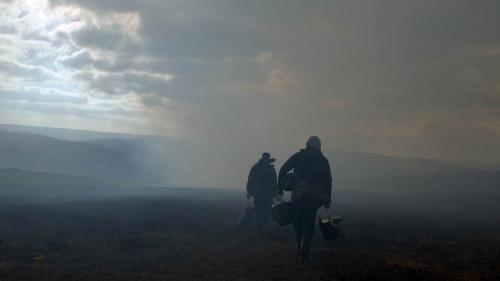 One might be concerned that by placing so much emphasis on their physical relationship, Lee unwittingly contributes to the hyper-sexualisation of LGBT+ characters on screen. However, calculated cinematography stops this worry becoming a reality. For much of the film, the camera seems to flock to Johnny and Gheorghe as they tend the animals. Tightly cropped camera angles mean even in the most intimate moments, the focus remains on the men's faces jointly in frame and their genuine connection.
"Lee constructs a relationship based on candid moments which carry immense symbolism."
On the rare occasions the camera pans out to a full body shot – of the two men naked talking in a bath, bed, or farmhouse – it does not feel unnecessarily explicit. They are no barer than the Yorkshire landscape that surrounds them. Many of the scenes between the two men occur in the flickering light of a fire, which, alongside Gheorghe's burgundy knitted jumper, inject some needed warmth into a palette dominated initially by muted greys, greens and blues.
While the narrative arc is distinctly that of a romantic drama ('boy meets boy' in this case), the film never feels clichéd. Lee constructs a relationship based on candid moments which carry immense symbolism. Pot noodle and cigarette sharing, riding on a tractor bike, seasoning each other's food (a neat parallel with Johnny's parents) make for a romantic tour de force that packs a punch, but never verges on melodrama. The closest Lee comes to a one-liner associated with romantic drama is the frank and surprisingly moving "freak… faggot… fuck off… faggot" which is repeated motif-like (hardly comparable to "I wish I knew how to quit you").
Gemma Jones and Ian Hart provide similarly understated performances as the stoic parents of Johnny; Martin Saxby's utterance of "thank you", while being washed in the bath by Johnny after suffering a second stroke, is more touching than a lengthy speech. The rural setting (and the accompanying scene of a dead lamb being skinned), alongside the use of sound – men pissing, panting and spitting – adds to the impression that Lee is aiming far from the territory of cosy melodrama.
Francis Lee creates an unassuming (LGBT+) classic, a Yorkshire romance tenderly told. One can only hope God's Own Country will eventually be remembered as distinct from Brokeback Mountain as, like the newborn lambs in the film, it is ready to stand on its own