Review: Patti Cake$ breaks out
Danielle Cameron finds earnest storytelling and performances in this rap-infused twist on the classic underdog story.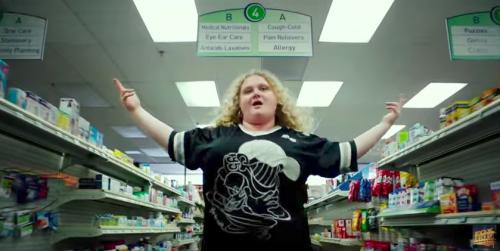 Green mist crawls across the screen, a mysterious figure with 'O-Z' hanging around his neck comes into focus, as does Patricia Dombrowski, before all fades to black and both protagonist and audience are in Patricia's – Patti's – New Jersey bedroom. So opens Geremy Jasper's confident and emotionally robust debut. This oscillation between dreams and cruel realities – between grief and hope – underpin much of Patti Cake$, a film that breathes new life into the underdog story.
"Macdonald imbues Patti with a spectrum of emotions and vast reserves of resilience."
The central premise of Patti Cake$ is superficially simple: Patti is a 23-year-old, working-class woman living with her alcoholic mother and ill grandmother, but who longs to be a rapper acknowledged by her idol, O-Z (Sahr Ngaujah). The allusions to The Wizard of Oz are no coincidence, and Patti's drawing back of the curtain forces her to confront false gods and skeletons lurking in her closet. As a result, in detailing Patti's quest for fame and fortune, Jasper crafts a film that deftly examines cultural appropriation, ageing and self doubt.
Indeed, such themes could cause Patti Cake$ to descend into caricature and stereotype if not for the stellar performances throughout. This danger is not due to Jasper's writing, but because the success of Patti Cake$ hinges upon whether the audience truly cares. No amount of Sorkin-sharp dialogue could save an emotionless, flat delivery of Patricia 'Killa P'/'Patti Cake$'/'Dumbo' Dumbrowski. For Patti Cake$ is truly a film that aims for the heart, and its own heart comes in the form of Danielle Macdonald's breakout central performance. Macdonald imbues Patti with a spectrum of emotions and vast reserves of resilience, which encompass depths of vulnerability and heights of confidence.
Macdonald is surrounded by a highly impressive supporting cast who match her fierce presence. Patti is the last in a line of down-and-out, but unrelenting, women. Both Cathy Moriarty and Bridget Everett bring comedy and tragedy in equal measure to the characters of Nana and Barb. Meanwhile, Patti's band mates are two more excellent examples of Jasper's ability to cast exciting new and unknown talent. Siddarth Dhananjay shines in his first film role as Patti's best friend Jheri, while Mamoudou Athie quietly steals scenes as Basterd the Antichrist. Together as a white wannabe rapper and African-American hardcore metal enthusiast, Macdonald and Athie's passionate performances accentuate Jasper's writing concerning exactly who should be allowed to love and perform certain genres of music.
While Patti Cake$ sometimes dips into mawkishness, it uses any sentimental qualities to accentuate its unabashed strength. The underdog story may not be new, but the female power and refusal to give up throughout Patti Cake$ offers a refreshingly original take. Arriving at the end of a summer where strong women have been front and centre onscreen, Jasper's debut and Macdonald's second-to-none performance act as a reminder that a woman's strength need not only be defined by her physicality but by her dreams, character, and resilience as well