Review: 'Lady Macbeth' and boredom
Felix Peckham finds this take on Neskov's novella dreary and bland, made less bearable by a largely uninteresting cast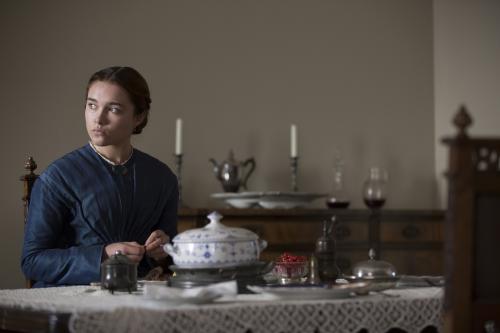 Watching Lady Macbeth felt as if I'd sat through an epoch's worth of awkward silence, occasionally peppered with bland, empty dialogue. The plot is essentially a convoluted story of Lady Macbeth of Shakespeare's Macbeth notoriety, through the medium of Nikolai Leskov's 1865 novella, Lady Macbeth of the Mtsensk District.
The film starts slowly, which is a polite description given the first notation I made on my phone was "cavernous empty dead space of creativity." The camera had a seemingly insatiable appetite for Katherine's (Florence Pugh) side profile which didn't help to assuage my already well-established reservations.
The film does justice to moments of violence, which are gruesome, but also viscerally repulsive in a more subtle, tacit way.
The story follows the classically absurd life of protagonist Katherine, the undermined and bullied wife of a weak and inconsequential man who seems to have little bearing on the general direction of the film. The man's father is a more vicious character and a local industrial magnate who purchases Katherine. Intriguingly, she is subsequently 'liberated' by an encounter with a worker on the estate who she discovers taunting and beating her chambermaid.
As if this isn't already the perfect genesis for a meaningful relationship, the worker, Sebastian, intrudes upon Katherine while asleep and effectively tries to rape her before she acquiesces and consents to his physical and unforgiving advance. In an attempt not to ruin the proceeding machinations and murder-soaked scenes, Katherine transforms into a Lady Macbeth-esque character with a rabid, love-fuelled ambition.
The cast are mostly unremarkable. Pugh has moments of candid authenticity which almost earn Lady Macbeth the much desired second star. Sebastian (Cosmo Jarvis) is forgettable; albeit he does have an uncanny resemblance to Andrew Lincoln (The Walking Dead). A particularly entertaining moment is when the illegitimate child of Katherine's husband, a four-year-old boy, succeeds in twice objectifying his adopted mother. Though, if you do choose to watch it, you'll see that the young man does receive a somewhat gruesome comeuppance.
One commendable element is the casting of Naomi Ackie as Katherine's maid, Anna. Ethnicity is not a topic raised during the course of the film, but it does serve to remind audiences of the roles of Black British people in household service at the time. This was a consideration of the director, William Oldroyd, who questioned the established orthodoxy of all-white period dramas that have become ubiquitous in British entertainment, such as Downton Abbey.
Towards the second half, there is a notable increase in pace. The film does justice to moments of violence, which are gruesome, but also viscerally repulsive in a more subtle, tacit way. Lady Macbeth even manages moments of light-hearted humour, mostly featuring the under-appreciated ginger-and-white cat who, at one point, is the only companion of the psychotic Katherine.
Despite my initially harsh reaction to the offerings of Lady Macbeth, I left on a warmer, less critical note. Occasionally, during the latter half, I found myself enjoying it, or at least revelling in the brutality and violence