Interview: Joss Stone
Joss Stone talks to Jack Benda about her career, image and the guys who "tried to chop my fucking head off!"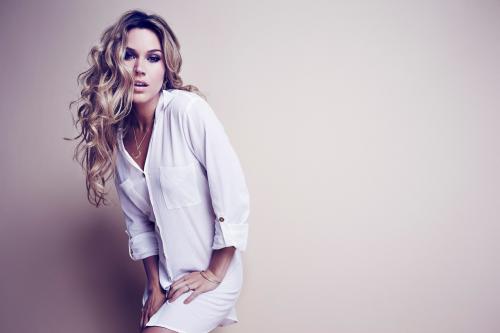 Joss Stone was thrust into fame when she was just 13, winning Star for a Night, a BBC television talent show. Since then she has won a sizeable cabinet of awards, appeared in a number of television programmes, toured all over the world and released 32 singles and six studio albums, with another on the way. Her career has spanned nearly 15 years and she still maintains her position as one of the most respected and popular singers in the music world. Despite being a super star celebrity, she is one of the most down-to-earth people that I have ever met. She was cheery, chatty and seemed more than pleased to talk to me despite having just got off a long-haul flight.
Coming from a small village in rural Devon, how did Joss get into the music industry? "When I was a little girl I didn't even realise there was an industry surrounding it. I was more inspired to become a singer because music was something I connected with much easier than everything else in my life; at that point my life was school. That was it – school and animals!" She explained how she would "stay up all night watching MTV and then my mum would come down and tell me off, and say 'you have to go to school in the morning'… Then I'd sneak back downstairs later and turn it on really quietly".
Arguably, it was livestock that catapulted her into the public eye in the first place. She initially entered Star for a Night in order to try and make enough money to keep her expensive yet much loved horse, Freddy. "My logical brain started going 'fucking hell I need to get a job, I must get a job'… Then I was watching Star for a Night and I thought 'ah people do that for a job, I can do that; that's easy!'". They only actually paid her £75, and she didn't get to keep the horse, but that show marked the start of Joss' music career, and placed her firmly under the limelight.
She quickly became extremely famous, and I wondered how she found, and continues to find the pressure of celebrity life: "Well, I didn't much like it to be honest. It's probably my least favourite part of my job I think because it's nothing to do with music". She explains that fame is "everybody watching you, looking at you, judging you and judging everything about you" and that "they're more interested in your clothing and your boyfriend" than the music. She feels that this is "so beside the point; so far from all the reasons I do it… I mean it just gets boring!" Joss continues to live in the country home in which she was brought up, in part because she loves where she comes from, but also as an escape from the "pressures of celebrity life".
What does Joss think about a music industry that seems to be almost totally 'image-centric'? "There's lots of different sections to the music industry… There's the commercial side of things; the records that sell millions and millions" but "that's one area and that's, like, massively visual, with the videos and the photographs and the red carpets and the 'who are you wearing' questions…" She expressed her "massive" respect for artists like Beyoncé (who can "sing her arse off"), but notes how it is very concerned with the visual "and that's because the consumer – they want that". But there is "no one thing better than another… But that doesn't necessarily mean that I want to be a part of it; that's not what floats my boat".
Joss had a large legal battle to leave the EMI record label a few years ago when she decided that this side of the industry wasn't what appealed to her. She told me how she was "pissed off" at the time, because "they didn't care" what she thought or wanted "but 'ha-ha, you either do what we want you to do honey or you aren't going to sing at all!'". Despite their "abuse" they couldn't stop her singing, and after a long legal battle Joss could finally sing whenever and whatever she wanted.
Besides the normal celebrity interest, Joss has also attracted a dangerous kind of attention. In 2011 she was the target of a kidnap and potential murder plot because of her relationship with the royal family. I wasn't sure how to approach this issue, and so I asked her about the "2011 plot ordeal". After some puzzlement she exclaimed "oh the plot ordeal when people tried to kill me!"
After that I felt more comfortable, and mentioned how it's so hard ask tactfully about something like that, to which she laughed "well how can you: someone tried to chop my fucking head off!" The attitude which she had adopted was remarkable, and she spoke freely, even laughing about how she doesn't "really know what to say about it… I got asked these questions when I was doing interviews on TV when I was promoting another record and they were like 'so… by the way… how'd that go for you' and I was like 'well… yeah it was great'".
She told me how she bought two more dogs (she already owned two) and had to step up security. She now "always has someone in the house with her pretty much" but that when she's alone she "puts the dogs in each room" to make her feel safer. It's clear that, despite the kidnapping plot never actualising, it has made a deep impact. But her philosophy is admirable: "it's just the tapestry of life: there's lots of ups and there's lots of downs you know, and I guess that's one downside".