My favourite outfit
Isabel Adomakoh-Young talks about her beloved vintage band jacket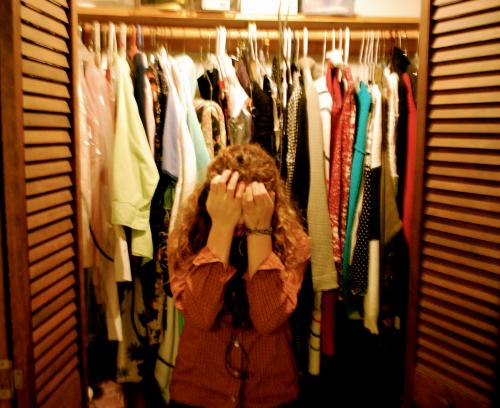 I almost brought my entire dressing-up box (also known as my room) with me to university this year. I like to be prepared, and who's to say I won't suddenly require a 1940s woollen nurse's cape, or a pair of foot-high home-made gold horns?! But it's probably good that my mum didn't let me, because then I could never have chosen a favourite for this! As it is, of everything in my little college wardrobe, my vintage Bandleader jacket wins for sure. I bought it over the summer at Wilderness festival from a man wearing a sundress, on the day of my first ever gig with my new band, Corinthians. I haggled like a fiend and, once I'd got it, re-sewed all the buttons, as I wanted it to last. 
It's totally unheard of to find a vintage military/marching band jacket that is tailored so beautifully for a woman; usually they're bigger, for guys, and more square-shouldered, so I was thrilled. The inside label proclaims it as 'Uniforms by Ostwald, New York', so it must be a real piece of marching band history and not just a costume. My band, Corinthians, played in an unexpectedly large big top and it went really well – no doubt thanks to the jacket! When I wear it, I feel like Shirley MacLaine singing 'I'm a Brass Band' in the sadly underrated film, Sweet Charity; like I should have a little cane and a hat and shiny shoes.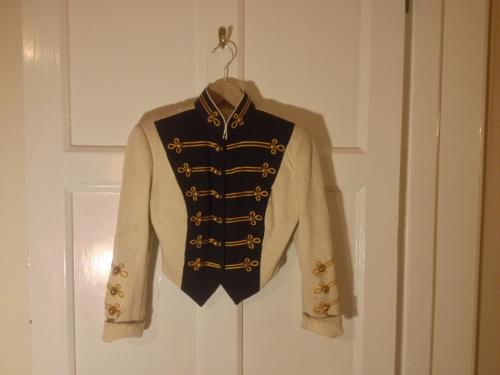 I also love the jacket because it reminds me of my family, especially my grandpa, as the military style is reminiscent of my family's long connection with sailing and the navy. My generation is the first one in centuries not to have at least one sailor in it. Or, at least not yet! I'd always been disappointed that all my ancestors' jackets were a bit too big to re-claim as my own, or had been destroyed, or lost over the years. 
Recently, a woman called Phyllis appeared on Antiques Roadshow showing a bit of gold braid from a military jacket, like the stuff on my marching band jacket, but the real deal, made of twisted metal fibres. A guy who's interested in my family's history spotted the episode and eventually my mum went to meet her and to collect the braid. It turned out that the braid had been part of a sleeve, which was cut off my great grandfather Bill's jacket when he lost an arm during a raid on the Belgian port of Zeebrugge in 1918. Phyllis' father had helped him in the midst of the battle and must have kept the braid, maybe as a keepsake, or maybe to give back to Bill one day. This summer, almost one hundred years later, the two brave men's descendants met, and the gold braid was returned to my family. 
So even though it's new to me, this jacket seems to fit with my heritage in a way. All I need now is another excuse to wear it...