Sex Education Season 2 is better than sex education in the UK
An anonymous student discusses their personal experience with HPV, the shortcomings of UK sex-ed classes, and the effects of sexual health on mental health and personal relationships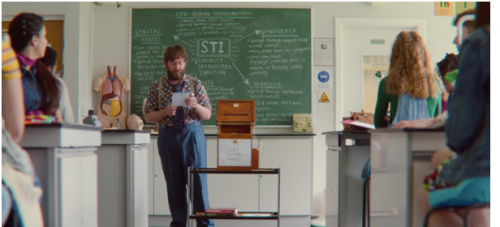 It's a Monday evening and, like most students, I'm sitting in my room doing anything but the work I should be doing. I open my laptop, log into Netflix and decide to start watching Season 2 of Sex Education, a series that sees comical teen angst collide with some of the deeply serious issues that many young people face. However, two episodes in, I have to pause. On a slightly-blurred, 90s-style chalkboard, I can just make out a mind map of different STIs.
Chlamydia…Gonorrhoea…Herpes…and then, right in the corner, I see them: those three letters beginning with 'H' and ending in 'V'. Almost instinctively, you might have filled in the letter 'I' in between, but you would be mistaken. The letter you are actually looking for is 'P'.
I can feel my body clench, my breath becoming shaky and my eyes beginning to glisten from the tears forcing their way out. It's been a year since I was diagnosed with HPV, and at times like this I feel completely and utterly distraught – and not because of the HPV itself. It is because I am reminded of the past year dealing with the consequences of a horrifyingly inadequate system that has, frankly, failed me.
"LGBT+ relationships were not included in the already very limited class time dedicated to sex education"
For some context, HPV, or the Human Papilloma Virus, is a multi-strain sexually transmitted infection (STI) that a worryingly small number of people know much about. It often has no symptoms, and is spread by skin-to-skin contact of the genital area, which means even non-penetrative sex puts you at risk. As in my case, it can be easily passed on even if you or your partner is wearing a condom. As one of the most commonly contracted STIs – that's as common as the common cold, with roughly 80% of sexually active adults having the virus at some point in their lives – it is troubling that I only found out about it at university.
Though most people clear the virus themselves within 2 years without experiencing any issues, those of us who aren't so lucky can develop serious problems. Some less harmful strains lead to growths known as genital warts, while other strains can develop into cancer. What's more, it cannot be tested for easily, which means most screenings you get from a GUM clinic or a home self-test kit are useless when it comes to HPV.
'Surely something is being done about this?', you might ask. Well, you may recall in your secondary school days when waves of girls would leave their classes to be given a vaccination designed to combat cervical cancer. That vaccination is called Gardasil, and it protects against certain strains of HPV.
The problem is that HPV affects all genders, given that certain high-risk strains can lead to other forms of cancer such as throat, anal, and penile. But despite the vaccination being introduced in schools over 10 years ago for girls, it has only now just been introduced for boys. Sadly, for me, it's too little too late.
Sex education in UK schools is generally abysmal. Maybe a total of 2 to 3 hours was devoted to Sex Education during my 7 years at secondary school. For young LGBT+ students, the situation is even more dire. When I was in school, LGBT+ relationships were not included in the already very limited class time dedicated to sex education. Moreover, given that MSM (men who have sex with men) are at a higher risk, the need to both vaccinate men as well as women, and to address the serious shortcomings in our education system, is vital. There is always a risk when you engage in sexual activity, but I was not adequately equipped with the tools and knowledge necessary to protect myself and others. This is simply unacceptable and I am living proof of the consequences of these shortcomings.
My experience with HPV has been very mixed to say the least. On the one hand, it has been extremely difficult. My then partner abruptly broke things off with me, and bouts of treatment ranging from cryotherapy to excruciating courses of podophyllotoxin and immunomodulators left me mentally and physically broken. I couldn't walk, sit, or sleep without feeling agonising pain, and dark thoughts clouded my mind when treatment would persistently refuse to work despite countless trips to clinics, hospitals and surgeries – all while trying to study for a Cambridge degree. Dealing with the internalised stigma attached to STIs was also very challenging and emotionally draining.
Failures within the NHS were also brought to my attention as I was frequently given poor and conflicting advice as well as being subjected to homophobia by individual health professionals. HPV destroyed some of my later relationships even after treatment and it has forever left me deeply traumatised, so much so that I couldn't hold back the almost hysterical tears when my treatment, nearly 6 months since being diagnosed, finally began to produce results.
On the other hand, this experience has been a turning point in my life. I have developed a strong support network with friends who were very supportive throughout my treatment. I no longer feel awkward discussing my sexual health openly and honestly with partners, friends, family, and health professionals. I have been able to educate others about vaccination against HPV and general sexual health, particularly in the LGBT+ community.
If, like me, you've never had an STI before and countless screenings have come back clean, the last thing you expect is to go to a GP appointment and leave in a state of utter confusion, shock, and helplessness – especially when such a situation can so easily be avoided. I urge everyone to take their sexual health seriously, to get vaccinated against HPV if you haven't already done so (it is free if you are MSM), and to always be honest with your partners.
HPV can and must be dealt with. Right now, however, not enough is being done. For the moment, it is up to us to educate ourselves and each other as much as possible. We cannot be relying on a Netflix comedy series to do the job.
For more information on HPV and local sexual health services, I recommend the following:
On HPV specifically:
On LGBT+ sex education:
On local sexual health services i.e. Lime Tree Clinic