Investigating intermission
Olivia Bonsall speaks to students with concerns about the accessibility of intermission, and the University's attitude to students studying part-time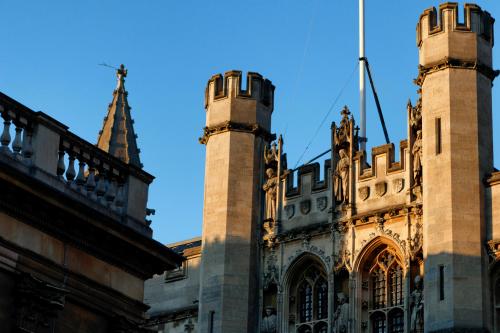 When I reached out to Cambridge students to ask about their experiences of intermitting, I was surprised at the number of people keen to voice their difficulties with the process. The option is designed to offer a complete break from studies, usually for students to recover, both mentally and physically, from any illness, long-term injury or specific family circumstances.
Sophie*, who intermitted for more than a term due to bereavement, spoke of her ease navigating the process: "For me, the whole process was fairly simple and not stressful, which I would put down to my tutor being really good, and having backing from two DoSes." But the majority of students interviewed argued that the option, while important and beneficial for some, is by no means accessible or appropriate for all, and suggested that staff members should suggest alternative options to students who are struggling.
Hannah has not intermitted, but has considered the option several times during her time at the University. She highlighted concerns surrounding the lack of support for estranged, homeless or financially struggling Cambridge students. "If you intermit, you don't get student finance anymore", she noted, adding: "I'd need money and a home to go back to." To Hannah, intermission seems inaccessible. She said, "It's a very middle-class version of self-care."
A University spokesperson noted that, although undergraduates "will normally be required to leave their College residence for the period of intermission", if they are facing exceptional circumstances, for example if they don't have a permanent address beyond their College accommodation, or are receiving specialist medical treatment in Cambridge, "they can remain". They also highlighted the hardship funds available at the University, saying that the "wellbeing of students is the University's priority".
Hannah's personal experiences, though discouraging her from intermitting herself, have motivated her to support others going through the process. "Tell your tutor as soon as you can, as soon as you even have the idea", she advises any students experiencing difficulties, since the intermission process is often reported to be lengthy and bureaucratic.
"This may dissuade a less financially able student, at the expense of the grades of which they may be capable, or more importantly, their own health"
The length of process is also dependant on the understanding of the student's tutor, which, as Hannah highlights, can be impacted by the background of many academic staff. Speaking from personal experience, she said that the University's staff are usually "middle or upper class" and "they're normally white", thus students who "come from any kind of marginalised or disadvantaged background" can often have increased difficulties relating to their tutors.
Most of the students I spoke to were alarmed that, according to certain pages on the the University's website "students are not permitted to study or undertake any form of employment" while intermitting. This guidance was updated in April 2018, and a University spokesperson told Varsity: "There is no ban on undergraduates doing paid work during their intermission, and some find it both necessary and helpful, particularly once the cause of their intermission has been addressed." However, at the time of writing, this updated guidance has not been altered on several official University webpages which may be consulted by students considering intermission, therefore some such students are still liable to be discouraged from the process.
Positive change has been made in recent years to improve the intermissions process, but lack of clarity and awareness among the student body continues to pose challenges to struggling students. One student, Fred argued that the regulation, which has since been altered, has been both financially and mentally damaging to some students, and argued that the inconsistency of information available, with outdated facts still displayed publicly, might "make struggling students think twice about intermitting.
Speaking on the regulation, which in his own experience looking into intermission he had not discovered had last year been altered, Fred said: "This may dissuade a less financially able student, at the expense of the grades of which they may be capable, or more importantly, their own health", he said.
The seeming inaccessibility of intermission for certain disadvantaged or chronically ill students may cause them to withdraw from the university, or search for alternative modes of assessment. Laura, who believes intermitting will not benefit her because she suffers from a chronic illness, has suggested the possibility of completing her degree part-time to her supervisor, and now, after a long application process, been granted the option to pursue this mode of study. Although this version of studying, referred to as 'double time', indeed exists in Cambridge, she said that the academic staff she initially spoke to seemed unaware of the options available, and simply encouraged intermission.
Part time study is an option which the majority of British universities offer, although it remains rare at Cambridge. "The Applications Committee took six months to approve my application, meaning that I had to do another term full time", Laura explained. She added that "the pressure of this worsened my illness so much that I had to start using a wheelchair during this time, much sooner than expected."
I asked Rachel and Sam, who are also completing their degree through part-time study, both due to Chronic Fatigue Syndrome, what advice they would offer to students who feel that double time would be appropriate for them. "Get your medical evidence together", Rachel recommends. "Practise talking through your needs and why full time is incompatible with you. Don't let your college tell you it doesn't exist."
"Practise talking through your needs and why full time is incompatible with you. Don't let your college tell you it doesn't exist."
A University spokesperson highlighted support networks available across the University, including the University Counselling Service, the Disability Resource Centre, and the Students' Union Advice Service. Although these services are valuable and commendable, Rachel lamented the fact that it is the student that must prepare themselves mentally to get through the double time process, with their first points of contact in times of concern, their tutors, too often unaware of the opportunities available for support.
Many of the students I spoke to shared the view that a lack of information has caused applying to undertake either the intermission process or an alternative mode of study to be a demoralising process. A lot of the interviewees voiced hopes that the University will continue to consider the nuances of chronic illness and personal difficulties, and also to better advertise the possibilities of alternatives to intermission. Cambridge's recent organisation of 'Student Mental Health and Wellbeing Strategy' discussion groups marks excellent progress in listening to students' concerns surrounding issues such as intermission and part time study; hopefully, in the future, even more efforts will be made to improve inter-college and staff to student communication.
However, described as "cold" by Sarah, without further open discussion and increased awareness of students and staff alike, the intermission process might remain an unappealing option for some students that stand to benefit greatly.
*The names of the students who spoke to Varsity have been changed.
For more information about intermission, read the CUSU intermission guide: https://www.disabled.cusu.cam.ac.uk/intermission/?fbclid=IwAR3FYDP-8FZANeAybXy8l9tRR1X7m_zbOPw4udazqj70h7h4kM2sUK3vp3s
For more information about 'double time', read the recently created double time guide: https://docs.google.com/document/d/1FB-9x5sb7pW5wD_IEYHJY2dhfVqsegp11gi-usojFec/edit?fbclid=IwAR2u07F9GWy47DNDtoXzkv9mjT5Mpb08mGdzaXdQf1iyYKtV5WEZMiI8ahM