Surviving Cambridge through long distance love
Sharing Cambridge with someone outside of the bubble has helped me overcome its tougher moments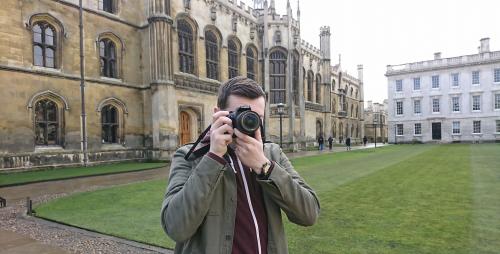 Like most freshers, this time last year I was a mix of nervous and excited: about to move away from home, and worried about making friends and writing essays again after a year off.
Unlike some other freshers, I also had the impending return to long distance with my boyfriend on my mind. We had already experienced some aspects of this, as I took a gap year while he went to Cardiff. But this time around I would be busier and further away, with less freedom to visit, and I had no idea what my life at Cambridge would look like – if there was even going to be space for our relationship in what seemed like a hectic and overwhelming place.
Reflecting on this a year later, my first year has been the opposite of what I expected. Cambridge is a tough place to study and my relationship with it has been far from straightforward. But my boyfriend not going to Cambridge has actively helped me to survive it, and restored my love for it when I thought I wanted nothing more than to get away.
My boyfriend not going to Cambridge has actively helped me to survive it
The initial excitement I felt getting into Cambridge – something that for so long felt more like a dream than reality – quickly wore off under the weight of deadlines, as the reality of being here sunk in. As freshers' week faded away, I found myself spending hours in my room struggling to understand medieval agriculture – not exactly my idealised Cambridge life.
It's easy to develop a love-hate relationship with Cambridge. My time here is closely associated with poor mental health, and feelings of isolation and alienation from my idyllic surroundings. I reached my lowest point in Lent term – conversely, I was at my highest point academically, but this led me to pile more pressure on myself than anyone could reasonably handle. I remember calling my boyfriend crying after a supervision because my supervisor had written 'good effort' on my essay – in that moment, I needed someone outside of Cambridge to tell me I was being ridiculous.
While here, everything feels so immediate and intense, and deadlines can feel somewhat life or death. My boyfriend being an outsider to the bubble means he can pull me out of it – whether it's a phone call in the middle of an essay crisis or a weekend visit, he never fails to remind me that there's a world outside of Cambridge. It's frustrating to realise how easily Cambridge forces you to normalise its workloads (and internalise the accompanying pressure), but having one of the most important parts of my life firmly rooted outside of this environment goes a long way to neutralise its power over me.
His visits stand out in my memories with a vibrancy against a dull background of Lent term
My boyfriend's visits stand out in my memories with a vibrancy against a dull grey background of that term. I remember walking around different colleges with my camera, taking silly photos and feeling like a tourist again; drinking hot chocolate in coffee shops instead of working; or even just watching Netflix in my bedroom. The intense relief I felt at being able to forget my work for even a day forced me to accept that no amount of academic success was worth sacrificing my happiness here. Through him, I was able to rediscover my love of Cambridge, and all my reasons for actually wanting to be here seemed to fall back into place.
Throughout the whole of my first year, my boyfriend has constantly helped me appreciate how lucky I am to be at Cambridge. The first weekend he visited, I went punting for the first time – it was also with him that I first visited the Botanical Gardens and Fitzwilliam Museum. It's easier than it should be to let an evening working together pass as being social here; coming up with fun things to do when he visits always reminds me that there's a world outside of the library.
Even when I've managed to convince myself of all the negatives of Cambridge, anticipating his visits never fails to get me excited about the things I have to share. The first time I took him to formal felt as special as if it were my first time too, because I could share the unique parts of my world with him.
At the same time, long distance has forced me to be more independent, after spending my gap year stuck between working at home and living vicariously through my boyfriend's uni experience. It has also pushed my naturally very-shy self to reach out to my friends more, as I can't rely solely on my boyfriend. My friends are my support system while I'm here, and we share the ups and downs of Cambridge in ways that I can't with anyone else, while I have him to ground me when I need a reality check.
Long distance isn't easy and neither is Cambridge, but together they somehow balance out. We are living our own lives at university – and being able to share the life I've built in Cambridge makes me appreciate it in ways I wouldn't be able to otherwise.