Finding roots in Cambridge's trees
Hannah Fytche finds much to learn about herself from one particular Cambridge tree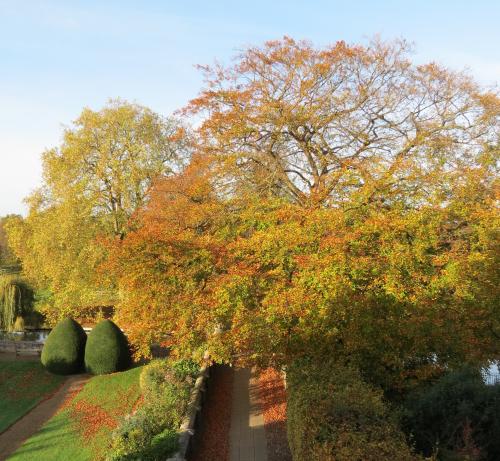 I sit writing these words in the window seat of my room, gazing out over the Cam and keeping company with the magnificent copper beech standing over Clare Bridge. Its leaves are deep purple now; just last week they had a new-grown, pinkish hue. Just weeks ago, they were still furled tightly together at the tips of branches, unseen.
This tree has stood here for long years. I feel like L.M. Montgomery's Anne of Green Gables as I dwell up in my window seat, making friends with a copper beech. Anne named trees, capturing their essence in the act of naming and knowing. They became for her friends and symbols, kinfolk who rooted her in a place where she, once orphaned, now belonged.
Clare's copper beech in particular and the image of trees in general have become this for me, too – symbols of rootedness and belonging. Roots grow deep into the ground, tunnelling through earth to find water which gives life to leaf and branch. Roots hold the tree steadfast through changing seasons and weather and time, and they bring up sustaining nutrients essential to survival and flourishing. Throughout my year gazing out from this window seat, I've seen the old copper beech embrace autumn gloriously, its leaves ablaze and crisp; I've shivered as it's stood bare and brazen in winter snow; I've smiled in delight to see it harbour birds in spring.
Clare's copper beech in particular has become a symbol of rootedness and belonging for me
The earth turns; seasons change; the old tree stays rooted. It flourishes. We flourish, too, when grounded and rooted – when we persevere to dig our roots down deep to find that which will sustain us and allow us to flourish, even in the most difficult of times.
This flourishing is seen in Anne of Green Gables. Anne signals her belonging by naming her trees – and then her world expands as they become characters alive in her stories. For Anne (and for me) the outdoors and the trees stand as images of imagination and flourishing; wonder and exploration. The rooted trees bear fruit; they bring forth life and wonder.
It's been a real delight to see the copper beech transform throughout the year, and see it silhouetted against the Cambridge sky both at sunrise and sunset and through clear nights glittering with stars. Dappled light shines through mottled leaves, and I'm amazed by how much beauty there is to wonder at here. The view from my window, dominated by this tree, has come to represent all else there is to explore. The adventures there are still to have. The fruit that is yet to be grown, tasted and enjoyed.
It's like another favourite childhood book: Enid Blyton's The Magic Faraway Tree. A single tree harbours a ladder to new worlds and hilarious adventures. Fruit comes from roots, and the fruit brings forth adventure and new life.
In a term populated by exams we might spend more time with the paper products of trees rather than the trees themselves. But remember the origin of your books, and think on it. Find your roots in good soil; persevere to dig them deep in earth near water that sustains you – whether this metaphorical 'water' is plentiful breaks and rest; time with friends and family; long rambles in the outdoors; contemplative quiet in your college chapel. Find ways to be rooted and to remind yourself of who you are as you study through this term.
And don't forget the fruit and the wonder! Flourish in your rootedness and find the adventure out there – there is much to be explored beyond the focus of exams and your time in Cambridge. Dream a little and find the balance: roots and fruit; sustenance and flourishing; perseverance and result. You'll be amazed at what happens when you pay attention to where you're grounded and what you're rooted in.