May Ball Review: Corpus Christi
Fiona Lin on a crowd-pleasing, if not quite perfect, May Ball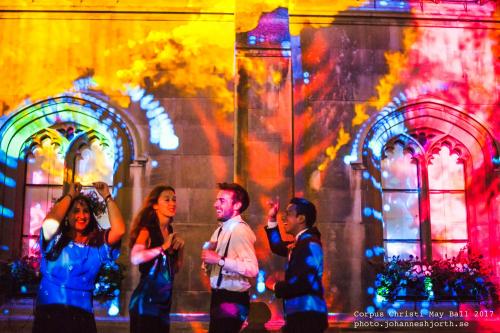 Corpus delivered a ball that was somewhat bigger than what one might expect from a such a small college, supplying the energy and excitement that some guests may have lacked by the end of May Week. Many balls this year claimed an art-related theme – Pembroke and Emmanuel, for instance – and I initially suspected that Corpus' 'Canvas' was merely an excuse for alliteration. But I was pleasantly surprised at the creativity and detail with which the theme was executed.
Despite having attended quite a few May Balls as a finalist, I still found much to do which was novel and on-point with the theme. There were various opportunities to deploy my limited artistic skills, with postcards and markers aplenty in the 'Recharge Room', which rather usefully contained actual phone chargers, and an interactive 'Graffiti' board in the Hall. There was also the chance to obtain souvenirs of more artistic merit, with personalised portraits and 'Takeaway Poems' available in the Master's Garden.
"It felt rather rebellious to be walking on the cream carpets of the Master's Lodge"
Despite the long queues, especially for photos with birds and floral crowns, the Master's Garden was my favourite area of the ball. It felt rather rebellious to be walking on the cream carpets of the Master's Lodge, and the conservatory was also a lovely location to sit down for some relaxed acoustic performances. However, for me, the star of the ball was the generous supply of deckchairs – including a few massive ones that could seat multiple people – in New Court.
While the deckchairs were an excellent feature, the disadvantage for the ambience was that there was a rather higher ratio of sitting down versus dancing than would be optimal for near the Main Stage. Whilst Lethal Bizzle's headliner set attracted no shortage of dancers, the atmosphere for Weaver Bros was rather lacklustre. Also, despite it being advertised in the programme, we could not find where the "UK's largest mobile ballpit" was.
Other items in the programme also seemed to be absent, or ending earlier than expected, which left some disappointed people at the back of queues. I was also disappointed to miss the midnight Light Show, which seemed – perhaps with worrying efficiency – to have actually started and finished before the advertised time. Nonetheless, the various magic and circus performances were enough to keep me entertained, along with the plentiful presence of bubbles throughout the night.
Although I had a dining ticket, I still found ample incentive to try the food on offer. There were the usual suspects, like Aromi pizza, Jack's gelato, mac 'n' cheese, and a barbecue. I was more excited by the 'Chocolate Shop', which featured some very photogenic 'freakshakes' and a 'doughnut wall' of impressive size and height. The Turkish tea and coffee, along with baklava, was also a delightful way to obtain a caffeine and sugar hit. I was sad though to have missed out on the hog roast and pistachio cake.
Drinks-wise, Corpus had champagne – not just Proscecco or Cava, I was assured – as well as some moreish champagne jellies. There was also a flowing supply of cocktails and mixers, even if the range of other alcoholic drinks was more limited. Nonetheless, heading inside to shelter from the wind, I was very happy to find glasses of wine and an abundant and beautifully maintained spread of cheese, grapes and baguettes.
The silent disco managed the delicate balance of being busy without feeling overly sweaty or suffocating, and was the perfect way to usher in the morning. Being a serial napper, I was rather proud of myself for making it to the end. But perhaps it is the committee who should be most proud for holding a ball that – judging by the energetic singing during the Survivors' Photo – even if not perfect, was a definite crowd-pleaser