May Ball Review: Jesus
Richard Assheton on how Jesus College May Ball's 'Between the Lines' took guests on an adventure through literature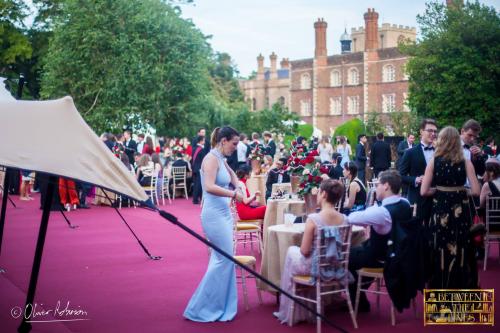 Many a crew has failed to harpoon the white whale that is a coherent ball set in Jesus' abundant green pastures. This year's crop was sunk by that task too, but not without giving their guests a Biblical quantity of delights. The theme was a good one: 'Between the Lines', a booky choice fitting for an evening that began queueing inch by inch around the college library. As Monday night went on, the space between the lines outgrew the lines themselves. Literature faded into the background; there were mistakes, and the thing did not quite hang together. But there was so much to enjoy that only a Scrooge would care.
The committee could not create one identifiable atmosphere across such a far-flung space. Perhaps there could have been more music everywhere. Perhaps the theme was too expansive: each of the literary styles of gothic, romance, steampunk, fantasy and modernism could have justifiably been a theme on their own.
"But this was a ball best enjoyed not per totum but per little moments — not chapters of a book, but sentences perhaps"
But this was a ball best enjoyed not per totum but per little moments — not chapters of a book, but sentences perhaps. Explosive cake pops which gave wide-eyed Proustian sensations. Little men and women chatting in a 12th century cloister court at dusk. Fitzgerald resurrected as a jazz band in a glittering Fellows' Garden. Perfectly seasoned steak lapping on the tongue in the line for a dodgem.
And boy did we gorge ourselves like Beowulf's day. The variety and abundance of food was outstanding. I ate (almost in order and not exhaustively): a zebra burger (slightly overcooked), veggie arancini balls that even flesh-craving Shylock might have approved of, a bewilderingly flavoursome lasagne that Umberto Eco would have happily tucked into, that seasoned steak, fruit doused in three chocolate sauces, many cheeses, ring donuts and an exquisite 4am steak pie. Oh Jesus!
Unfortunately drinks, on the other hand, were almost universally sugary and lacking in punch. Perhaps Silas Marner was in charge of budgeting. And the theme was sometimes taken too literally. Swigging a headache-inducing pineapple-and-rum witch's potion in gothic land was as frightening as any Shelley or Stoker. I was glad to find prosecco and the wine tasting room.
Music told the same imperfect but plentiful story. Top-of-the-bill Laura Mvula could not lure everyone under the roof of her tent, but the Chaucerian giddiness of the faces of those she did was undeniable. And there was no shortage of special moments if you got close enough. Returning to Jesus, the Antarctic Monkeys got feet stomping and backs sweating. I'm sure I saw tears when Adele: The One and Only (a less well named tribute act) belted 'Someone Like You' at 3am. And if you took your headphones off at the wonderful silent disco in cloister court at about five o' clock the crowd became an act in itself when it performed an acapella rendition of 'Bohemian Rhapsody' to the larks.
Activities were equal to great expectations after last year's laser quest. The customary casino and dodgems were joined by a jovial tarot card reader who told fortunes for seven hours without a break, an escape room (the queue for which incidentally made it just as difficult to get in as out) and 'Aquazorbing', in which once smartly-clad ladies and gentlemen were made to scramble around desperately in a giant blow-up thimble sloshing around in a paddling pool.
As the night wore on the war with the heat was won, and 'revellers' stumbled home contented. What did this have to do with literature? Not a whole lot. Did this matter? Not a jot. Jesus served up a disjointed, tarnished but thoroughly enjoyable ball. It should inspire pride without prejudice