The best (and worst) of the Met Gala
With the theme for the hottest party of 2020 just announced, Anna Stephenson takes us through some of the most iconic outfits to be seen on the Met Gala red carpet over the last decade, for better or for worse.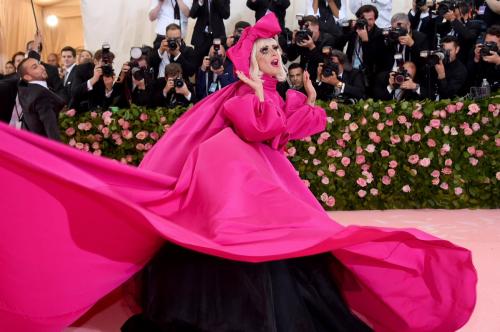 The Met Gala is the best showcase of celebrity fashion in almost any given year. Not only do the more classic designers raise their game, but more importantly, the star of the latest blockbuster feels up for taking more risks than she might at her latest movie premiere. However, not everyone can serve us the most opulent omelette an egg ever aspired to be. For every rule-breaking Rihanna, we get an unconventional (read: beyond even a 'statement') Tim Minchin stapling a hoodie to a basic waistcoat. 
Here are some of the overlooked (in some cases, for the better) Met Gala looks from the 2010s.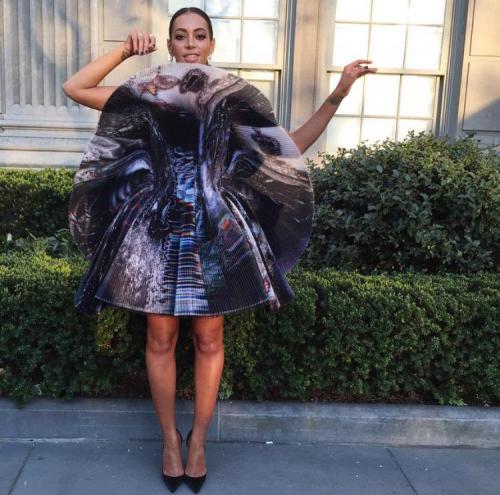 SOLANGE, 2015
Theme: China: Through the Looking Glass 
While the bottom of the dress alludes to a feminine silhouette, the top (shall we say chin-line?) spills out of the traditional strapless line you'd expect into halls-of-mirror hyper-reality.
Looks like: That mirror in the National Science and Media museum in Bradford where you stick your whole head in as a 7 year old and nothing quite feels the same again.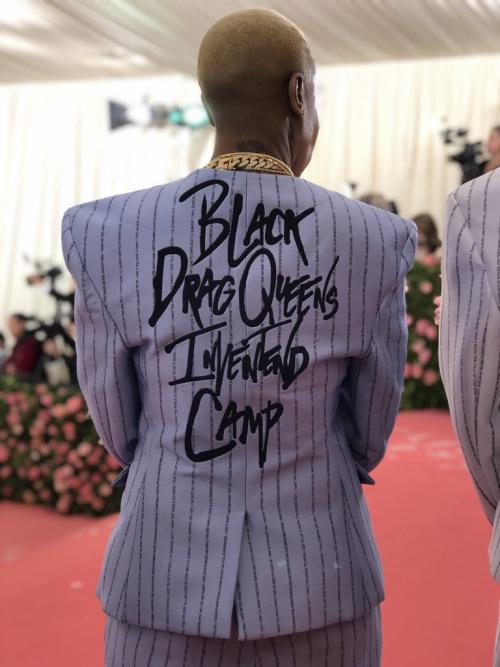 LENA WAITHE, 2019
Theme: Camp
It's said that style is 'timeless', but sometimes it's simply more interesting when someone locates their look in historical specificity. 'Timeless' and 'universal' can be code words for theft and exclusion of the people who made a culture. Evan Ross Katz pointed out that Waithe's outfit is especially meaningful given that "no black drag queens sans RuPaul appear to be invited to the camp-themed affair."
Is it the best look aesthetically? No. But, more intricate than it looks at first glance, the outfit subverts its own structure. Pinstripes, the apparently understated background to the slogan-style message, are actually stitched out of truly iconic song lyrics such as Diana Ross' 'I'm Coming Out' and 'I Will Survive' by Gloria Gaynor. These are the least straight pinstripes you will ever see.
Looks like: A statement t-shirt with a fresh, tongue in cheek twist. Are slogan blazers camp? I vote yes.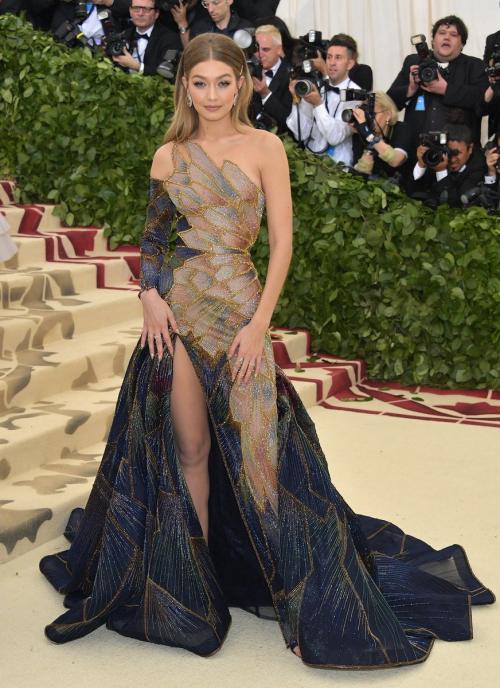 GIGI HADID, 2018
Theme: Heavenly Bodies: Fashion and the Catholic Imagination
Gigi Hadid confirms something we already knew, but not all of us were willing to accept; truly, the thigh split is the only divine way of dressing. As much as more over-the-top designs appeal to my inner feather boa wearer, I sometimes find too much texture on a dress overwhelming. I really like the look of sharply inhuman, unnaturally scratchy feathers, almost abstract against a night sky. As if you just might have seen the tip of an angel – but you'll never quite be sure.
Looks like: A stained glass window at a sci-fi megachurch in 2050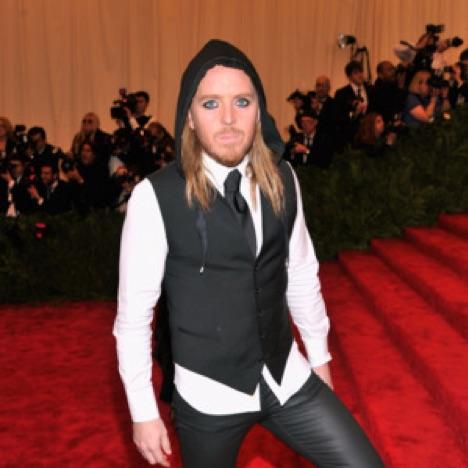 TIM MINCHIN, 2013
Theme: Punk: Chaos to Couture
Tim's outfit perfectly encapsulates the middle third of the theme, I'm just not quite sure he made it to the end of the memo. A hoodie Frankensteinishly melded with a black waistcoat is the sort of diabolically-inspired idea I can only imagine in the context of a dare. Tim isn't playing it safe – Tim's playing a game we don't even know the rules of yet.
Looks like: Your emo boyfriend from year 8 killing it at the school disco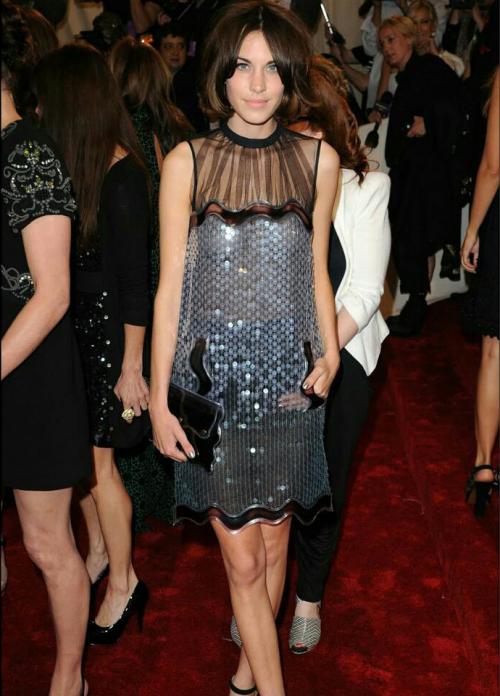 ALEXA CHUNG, 2011
Theme: Alexander McQueen: Savage Beauty
An odd choice for the theme given that, for so many of us in the feminine community, a dress with pockets is the prospective end goal of civilisation. Not only is this outfit fully equipped with storage space, you can actually see what's in the pockets themselves! Maybe the savagery is in this exposure – the random 2p, piece of chewing gum and grimy fluff will be out there for all to see.
Looks like: A disembodied hand floating in a sparkly, bougie aquarium, along with the crap in your pockets probably symbolising the stuff we dump into our oceans at will. All dressing is political dressing, right?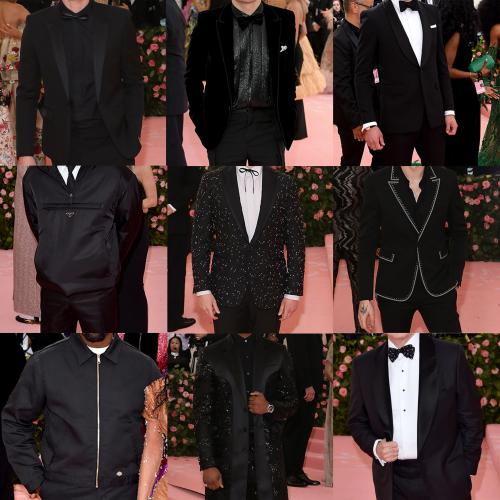 MAN IN A BLACK TUX, 1948-
This look never dies. Timeless, with emphasis on the ultimate syllable. Less is indeed less in this case. Clearly, for these gentlemen, a black tuxedo encompasses all possible moods, themes, occasions. Would they pop out to get a sausage roll in this look? Perhaps not, but they whack it out to symbolise everything from the 'Catholic Imagination' to 'Through the Looking Glass', which in my opinion is just as socially inappropriate. 'Beyond Fashion' was perhaps the only theme this look worked for, if not in the way Anna Wintour would have intended. This sort of masculinity in monochrome is only marginally preferable to those like Harry Styles, who think a single pearl earring, suit trousers and a bit of black lace constitute 'camp'.
Looks like: Everybody else (with many, many honourable exceptions. I'm looking at you, Billy Porter).