How powerful is protest dressing, really?
In her second column, Francesca Cosslett discusses the progress of protest dressing, and whether it has lost its power in an age dominated by popular and commercialised activism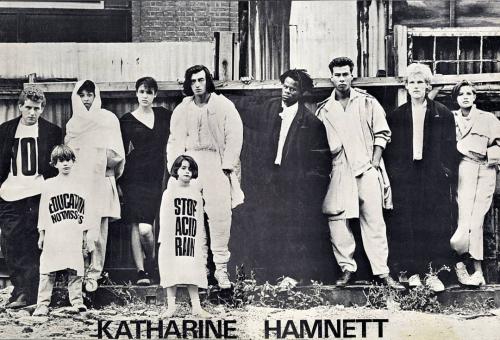 Content note: This article contains mention of sexual harassment and assault
"Make the words so big, you can't not see them from a distance. Then when you read them, you've had it. The words are inside your brain, and you've got no defences."
In 1984, Katharine Hamnett met then-Prime Minister Margaret Thatcher at Downing Street in a T-shirt emblazoned with the words: "58% don't want pershing". The figure came from a Europe-wide poll on the proliferation of American cruise and nuclear missiles, which had sprung up across the continent with no consultation of the electorate. The now iconic protest wasn't planned; it was a spur-of-the-moment decision. Until earlier that afternoon, Hamnett hadn't even been planning to go. Famously anti-war, pro-environment and pro-gay rights – not to mention anti-nuclear weapons – she "couldn't stand Thatcher". At the last moment, she changed her mind, stitched the words onto a t-shirt, and made history.
Over 20 years later, Hamnett is still making slogan tees, and has inspired countless other designers to do the same. The line of "Cancel Brexit" T-shirts she brought out in 2017 are still sold out on her website, as is the line calling for a "Second referendum now". Following in her footsteps, Maria Grazia Chiuri's debut collection as the brand's first female creative director featured a T-shirt reading "We should all be feminists", referencing the TED talk and speech of the same name by Chimamanda Ngozi Adichie. Prabal Gurang was next, with "The future is female" and "This is what a feminist looks like", and during the 2017 Panorama Music Festival, Frank Ocean asked "Why be racist, sexist, homophobic or transphobic when you can just be quiet?"
Wear a T-shirt like that, and the world knows what you believe. But whatever you wear, the world knows who you are. Words aren't always necessary – colours and symbols are charged with meaning. Wear white, like the women of the US Democratic Party during Trump's State of the Union earlier this year, and you harness the history of the Suffragettes. From 1900 to 2019, the colour remains a sign of female power and protest. All black or a white rose marks you as a part of the Time's Up movement, standing in solidarity with survivors of sexual harassment and assault. A simple pink triangle marked a watershed moment in queer visibility in 1980s America – six gay activists in New York City reappropriating the badge used in the Nazi concentration camps to protest the Reagan administration's failure to respond to the AIDS crisis.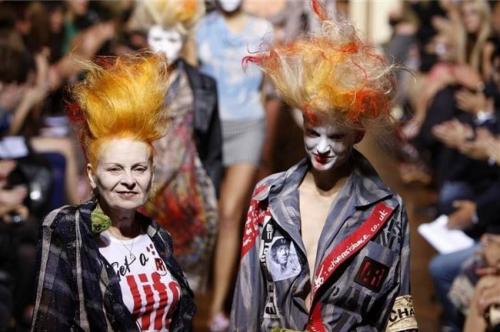 The tradition of symbolic defiance through fashion stretches back even further. A decade earlier in the US, the counterculture had positioned their long hair and loose clothing in opposition to the severe uniform of the US military. Across the Atlantic, Vivienne Westwood and Malcolm McLaren's tartan, safety pins and mesh shaped the Punk aesthetic of the anti-establishment. In the 15th Century Joan of Arc famously wore men's armour. In the 1850s, women's rights activist Amelia Bloomer urged women to discard their corsets and floor-length skirts for "bloomers". A 1934 edition of Hollywood magazine declared: "Revolution has hit the Hollywood ranks!" when Katherine Hepburn dared to wear dungarees. Even in 2019, a woman wearing a trouser suit is still a statement.
And yes, this is superficial. Dressing in solidarity means little without action, without legislation, without change. Anyone can put on a t-shirt or pick out a particular colour. Hepburn wasn't considered "the patron saint of the independent American female" just because she wore jeans. On the other hand, James Franco's past didn't prevent him wearing a Time's Up pin in January 2018. And how many people who bought a "This Is What A Feminist Looks Like" T-shirt from Whistles in 2014 followed through on its political sentiment?
Protest dressing is not without its flaws. It's certainly not enough on its own. Hamnett herself concluded in 2018: "A million T-shirts later, I've come to the conclusion that to really alter things – from climate change to women's rights – we need legislation." Protest dressing can make the echo chamber concrete, and lull us into forgetting how much still needs to be done. But it's a start. As Krista Suh and Jayna Zweiman, the women behind pussyhatproject.com, pointed out: the more we are seen, the more we are heard.