Fashion takes flight: archived modernity
Isabella Martin takes a deep dive into the influence of the natural world in fashion, both past and present, and asks what it means for the representation of women in the modern world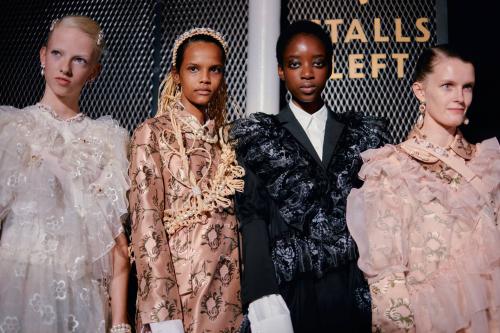 Birds took centre stage at Simone Rocha's most recent SS20 show: Irish wren feathers were painted in the centre of each model's forehead. The designer sourced her inspiration from the Irish Wren Boys – a group who, by tradition, dress up each year on 26th December in masks and straw suits to hunt a fake wren and parade through town. In honour of this, Rocha wanted the air of the show to be "a bit mystical, a bit spooky, a bit punk."
Nature has provided an endless source of inspiration for artists; many of the most-renowned metaphors in poetry and painting are to the earth, sun, animals, or the beauty of the natural world.
Rocha herself is constantly surrounded by nature, even when sitting in her London office. Filled with dappled light, her windows look out onto the leaves, vines and the calm water of the Hackney Canals. Nature manages to break through the metropolis and urbanity of London, and its abundance offers powerful stimulus for Rocha's collections.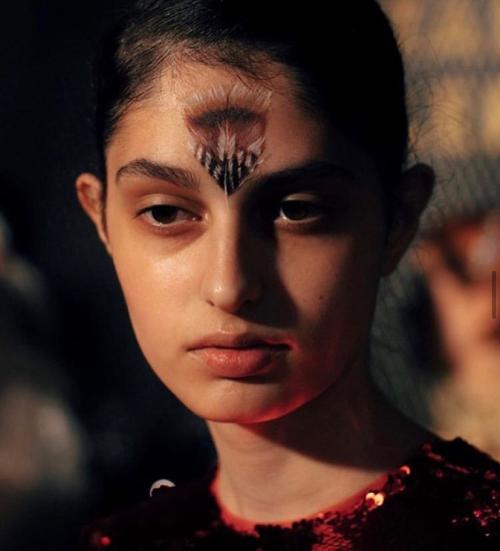 Nature has always been traditionally personified as a woman, and Rocha's designs often riff on notions of femininity, while also often being simultaneously undercut with subtle tones of masculinity. This is for the women who don't want to limit or confine themselves to their identity: delicate white frills appear in oversized variations, often paired with studded black or metallic sandals.
Rocha's latest use of feathers in her SS20 show evokes the late Alexander McQueen's avid obsession with birds throughout his design career: specifically, the elegance of their silhouettes.
"Birds in flight fascinate me … I'm inspired by a feather but also its colour, its graphics, its weightlessness and its engineering. It's so elaborate. In fact, I try and transpose the beauty of a bird to women"

- Alexander McQueen
Having left school early to become a tailor's apprentice on Saville Row in Mayfair, structure and form were at the centre of McQueen's understanding of art and design. By taking inspiration from the natural phenomenon of the bird, he sought to transpose their elegance and sharply structured form to the clothes he created for women.
Just as Simone Rocha turned to natural phenomena to inform her designs, Alexander McQueen sought to fuse avian beauty with that of women. He featured bird feathers in many of his collections, including one inspired by the Highland Clearances, entitled 'Highland Rape' (AW95), and 'The Widows of Culloden' (AW06), both of which echoed the historic subjugation of Scotland at the hands of its English neighbours.
"You've got to know the rules to break them. That's what I'm here for, to demolish the rules but to keep the tradition."

- Alexander McQueen
When you think of the Scottish Highlands, you probably think of mist and mystery – that's what these collections evoke. McQueen lauds and heralds the beauty of this naturally wild landscape, the traditions that honour it and the birds which inhabit it.
While Alexander McQueen's days soaring at the heights of high fashion have long since passed,  the work of Sarah Burton, who is now creative director of Alexander McQueen's fashion brand, continues to honour this delicate balance of female beauty, grace and power. Her approach echoes Simone Rocha's pairing of typically feminine draping with masculine tailoring and harsher leather textures and details.
Nowadays, the approach to womenswear has changed. Rather than an object of the designer's gaze, women have been able to subvert the suffocating norm, with the growing reign of female designers such as Sarah Burton and Simone Rocha.
The model and the modern woman are now sufficiently liberated to take ownership of their own form, rather than being bound by the structural 'ideal' of a silhouette. The rejection of the male voyeuristic gaze marks a leap forward in the gendered fashion hierarchy.
The now-trademark incorporation of feminine tropes in harmony with supposedly masculine shapes, textures, or pieces are emblematic of today's woman, free to move within this less restrictive silhouette. At last, pioneering female creatives like Burton and Rocha allow the modern woman to carve her own style.