Is Churchill Gowns a breakthrough in sustainable gowning?
Fashion Editor Caterina Bragoli speaks to former Cambridge student Oliver Adkins, who recently won investment in his gowning company following an appearance on Dragon's Den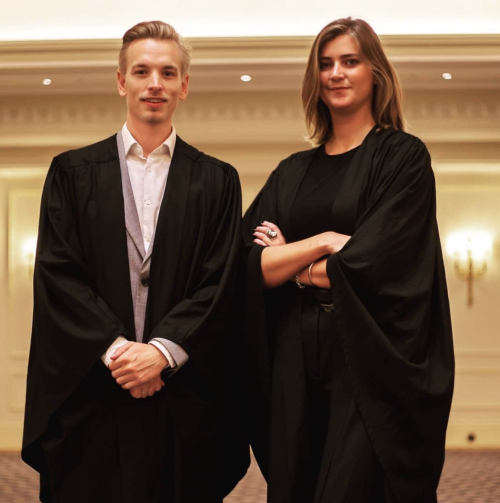 It's a feeling familiar to us all: the elation, and perhaps the intimidation, of donning our gowns for the first time. We've shelled out £40, maybe even £50, for these prestigious pieces of polyester (not forgetting the small percentage of cotton, of course), for these symbols of our colleges and of our university. What we may not take a moment to consider amid all this is, firstly, the cost of these gowns, and secondly, their non-sustainable production.
With discussions of sustainability increasingly edging their way to the forefront of mainstream news, ex-Cambridge students Oliver Adkins and Ruth Nicholls have launched Churchill Gowns, a new university gowning service with an ethical production process. Their most recent accolade to date is an investment of £60,000 from businesswoman Deborah Meaden following an appearance on Dragons' Den (in exchange for 22% of the business).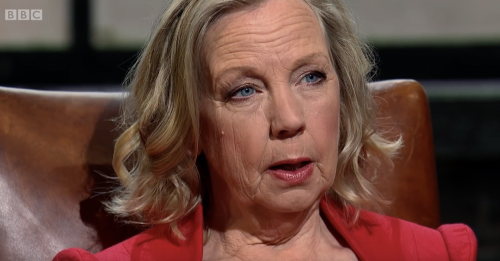 Co-founder Oliver Adkins gave Varsity a deeper insight into the brand's production process, potential obstacles and future expansion plans.
"We decided to go on Dragons' Den because, as well as the investment, we felt that having a Dragon on board would bring credibility to our brand and help us communicate our sustainability mission to universities." Since launching Churchill Gowns in 2014, the duo have already faced backlash from certain universities, with some rallying to prevent their business from expanding, so the support of an experienced and well-respected Dragon seemed a valuable asset.
Despite the experience on Dragons' Den being "nothing short of terrifying" – as I'm sure we can all imagine – the duo, says Adkins, knew they "had a great product and were confident [they] could communicate this to the Dragons and the audience at home." Placing both the brand and themselves on a platform viewed by such a hefty audience would, no doubt, raise both awareness and credibility. Interestingly, Deborah Meaden "has been understanding, encouraging and inspiring in our subsequent dealings with her," says Adkins, in sharp contrast with the oftentimes intimidating portrayal of the Dragons on our TV screens!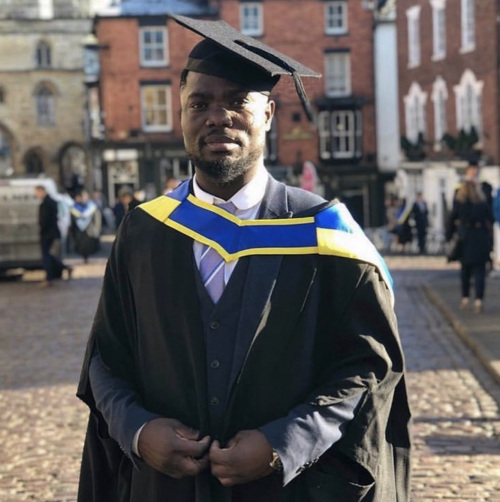 The sustainable production of university gowns offered by Churchill Gowns is, to me, the most intriguing and innovative aspect of the brand. With an estimated 60,000 plastic bottles recycled and turned into gowns already, it seems they're taking big strides in the world of ethical production. "Our gowns are manufactured from recycled PET plastics, which are predominantly hard plastics such as drinking bottles, shampoo bottles or plastic food trays", Adkins explains when probed further on the companies production methods. "After washing off labels, the factory crushes the plastics into miniscule pellets and then spins these pellets into a yarn. This yarn can then be dyed and stitched into clothing. The finished fabric is fundamentally a polyester, and indistinguishable from a polyester made from virgin plastic."
You may, as I was, be thinking about the big catch: transportation and shipping. "We decided to ensure all our shipping from our manufacturer to our warehouse is completely carbon offset," says Adkins. "We achieve this by working with ClimateCare, an organisation that calculates our emissions, and then charges us the cost of mitigating the environmental impact of our emissions."
With such positive branding, you might assume that universities across the country would be eager to bring their ethical policies up-to-date, investing in lower cost gowns (thus making them more accessible to a wider range of students) that benefit the planet. We at Cambridge are a lucky few, as Adkins points out: "In Cambridge, Ede & Ravenscroft compete with Ryder & Amies, and the students' union also wholesales and sells gowns to students. In Oxford, Ede & Ravenscroft also have a presence but they have competitors such as Shepherd & Woodward. The result of the free competition is that buying an Oxbridge college gown is far cheaper (around £40) than buying a graduation gown at other universities (around £150), even though the gowns themselves are not very different." Cambridge are therefore providing us with a "tradition-free choice" (when it comes to graduation, college gowns not so much), but universities up and down the country are, in fact, resisting the change.
'More than £2 million in commission was paid to 36 institutions in 2017-18 by their gown and photography suppliers.'
When asked why, given the array of benefits Churchill Gowns seeks to offer, universities seem to be preventing rather than endorsing a conversion to eco-graduation gowns, Adkins explains that "the resistance we have received is due to the kickbacks and other benefits universities receive from their current gowning suppliers." He notes that this issue "was reported in a recent article in The Times, where they found that more than £2 million in commission was paid to 36 institutions in 2017-18 by their gown and photography suppliers", when it comes to graduation. Furthermore, "although our customers never have a problem when it comes to wearing our gowns on their ceremony day (because our products look identical), we often have to deal with students who have been made very suspicious of us by their university. What's more, student unions have been pressured by universities to stop us advertising on campus or sponsoring clubs or events."
These restrictions and challenges, he says, "obviously make it hard to grow a brand and compete fairly."
We decided to go on Dragons' Den because, as well as the investment, we felt that having a Dragon on board would bring credibility to our brand.
It seems that Churchill Gowns are on an upwards trajectory. "Expanding to new universities has been easy thus far", he says, noting that "especially off the back of Dragons' Den, we're seeing that students want more affordable, more environmentally friendly products, so our gowns really resonate with them."
The company is currently producing suitable gowns to supply undergraduate students from around 35 universities across the U.K. and plan to grow this figure to 60 by next summer. Their central target market of students seeking "more affordable, more environmentally friendly products" seems undeniably strong, especially here in Cambridge, as we see an increasing number of students supporting ethical production.
Churchill Gowns is aiming to prove that sustainability doesn't have to compromise the resulting price or quality of a garment. After tackling the Dragons, and overcoming harsh responses from universities up and down the country, it seems like Adkins and Nicholls' business is only just beginning to grow, and might make a real impact in the fight for sustainable production. If sustainability is infiltrating even university gowning, who knows what the next item to go green will be?