The Met Gala: Camp, and certainly not quiet
Fashion editors Caterina Bragoli and Lottie Mccrindell discuss the highlights from this years glitzy, extravagant Met Gala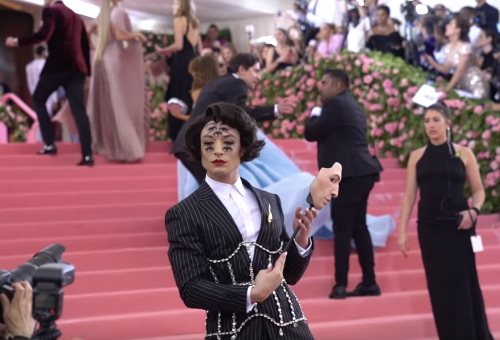 The Met Gala, one of the biggest, most exciting moments in fashion's calendar took place on Monday. It is legendary for its thematic nature which gives opportunity for extravagant outfits. This year's theme was 'Camp: Notes on Fashion', inspired by Susan Sontag's seminal essay 'Notes on Camp'. Sontag writes that 'the essence of Camp is its love of the unnatural: of artifice and exaggeration.' 'Exaggeration' is certainly summative of what was exhibited to the world through daring experimentation with gendered silhouettes, clashing colours and everything avant-garde.
Clothing is layered with multiple meanings, one of them being culturally appropriate gender behavior
Celebrities responses emphasised how Camp loves to play with gender. Cardi B's dress presented an over-the-top version of femininity, with its ruby nipples, corset detail and three-meter long train. Interviewed by Vogue, she commented: 'the inspiration behind it was feminism...the woman's body.' Attendees toyed with ideas of stereotypically 'masculine' and 'feminine' clothing. Danaia Gurira arrived in an all black ensemble of a top hat, cane, trouser suit and cape. However she coupled this with high heels and sparkly diamond earrings. Darren Criss wore a dazzling jewelled suit, accentuated by dramatic blue eyeshadow and electric blue nails. Harry Styles joined the stereotypically 'masculine' elements of tailored trousers and tattoos with the stereotypically 'female' elements of sheer fabric, frills and a pearl earring. Similarly, Michael Urie was dressed half in a frilly pink gown, and half in a black pinstripe suit. He further wore 'feminine' makeup and a patent pink heel on the suit side, and showed his tattoos on the pink gown side.
This overarching concept of gender fluidity that was regularly exhibited pays homage to the progression being seen within the industry at large. A platform of as great a scale as the Met offers a perfect chance to captivate audiences across the world with larger-than-life outfits that depart from the mundanity of 'normal' fashion. Taking this opportunity to break the boundaries set by heteronormative ideals has inspired people everywhere to think about how, in their own wardrobes, they can emulate a similarly dazzling nonconformity.
Camp is not a quiet theme, it is shouty, it is saying I'm here.
Another intriguing interpretation of the theme was the use of the 'self', exaggerating the essence of your person. This was artfully exhibited by the likes of Jared Leto and Ezra Miller, who created masks of their own faces. Miller described the theme of camp as 'funereal', initially donning a sombre-looking portrait mask, which was then removed to unveil a complex optical illusion of seven eyes, suggesting he was shunning the regularity of his day-to-day appearance, and embracing the ostentatious nature of the evening, creating an otherworldly version of himself. Leto took this a step further: accompanying him to the Met was his own severed head! This concept was taken from Gucci's Autumn/Winter 2018 runway, yet was catapulted to new heights as Leto wistfully stared into his own eyes, perplexing the fellow attendees, and quite possibly the world.  
Camp is not a quiet theme, it is shouty, it is saying I'm here. The writer, producer and actor Lena Waithe made a loud statement as she arrived in a suit with 'Black Drag Queens Invented Camp' embroidered on the back. She paid homage to the way in which Camp is inextricably linked to Queer culture. 
Clothing is layered with multiple meanings, one of them being culturally appropriate gender behavior. Red carpet events typically involve gowns for women and tuxedos for men. Similarly, at the upcoming May Balls, most men will be in suits, whilst women will be in dresses. However at Kings Affair, as the event states 'there are no gowns to tie you down.' This year's theme is 'The King's Affair presents .... 23:59:60'. As the Met Gala has shown, dressing up lends an opportunity for escapism and the challenging of societal norms. Themed events don't lend themselves to a conventional evening jacket or gown.