The Politicisation of Fashion
Sarah Naima reflects on Hoda Katebi's talk on the intersections of fashion, gender and the state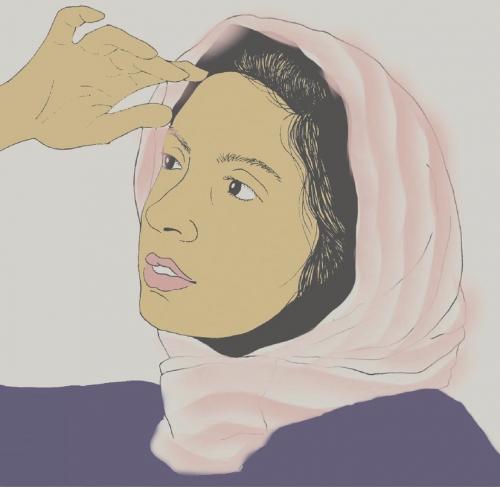 Before I rush out of college, slightly late for pre-talk mingling, I catch up with a friend currently living in Berlin who did her exchange semester in Iran two years ago. I remember the media coverage of the Iran elections I watched prior to visiting her and my excitement about taking my first long-distance flight to 'contemporary Paris' - fashion-wise this was the image of Tehran I had been presented with. In many of the English and American articles I file through now, the politics of Iranian fashion choices are omnipresent. However, in Tehran it felt as if fashion integrated easily into the vibrant city. Sophisticated arrangements of colours and silhouettes were attracted much attention but little controversy when in contrast, debates on politics or music prompted nuanced but extensive arguments. Back in Cambridge, I find myself being slightly nervous to wear some brightly checked trousers to Hoda Katebi's talk on politics and fashion. Fearing to clash with Cambridge's understated dress code I wonder: if fashion is tied to politics, what's the claim of vintage pants that could easily double as a chess board?
"Clothing is political, as all public art is"
Hoda Katebi is Iranian but lives in Chicago, where she writes and researches: her thesis was on the underground fashion scene in Tehran and her blog Joojoo Azad, which is Farsi for 'free bird', is "a radical anti-capitalist, intersectional feminist and body positive political fashion blog."  The description seems apt: one of Katebi's most recent posts provides a reading list on the crisis in Sudan; one of her most-read pieces dismantles the assumption that fashion can be unpolitical - a pointed analysis she presented in detail during her talk in Cambridge.
Being dubbed "a fashion blogger with a fierce message" by the New York Times, Katebi goes beyond the occasional endorsement of feminism with her political activism and engagement. The blogger presents a breadth of topics on Joojoo Azad within which she sees scope for political action. The reading list on Sudan features both academic publications and news articles, with specific chapter recommendations underlining the urgency of a topic by and large neglected in public discourse. Her piece 'On the political value of fashion' cuts straight to the point, too, describing fashion as an artform "perverted with the mass commodification of fashion under capitalism" and listing six ways from production to appropriation and symbolism, in which fashion is inherently and inevitably political.
In a small lecture room in Trinity College, Katebi is only a few minutes into her talk, when she shifts her focus from abstract dialogue around intersections of gender and fashion to the materiality of cloth on body. "Fashion is violence of production touching us most intimately on our skin," the activist says, insisting that "clothing is political, as all public art is."  Because fashion gets closer to us than we allow any other political statement to get, Katebi explains, and because fast fashion necessarily relies on systematic exploitation, disproportionately of women in the Global South, the political dimension of fashion is unique and complex. Katebi's blog also features boycott lists, where the fast fashion's usual suspects Abercrombie & Fitch or H&M are listed next to less-obvious companies, such as Hermès.
According to Katebi, fashion also has political value because it functions as an expression of ourselves and our perception of the world around us. Even when choosing practicality, she explains, the very rejection of the aesthetic is a political, communicative statement. Fashion is not that different from fine arts then, about which some say that they are never unpolitical. To feel like you can produce creatively but leave politics aside exposes privilege: only some can choose not to be interpreted for what they create and, in the same vein, only some can choose not to be interpreted for what they wear. Admittedly, this reminds me of my own privilege as a white woman in Britain. When halfway into a day I am unsure about the skirt-length or shoes that seemed like a good idea in the morning, all I have to fear is a raised eyebrow. For other students in Cambridge, their choices of expression through fashion or faith are continuously stigmatised through uninvited presumptions and comments about their clothing in the media and on campus. Racism and anti-Muslim hatred often manifest through disparaging remarks on what people wear, particularly for women and the LGBTQ+ community.
To some extent the restrictions of what people can wear come directly from the state. In Iran, wearing the hijab is mandatory, a law that Katebi strongly opposes. Equally, she draws critical attention to mandatory unveiling, which in many countries was a historically common practice and often connected to colonial politics. Secularity, it seems, requires continuous debate of what is religious and what is not, of where the private ends and where the public begins. That debate has often become invariably centred around the female body and cloth. Why is it so difficult to leave it up to women to choose what they want to wear? And why are women's appearances, as Katebi puts it, perceived as the benchmark of morality in a country? Proposing answers to some of these questions, Katebi's work seems to be a multidimensional, both historical and anthropological deconstruction of value systems underlying fashion, be they secular or not.
Considering the history of fashion in Iran, Katebi illustrates majority dress-codes from all the way back in 19th-Century's Qajar dynasty, when queernes was, in her words, "so normal, it was not even a form of identification". She continues to depict images from the period of British colonial rule and Shah Reza Pahlavi's regime up to the Islamic Republic which demands women to wear headscarves, sparking much internal and external debate. In Iran's history, the hijab has been both forbidden and mandatory; in none of the periods Katebi presents was there agreement on a singular dresscode for women, as there is little agreement elsewhere in the world.
Katebi illustrates fashion's intersection with international politics through a picture of Kabul in the 1970s, where women wear mini-skirts and "look all cute": according to the Washington Post, that picture was shown to Donald Trump in an attempt to convince him not end the military presence of the U.S. in Afghanistan because "essentially, the country could be civilised." The objectification of women for interventionist politics is particularly unsettling: 40 years after the photo was taken, the choices of the women depicted in it are still being appropriated for political ends.
Katebi says that the women she speaks to in Tehran currently worry more about the impoverishing effects of sanctions than about the enforcement of the hijab. Later she quotes an Iranian woman she interviewed and emphasised that "fashion is the first thing you change if you want to change". Whether the anti-capitalist critique and the prioritisation of cultural aspects of clothes go easily hand in hand seems to be a question to which currently, there is no clear-cut answer. The navigation of fashion's conditionality and effect appears brightly on my screen, when I get home and read heated debates on Nike's advert for an athletic headscarf. Should the company be called out for representing the minorities they exploit in factories or is the effort to include Muslim representation still worthy of endorsement? For now, Katebi's work exemplifies that a radical reflection is possible; she writes extensively about her scepticism for Nike's advertising and posts a list of alternative companies that produce athletic headscarves ethically. When a week later I read up on Joojoo Azad in a Cambridge library, I'm glad to have bought those conspicuous checked trousers second hand, yet I still wonder if they'd possibly blend in more easily in some of the cafés of Tehran.