Finding fashion in film
Marie-Louise James runs through some of the most iconic fashion moments in cinematic history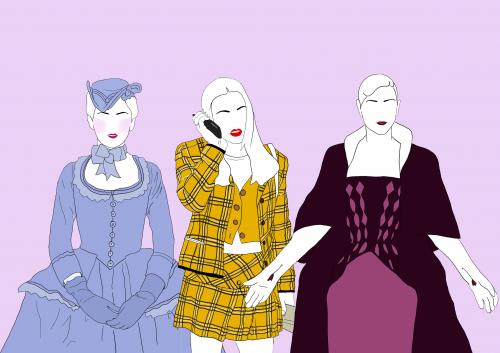 Awards season is upon us, and with it comes all the talk of who-dressed-who and sartorial hits and misses. But before the red carpet rundowns begin, take a look back at some of the best films for style-'spo of all time: casual and haute couture alike, from cinema's early days to the latest releases. 
Funny Face (1957)
Though any Audrey Hepburn film could go on this list, Funny Face takes the cake, following the story of a bookstore employee turned glamorous high fashion model. As if the story alone weren't enough to cement this musical's status as an unforgettable ode to 50s elegance, Fred Astaire is Hepburn's co-star, playing a fashion photographer. From Greenwich Village to Paris, viewers are swept off their feet as Hepburn's ingénue shows off haute couture looks designed by Edith Head and Hubert de Givenchy.   
One of the most distinct looks from the film is, ironically, Hepburn's "off-duty" musical number ensemble: all-black mock neck, cropped cigarette trousers, socks and ballet flats. An even more memorable moment, however, is the red Givenchy gown Hepburn wears as she holds a scarlet taffeta stolen while descending the marble stairs of the Louvre. With Hepburn as his muse, Givenchy also designed the famous little black dress Holly Golightly wears in the opening of Breakfast at Tiffany's (1961).
Rear Window (1954)
Grace Kelly's outfits throughout Hitchcock's mystery thriller almost break the suspense of the film. Playing the protagonist's girlfriend, Kelly visits Jimmy Stewart's character during his recovery from a broken leg, leaving him to sit in a wheelchair and observe the suspicious happenings in his neighbours' windows.
As he connects the mysterious events he sees before him, Kelly punctuates the film with her visits and striking outfits, ranging from casual dress-suit to negligee to a stunning black and white gown designed – again – by Edith Head. Known as the "right off the Paris plane" dress, Kelly's mid-calf skirt replicates Dior's 'New Look' silhouette, gathered at the waist with sprouting filigree embellishments and a simple black V-cut bodice.
Edith Head worked with Hitchcock on many films. Arguably the most famous costume designer of Hollywood's Golden Age, she holds a record eight Academy Awards for Best Costume Design. Head is also cited as the inspiration (along with Anna Wintour) for the iconic "Edna Mode" character in Pixar's The Incredibles – a film not exactly concerned with fashion, but certainly worth a few brownie points for paying homage to such a vital figure in film fashion history. 
Clueless (1995)
Our generation will forever dream of the computerized outfit-maker in Cher Horowitz's wardrobe as the ideal way to get ready for school. The American high school re-staging of Jane Austen's Emma is filled with plenty of 1990s style-'spo, from matching tartan sets to "it's Calvin Klein!" white bandage dresses.
As she strolls around Beverly Hills, Fendi shopping bag in one hand and flip phone in the other, every one of Cher's outfits is a signature look. Even her gym getup paves the way for the Kardashian bike-short craze that every designer seems to be incorporating into collections today. Throw in a fabulous makeover scene and the film has such a cult-following that Iggy Azalea and Charli XCX recreated its fabulous looks in their music video, 'Fancy'.
Phantom Thread (2017)
Set in 1950s London, Phantom Thread follows the story of an ageing couturier and his muse. The carefully researched designs throughout the film show the detailed craft behind a dressmaker's brilliance, a creative process filled with frustration, disputes, and an almost religious reverence for the garment itself.
Part of the charm of Daniel Day Lewis's character is that he is conservatively "anti-chic" and refuses to adapt his creative vision to any passing trends. As a result, the designs throughout the film are regal and almost antediluvian – though it must be said that Day-Lewis's performance as a difficult genius is what makes the dress-making process so fascinating, rather than the end results themselves.
Mark Bridges, the Oscar-winning costume designer for the film, has said that Day-Lewis's character was inspired by a variety of historical figures, in particular Charles James, America's first couturier, as well as Christian Dior and Cristóbal Balenciaga.
When Harry Met Sally (1989)
Part of the magic in When Harry Met Sally is how we see the two main characters' interactions during three different points in their lives: college-era, then five years later, and again when both have just ended long-term relationships. Their styles change accordingly, switching from late 70s Farrah Fawcett layers to mid-80s perms, and the character's physical transformations are very much a part of the story's timeline.
Though seemingly an unlikely choice for a fashion film list, both Harry and Sally provide countless nostalgic style inspirations for the ideal autumnal wardrobe, boasting a non-stop array of chunky knits, Annie Hall-esque bowler hats, and mom-jeans.
Marie Antoinette (2006)
The historical subject of the film is already famous as one of the first "influencers" in fashion history: as the last Queen of France, Marie Antoinette's sartorial choices single-handedly determined the vogues of royal courts throughout Europe.
Director Sofia Coppola does not disappoint, doing justice to the over-the-top world of Versailles while adding her own rock-and-roll pizzazz to the lavish, pastel-coloured styling of the film.
From sky-high powdered wigs to hoop skirts that barely fit through the palace doors, the film is a visual feast of luxurious opulence. Costume designer Milena Canonero won the Academy Award for Best Costume Design, one of four films – including Wes Anderson's Grand Budapest Hotel – for which she holds that title. Manolo Blahnik and Italian manufacturer Pompei 2000 supplied the shoes for the film, and its rococo exuberance wouldn't be complete without the macarons of the iconic Parisian bakery Ladurée.
La Dolce Vita (1960)
Federico Fellini's 1960 film shows off Italian style in an unforgettable way. The man behind the film's overall aesthetic is Piero Gherardi: a modern Renaissance man of sorts, he worked on La Dolce Vita as costume designer, art director, and even set director.
As Marcello Mastroianni's protagonist undergoes seven days and seven nights of Roman life, the characters in La Dolce Vita embody the chic aspirational lifestyle of the 1950s and early 1960s: an intense period of change accompanying Italy's economic boom. The result is a cultural artefact of retro swimwear, cool sunglasses, and effortlessly glamorous little black dresses. From Anita Ekberg's swirling black gown in the iconic fountain scene to Mastroianni's impeccably tailored suits, it comes as no surprise that the film won an Oscar for Best Costume. 
Gone with the Wind (1939)
This film is perhaps primarily remembered as one of the first moments in cinematic fashion history. Though it won ten Oscars at the 12th Academy Awards, the award for Best Costume Design had not yet been created, only introduced as a category almost a decade later in 1948.
It is likely, however, that Gone with the Wind would have won this award as well. The sumptuous Reconstruction-era gowns worn by Vivienne Leigh's Scarlett O'Hara have achieved cult status. Not only are they visually and chromatically stunning, but O'Hara's dresses also take on symbolic connotations as part of her character development in the film. The green Curtain Dress, for example, is said to symbolize Scarlett's will to survive, whereas the many red velvet gowns she wears in other scenes seem to eponymously be a part of her fiery, striking personality.
The Talented Mr. Ripley (1999)   
Clothing plays a crucial role in this psychological thriller, as the titular character becomes mesmerized by a glamorous and extravagant lifestyle he has fraudulently stolen. In this cat and mouse intrigue of identity theft, mid-century New York socialites meet the elegance of Italian '50s summer style. Thematic importance aside, both the female and male looks worn by Matt Damon, Jude Law, and Gwyneth Paltrow provide plenty of Riviera vacation style inspiration.
The film was nominated for an Academy Award for Best Costume Design, and the combination of crisp linen shirts, leopard print pillbox hats, and a dash of red lipstick immortalise the film for its glamour and style.
Honourable mentions
Giorgio Armani's designs in The Untouchables (1987) and American Gigolo (1980); Dolce & Gabbana and Miuccia Prada's contributions to the wardrobe of Baz Luhrman's Romeo + Juliet (1996); Tom Ford's direction in A Single Man (2009); and — most recently — the profusion of luxury designer looks featured en masse in Crazy Rich Asians (2018).