Makeup's purpose: sparking joy?
From her first pink lipstick to heavy stage makeup, Cie Jen Wong reflects on how her relationship with makeup has changed over the years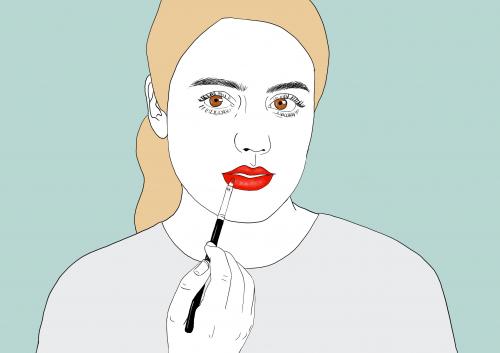 My first ever makeup product was a pink, slightly glittery L'Oréal lip gloss that my mum bought me when I was five. That one gloss was the start of my journey with makeup. I remember applying the slightly sticky gloss, which was all the rage in the early 2000s, and feeling so pretty and glamorous with shiny lips whenever I went out with my family.
Growing up, I was frequently exposed to makeup. As a Chinese dancer, heavy stage makeup was one of the first full looks that I started to experiment with. When I look at photos of myself having makeup done by dance mums and teachers who probably had no clue, and all the the strong, colourful (unblended) eye looks they created, I'm thankful that those days remain in the past, and that stage makeup remains on the stage.
Almost every girl's first makeup inspiration is her mom. I was no different. I learned a lot and picked up my love for lip products from her. Lip products were the only ones I was allowed to use and own. I took advantage of that. I promptly amassed an extensive lip product collection that grew to a point where the products became practically unusable. The old saying goes, "so many products, but so little time" — and that was the story of my lip products. As was the case at most schools in Singapore (where I am from), my school did not allow makeup. As such, lipstick was purely a weekend thing. Soon enough though, I realised that lipstick was a mainstay in my routine and also that, curiously, only pink-toned lipstick would do. The whole bare face, bright lipstick aesthetic was mine for a good few years. And I still firmly believe that a good lip rounds off the entire look.
"It makes me happy, and that should be the purpose of makeup: to spark joy."
Fast forward to my teenage years, and YouTube/Instagram became a massive thing. Like everyone else my age, I was sucked into it. My Youtube kryptonite were beauty videos. I still remember watching Michelle Phan (the OG beauty guru!) and trying to memorise how she did her makeup. Then came people like Tati Westbrook and Jeffree Star. I devoured their videos. I used to joke that I was great at makeup, but just in theory. I could tell you what every step in a makeup tutorial was, but I had no practical experience. I loved the idea of makeup, though – the idea that you could change your look in a few steps was magical to me. In those awkward teenage years, all I wanted to was to fit into what was 'popular'; I wanted to look different. The American style of makeup (or Instagram makeup) that I was heavily exposed to told me that I needed to do everything from concealing and contouring, to baking, strobing, cut-creasing... and the list goes on.
I remember when I begged my mum to buy me a full face of makeup products. This was at 16 or maybe 17. She flat out told me no, and that I didn't need makeup. My dad backed her up firmly. I didn't believe her at that time, obviously. She told me that I could continue wearing my bright lipsticks and that she would buy me whatever I wanted when I graduated school, for prom.
In hindsight, I'm glad she did that. I think she wanted me to learn how to be confident in my own skin and, as cliché as that may sound, to understand that beauty comes from within. When brands like Glossier and Milk Makeup burst onto the scene, it made me understand where she was coming from. In those two brands, I found a message that really resonated with me. Makeup should be about enhancing what you have. It can also be really easy. This last point was particularly important – I knew that I was too lazy to do a hour-long routine everyday. Not only that, I loved the aesthetic of the two brands. Millennial pink and clear packaging? Hello, sign me up!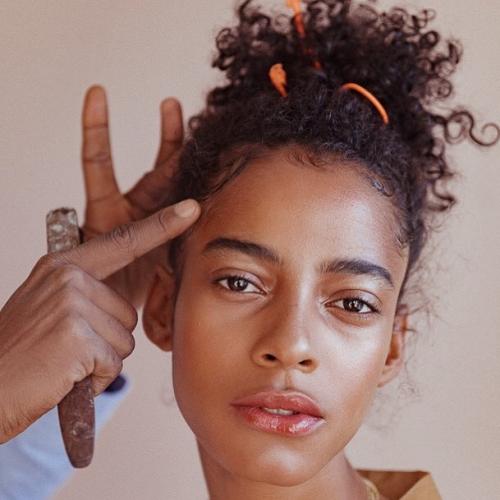 Beyond my ever-persistent love of bright pink-toned lipstick, I also discovered my true makeup soulmate in highlighter. This was a natural consequence of seeing beauty gurus on Instagram slap on heaps of highlight to "glow for the gods". It just resonated with me; I truly love highlighter. I like looking glowy (and occasionally blinding) to ensure that my future is as bright and shiny as my cheekbones are.
My first big makeup shop for prom happened at Sephora, or the makeup utopia. It is a wondrous place where I can still easily spend a whole hour browsing and imagining what makeup I would buy if money weren't an issue. In a bid to ensure that every purchase was worthwhile, I thoroughly researched every single product. Eventually, I bought my first eyeshadow palette and my first highlighter. Since then, I've slowly added blush, concealer, and mascara to my collection. My makeup shopping philosophy is simple: if I want it, it can wait; if I need it, desperately need it, I'll buy it. The concealer purchase, for instance, was in preparation for late nights in my degree, and I am happy to report that it has been very worthwhile. The blush was to give me some colour after dying in piles of reading. It has been worth it, too.
Today, after a year of experimentation with makeup, I finally know what my makeup look is. Glowy skin with a hint of colour and gloss is usually my go-to when I have the motivation to look halfway decent. Glowy skin with a more blinding highlight, a striking lip and some colour on my eyes is what I fall back on when there's an event I have to show my face at. Although it is quite simple when compared to the intricate makeup tutorials I spent my teens watching, it is me. In all honesty, I really do love makeup. I think I always will. It makes me happy, and that should be the purpose of makeup: to spark joy.